A loft conversion is a great way to transform unused space in your home, and there are lots of ways to go about doing it. A loft conversion typically adds a bedroom and a bathroom, however depending on your desires you could transform your loft into a home gym or children's playroom. With the cost and hassle involved with moving, more people are opting to invest in what they have and expand their current homes instead.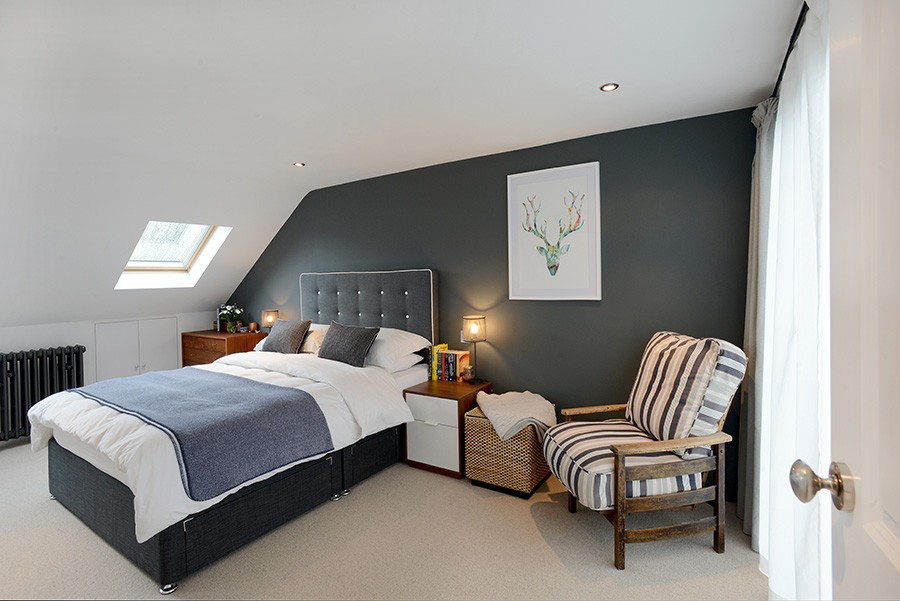 When undertaking a project like this, you need to consider what elements you would like add or remove from the structure. What kind of windows do you want? Would you prefer a dormer extension? Do you want to keep the chimney stack? There are loads designs at your disposal – so we thought we would run you through some of the most popular options.
Make the Most of the Space
Removing the chimney stack will add a considerable amount of space to your conversion and offer that smooth, uninterrupted finish on the walls. This in turn, will give you the freedom to position your furniture and configure the room however you wish. However, the cost implications for removing the stack should be something to consider if you're under a tight budget.
You'll usually have a very low pitch towards the front of the property – to ensure no space is wasted, we usually block this off and transform it into a handy storage unit.

Add Windows and Encourage Natural Light
Adding Velux windows is a popular option as they are very effective and cost efficient. Velux windows have an abundance of extra features to choose from so you can fully customise your windows. This includes extras such as a thermal coating or built-in blinds, to make the loft space as comfortable as possible.
Dormer Windows
Dormer extensions are an option when there isn't quite enough head height in the loft, which typically needs to be 2.1m to comfortably move around. It's important to consider their design as most councils have strict guidelines on changing the appearance of a building seen from the street. For this reason, most of our designs simply add Velux windows to the front of the loft and we suggest a dormer to the rear. This offers that typical loft shape which is shown on the pictures above.

Alternative Design Options
A Mansard conversion allows you to maximise the available space as these types of roof conversions have two consecutive slopes which are nearly vertical. This process is more costly than the Dormer extensions but does give you the maximum available space in the loft.
A Hip to Gable extension is another type of roof conversion and requires more structural change to the existing roof than a Dormer. It's a practical option if you have a 'hipped' roof with all four sides sloping away. This type of extension will increase your available floor space and give you more surface area to add windows to increase light flow into your new extension.
The process for a loft conversion is very straightforward. The first thing to do is book a site visit to meet with your Architectural Designer who will discuss the options available to you. There are tons of additional considerations and design options – we've only just scratched the surface here. To book your site visit, get in touch with our team today on 0207 495 6561 – we're open 7 days a week!