With the growing concern of climate change and environmental degradation, how do we help and contribute our bit to enable a healthier future for the generations to come? The ever-expanding urban sprawl, bit by bit consuming patches of habitats of our indigenous plants, insects and birds. How do we maintain a sustainable cycle for local ecology to thrive?
With the shift in dynamics for creating a more sustainable environment, we want to contribute our bit by sharing with you, the concept of a green, landscaped roof. Landscaped flat roofs add a functional aspect to your grey concrete roof while also adding an aesthetical element in your design, whether it is an extensive green roof on the garage, carport or summerhouse, or an intensive green roof with a utilisable terrace on an apartment house etc.
Now that we have understood the ecological and functional benefits, let is dig in to learn a bit more about economic, technical and environmental benefits: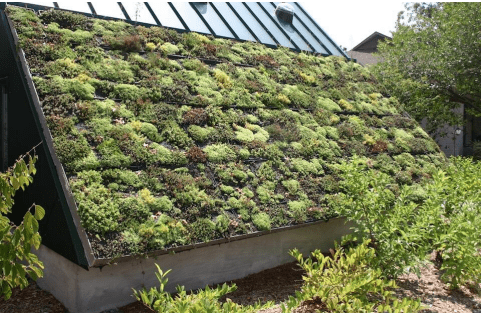 Economic & Technical benefits
– Although the initial upfront cost of installation of a green roof would be considerably more than a conventional roof, in the long run you will be able to make up for this, majorly in terms of energy savings. A green roof will resist heat flow, provide thermal insulation, protect waterproofing from UV and thermal damage and put less load on your HVAC by reducing the temperature on the roof. A study of benefits of green roof by University of Michigan lead to the conclusion that over its span of 40 years (higher life span than conventional roof), a green roof would save about $200,000 (equivalent to £152,815) of which nearly two-thirds would come from reduced energy costs. This would however also be determined by the design, geographical location, surrounding and the building itself which hosts the green roof.
– The design of landscaped roof would might help eliminate the requirement for screed on the deck, reducing the dead load, as well as require fewer rainwater outlets, decreasing requirement for rainwater drainage system capacity and also reduce requirement for storm water attenuation.
– Planning proposals with green roofs are preferred by local authorities, particularly if it meets their policies towards a sustainable environment.
– Along with being excellent in its acoustic quality which is beneficial especially for developments near airports or industrial developments, green roofs also tend to increase your property value as it has the possibility to replace land lost to footprint of the building.
Environmental benefits
– Green roofs assist with managing water runoff or storm water management, making it more sustainable.
– It is also beneficial in reducing polluting agents and dust particles from immediate environment and creating a healthier surrounding. Also, through the process of photosynthesis, not only are we getting rid of pollution, plants are also converting carbon dioxide to oxygen equivalent to 9.68g (12 hours) of oxygen per square metre a day.
– Green roofs are also beneficial in reducing urban heat island effect, which is about 5-degree difference in temperature.
The simple installation and easy maintenance, as well as its quality of being lightweight and sustainable makes green roofs more desirable. You can also choose to use recyclable and reclaimed materials in your landscaped component, and also opt to install a green roof by yourself depending on size of your project. Green roof is preferred in places where there is plenty rainfall, so if you live in London, it is probably a smart option for you.
It is never too late to go green, update your existing buildings by installing green roof. Yes, it can be possible, after considering the weight bearing capacity and waterproofing on site.