Thinking about adding some downlights in your kitchen extensions and loft conversions? Take a read of Build Team's latest blog to learn more about the different options available.
---
What are they?
Downlights are small, circular, ceiling-recessed LED lights. They are a popular choice all over the home today. However, they can sometimes be confused with spotlights. Spotlights, by contrast, are mounted to the wall or ceiling, and often have several bulbs. These are then focussed on various places, or spots, in the room. Something to bear in mind when making your selection is that some downlights have specific features to make them safe enough for areas like bathrooms. It is always good to remember, safety first!
---
Warm or Cool Lighting?
The colour temperature should inform your pick of light. A numerical value is the way of describing whether a colour is a warm white, as opposed to a more stark, bright white. You can choose the shade, ranging from warm, yellowy-orange at one end of the spectrum, to an almost blue hue at the other; the variety is there for the picking.
Although not always a popular choice, given its perceived cold feel, some people believe that a cool white light can make us more productive when working. Given the COVID situation, this is something to bear in mind if you are working from home and have an office area. This cool lighting also lends itself to a more sterile theme, which may suit some people in kitchen and bathroom areas. This is particularly true if you have chosen white cabinetry and units, as white on white certainly provides an impressive effect.
In fact, something else to consider is ensuring all the light colours match one another. This even includes the bulbs in the cooker hood, which is incredibly easy to overlook. Uniform lighting in an area provides a real flow to your living space, which looks simply stunning.
---
Hassle Free?
Downlight bulb life tends to be a very long time, as the LEDs provide thousands of hours. The exact figure depends on the quality of your purchase. For example, some high quality ones can last for 50,000 hours, with others providing an offering in the low thousands.
Either way, they can prove to be a more hassle free option than including light fittings that require regular bulb changes. Many people choose to have them all over their homes, as the need for light fittings and shades is then eliminated.
---
Sleek Design?
With so many styles on the market, there is something to suit everyone's taste and room decoration. In fact, you could use the colour of the bezel to complement your light colour choice. This is the circular part of the light that sits flush on the ceiling surrounding the recess. The effect of both working together will then highlight kitchen cabinetry, furniture and soft furnishings.
The bezels perform a practical role, which is to protect the light underneath. They also allow style to be taken into consideration, as the bezels come in a range of finishes. Options include: polished or satin chrome, nickel, and gloss or matt white. There really is something for everyone.
Additionally, you might like to use the lights to help highlight room features even more. Take a look at the Velux window-downlights pairing at one of our projects in SE5.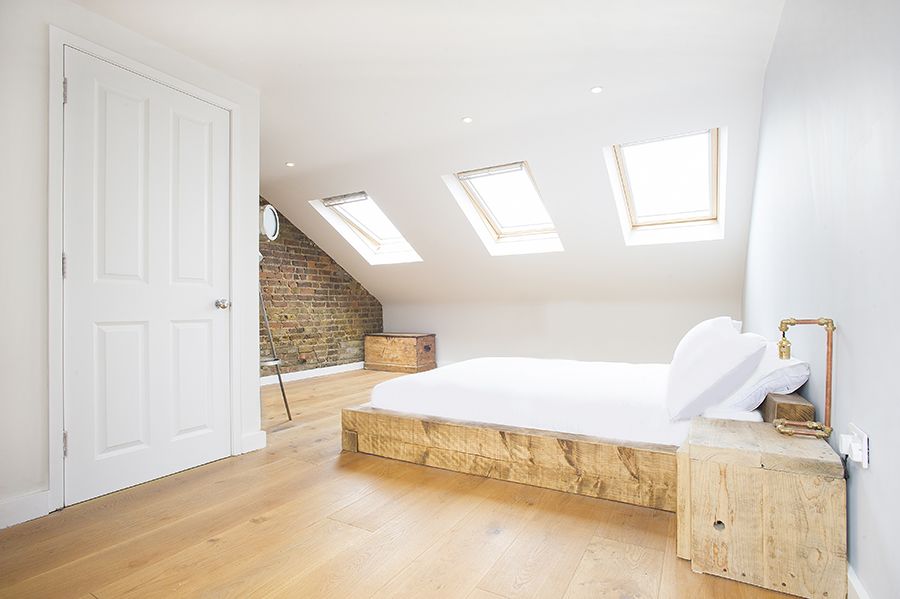 ---
Functionality
People often choose downlights to zone certain areas. For example, in a kitchen, the downlights could act as functional task lighting, whilst pendant lights demarcate the dining area.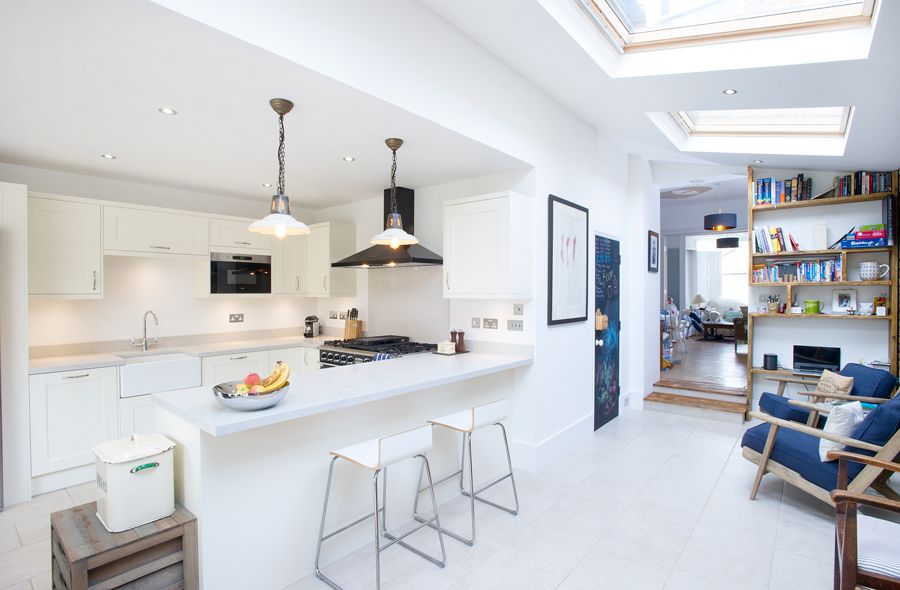 ---
A Few More Things Worth Considering
Downlights lend themselves to all interior styles, but some may view them as a not so cosy option. You can actually easily remedy this by adding floor-standing and table lamps to your living space.
A dimmer switch may be something to consider when planning the electrics of your extension. This will allow you to have ambient lighting, and avoid the stark brightness of what is essentially a bare bulb.
And finally, an additional reminder to always check the downlight colour ensuring that all the lights you buy are the same.
---
Hopefully, if you are considering downlights in your kitchen extensions and loft conversions, this will have given you food for thought.
If you have some ideas about an extension to your home, please contact our Enquiries Team. You can call them on 0207 495 6561 or email hello@buildteam.com to arrange a FREE Design Consultation with one of our friendly Architectural Designers.
---