Adding value, gaining more light and providing another living space for a growing family are all common reasons many of our clients choose to extend their home. Creating an open-plan space can provide all these assets and more. Open-plan living has become the dream for many homeowners and looking at the following projects, it is easy to see why. Designing a delicately choreographed space takes careful consideration however, so we've rounded up some top design tips to help you perfect your open-plan space.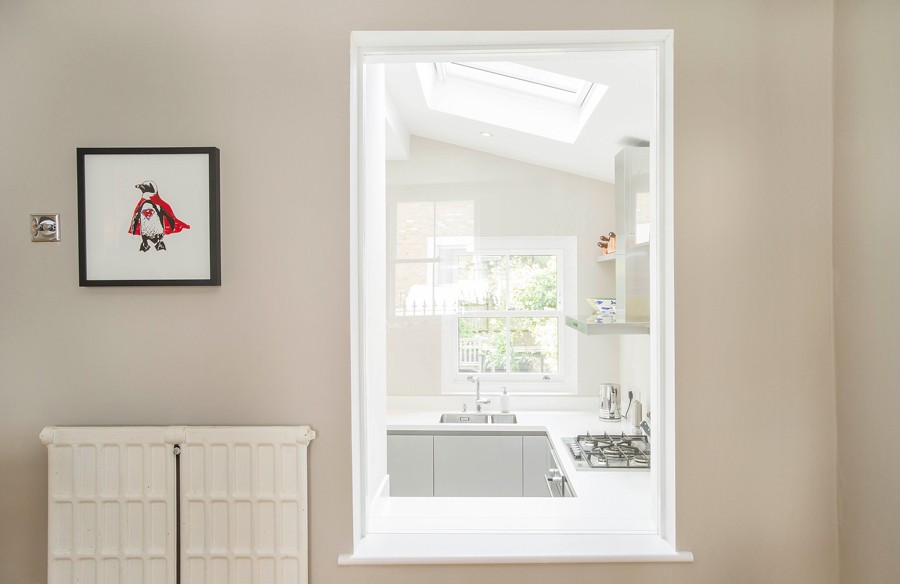 Internal Windows
If you're not one hundred percent sure about having your dining and living area completely open and you want to retain an element of privacy whilst allowing for transparency, try including internal windows. If you want to get really creative, dividing up the space this way can be done with shelving, bookcases, low walls, different levels and stairs, or even a mezzanine. Creating zones will help keep areas separate for various activities, such as cooking, relaxing, or gaming.
Higher Levels and Snuggly Back Rooms
Our Clients in N10 wanted to create a cosy space for their children to play freely, where they were in a safe haven away from the kitchen when the cooking took place, but close enough for the parents to be able to watch them. Located at the back of the kitchen on a slightly higher level, is a games room. The two spaces clearly connect but do not interfere with one another. The wooden kitchen flooring continuing up the stairs and blending into the carpet creates a fluidity, bridging the two rooms together.
Floor to Ceiling Cabinets
Not only does this style of cabinetry create a sleek and streamlined effect in your open-plan design, but they are extremely efficient at hiding away surplus amounts of clutter. They can hold everything from your fridge, freezer, food stuffs, to cleaning supplies and utilities. To make a clear differentiation between the different zones, the cabinets cleverly cut off at the dining and living area, providing a natural shift in depth and height to the space as a whole.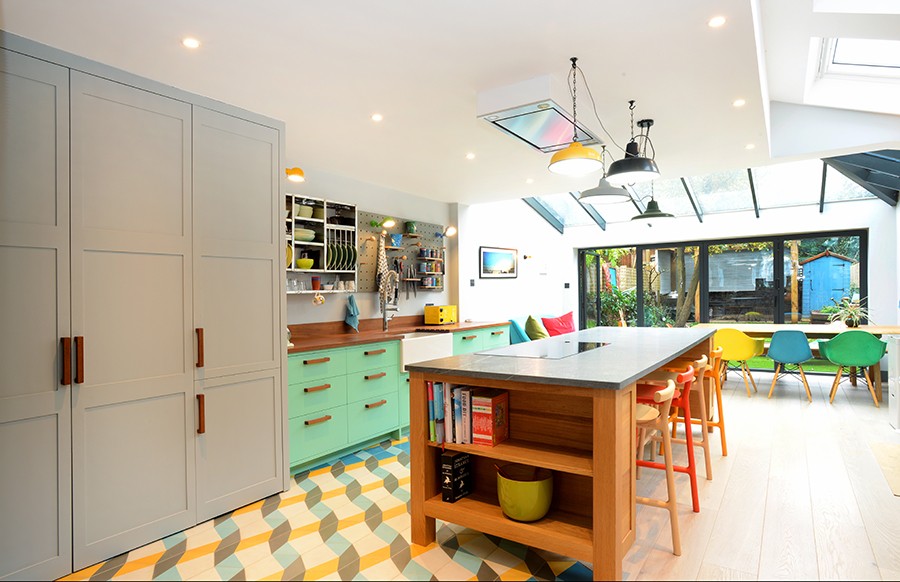 Flow of Colour Palette
Don't be afraid to inject colour into your open-plan space. In fact, the more colour ascents, hues and combinations you have, the better, as these will create visual coherence. For example, our clients in Stoke Newington incorporated this dramatic and impressive tiling in the cooking area, whilst retaining a natural wooden floor in the dining space and around the kitchen island. This helps to break the zones up and injects some character into the room. Always select at least two principal colours for main features such as the kitchen units, cabinetry, and appliances. Then accessories such as cushions, rugs and furniture can be used to add bursts of colour.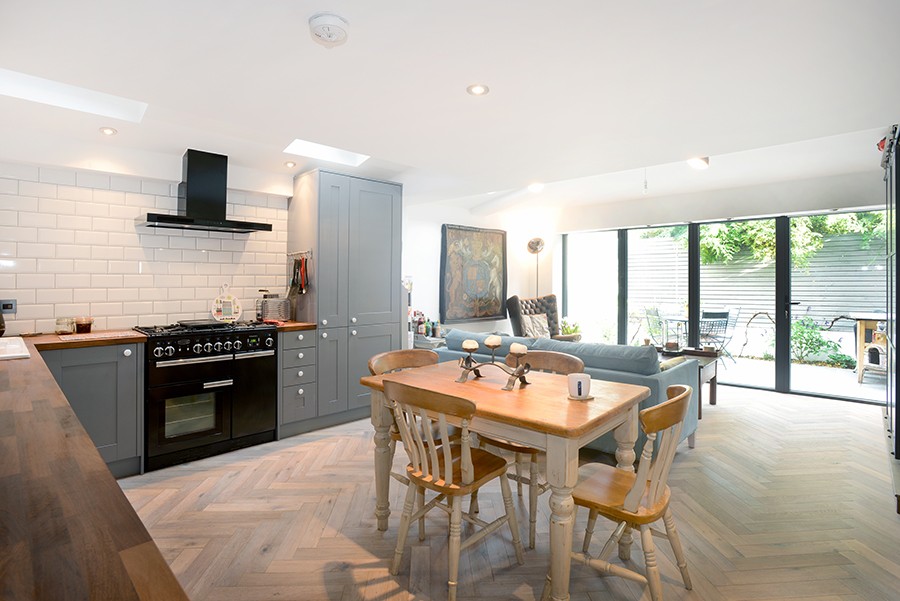 Get a Good Extractor Fan
A benefit of combining the kitchen and living area is a more open and sociable atmosphere, so you probably want to keep background appliance noises to a minimum. You will therefore want to invest in a high quality extractor fan. Extractor fans can be quite noisy so make sure you go for one that does not drown out the sound of the radio or conversation. You'll also want quite a powerful one to whisk away all the cooking smells so they don't waft from the kitchen, through the open-plan space and into the living area or any other zones you have created.
Are you a fan of open-plan? To talk more about how we can help you with your design, why not book a site visit? Give us a call on 02074956561 – we're open 7 days a week!