You don't have to spend a lot to have a fabulous extension – some of our favourite interior finishes have been within some of our budget projects!
There are two elements to think about when designing your extension. The first is the exterior shell – this is the watertight shell of your new room and includes the walls, doors & windows. It's safe to say that the larger the room, the more expensive it will be, and it will get more cost efficient the larger you go. The second element is the interior finishes; this includes your choice of floor material, kitchen supplier, furniture, curtains etc. (the list could go on and on)!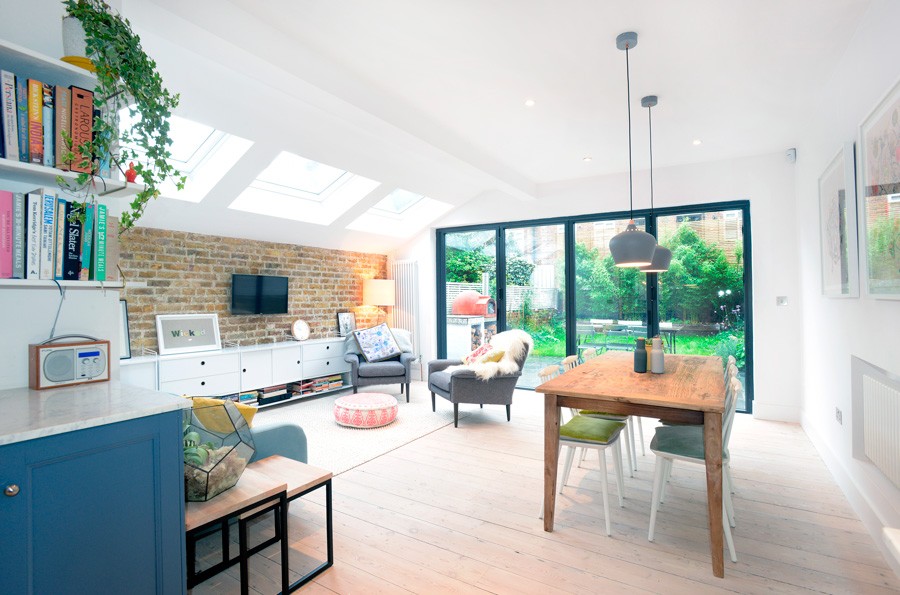 Doors
We design extensions that maximise space and value to your home. Extending your property usually creates an open plan kitchen, dining and living space, and we encourage our clients to think about the interior finishes at the beginning of the process as we often finds this helps shape their vision. For example – placing a skylight over a dining room table makes for a lovely setting.
We generally fit standard sized doors and windows into our designs to help keep the project cost down. We can absolutely go bespoke, and we often do at our client's request. Our project in Battersea features two sets of standard size doors at a right angle, to create a glass box effect.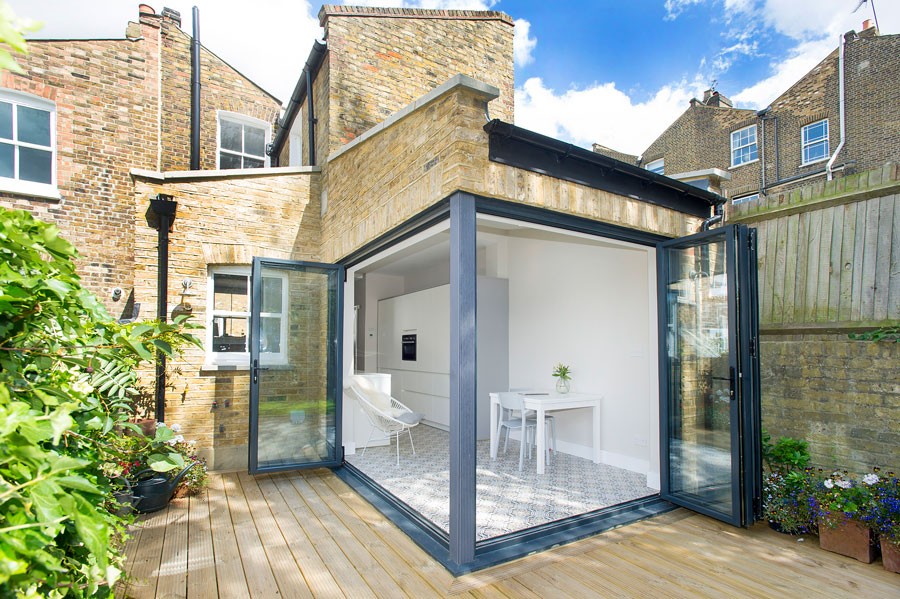 Windows
Just because you opt for a standard size window doesn't mean it can't look bespoke; Velux windows come in all shapes and sizes and our clients very rarely feel restricted in their choice. You begin to rack up cost when you opt for an all-glass roof, so this is something to keep in mind if you're sticking to a tight budget. The largest size available is a huge 1.34m by 1.4m! White frames minimise visual impact of roof lights while keeping a clean simple aesthetic, improving the quality feel of the space.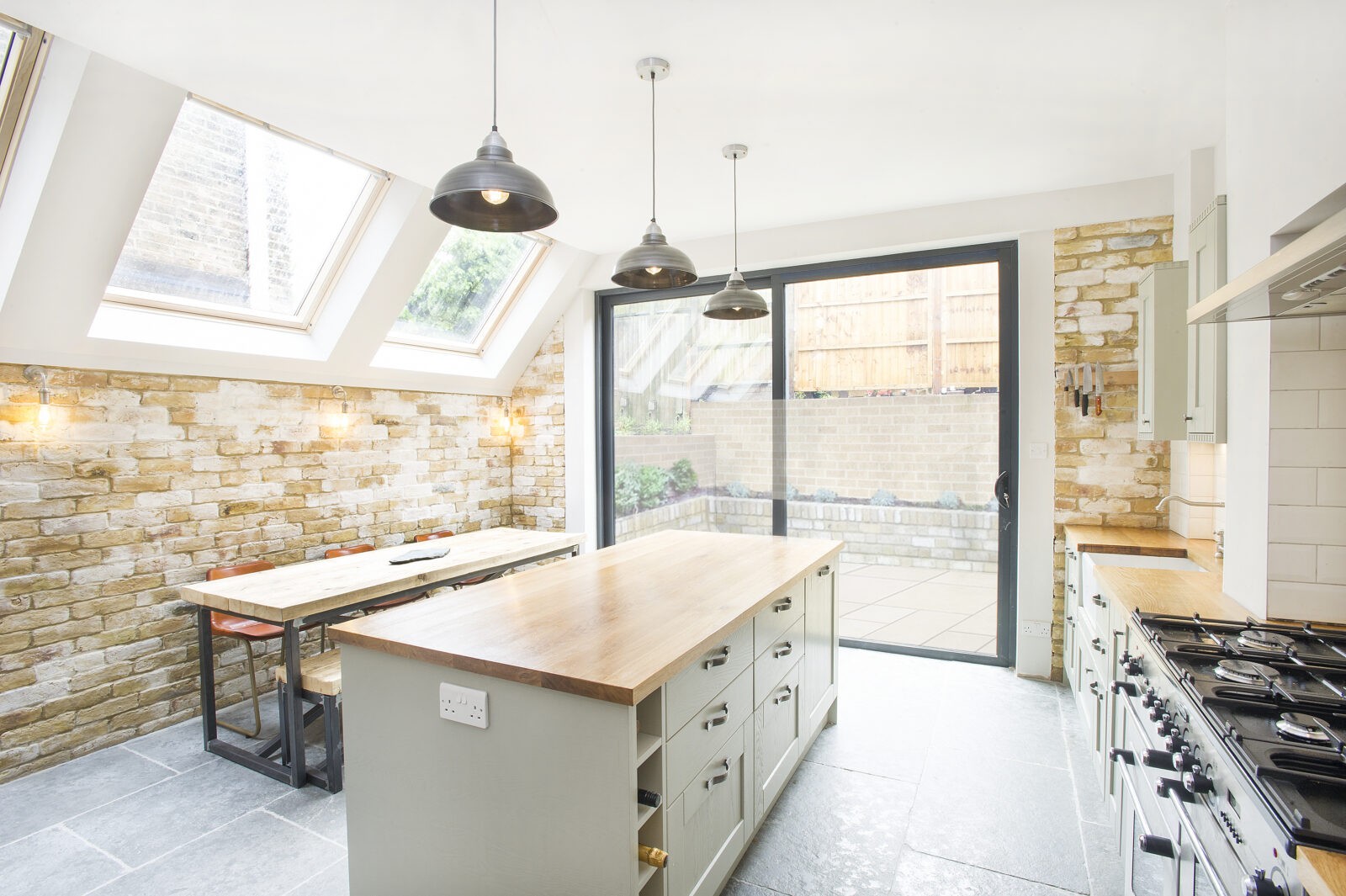 Colour
To help give a quality look, consider a colour scheme and design that carries through your project. Looking at our Battersea project, the minimal colour scheme uses tones of grey in the aluminium Bi-fold doors, kitchen units, extractor fan and in the flooring. This continuing colour scheme harmonises each part of the extension. Design solutions such as these do not need to cost the earth. For the kitchen, consider simple units from Howdens, Magnet or even IKEA.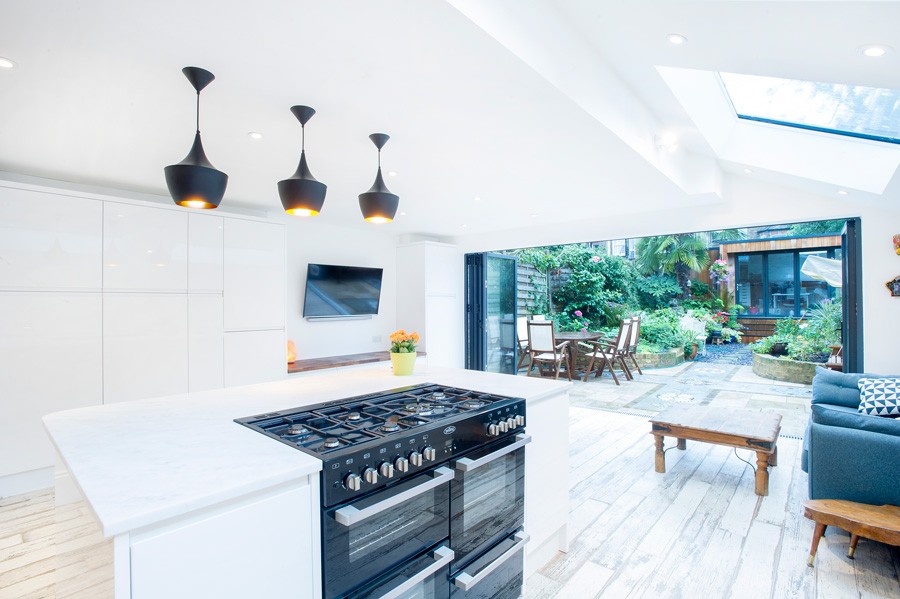 If cost is on your mind, check out our Press Release page on our website. Magazines such as Good Homes & Real Homes often include a price breakdown for each project, so you can see the spilt between extension, kitchen and furniture. You'll quickly realise you don't need to spend a fortune to have a beautiful home.
For any further information or to book a site visit why not contact Build Team today on 0207 495 6 561?