Many homeowners are looking for ways to add much-needed space to their homes without moving to a bigger property. If this sounds like you, a side return extension might be what you need. Side return extensions are one of the most popular options for homeowners looking to expand their living spaces.
Side returns are strips of land that run alongside the main house, typically used to access the rear garden. But with some clever design, this space can be transformed into a valuable extension of your home.
In this article, we'll explore some side return extension ideas to help you make the most of this underutilised space. From open-plan kitchens to home offices, there are many ways to transform your extension into a stylish home you'll love.
So, whether you're looking for more living space or a children's playroom, a side return extension could be the solution.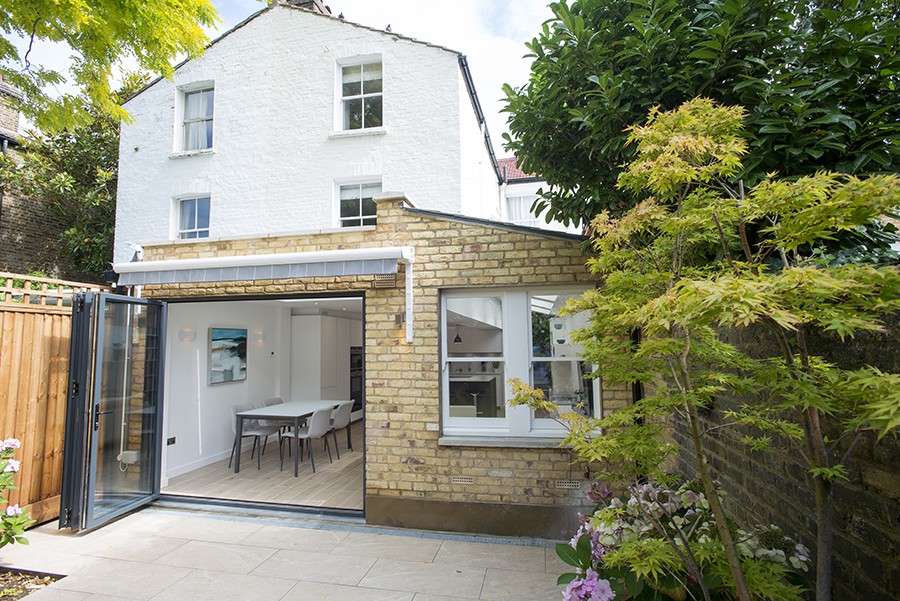 What Properties Benefit from a Side Return Extension
A side return extension can benefit a variety of properties. However, this extension type best suits end-terraced or semi-detached properties with ground running beside the original building. However, careful design and construction can also allow the addition of a side return extension to detached houses.
A side return extension will benefit homeowners with smaller properties or those searching for additional space without moving home. This extension style can increase the property's square footage without sacrificing much outdoor space, a big concern for many homeowners.
Side return extensions are also helpful in creating an open-plan living space or a larger kitchen. With this style of extension, you can expand your living area while also increasing the value of your home.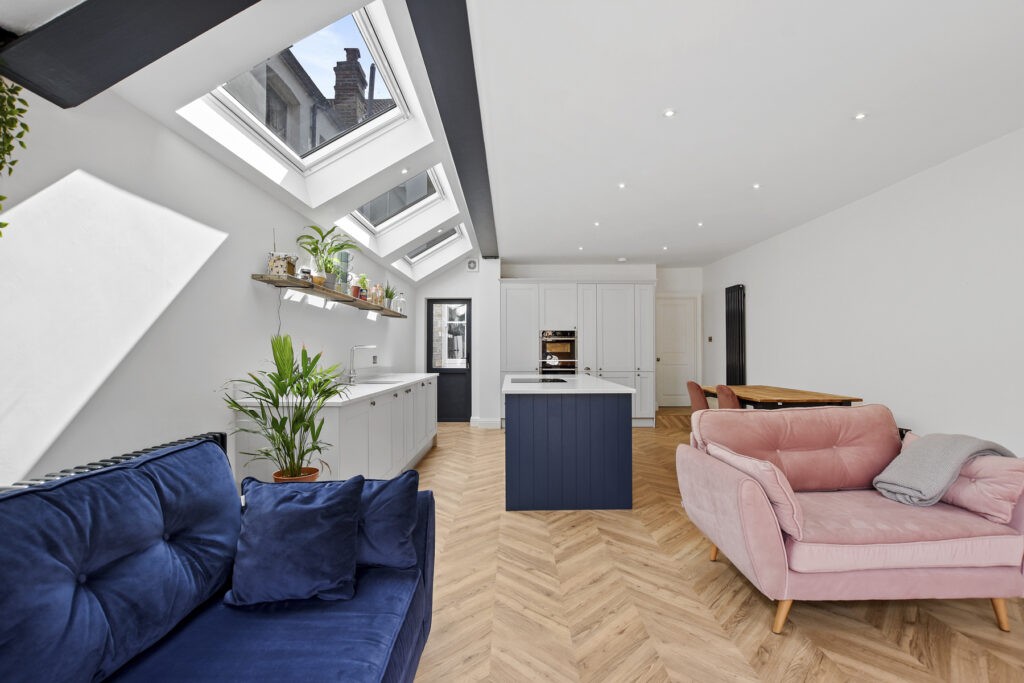 Most Popular Uses for A Side Return Extension
Open-Plan Kitchen & Dining Area
One of the most popular ideas for a side return extension is to create an open-plan kitchen and dining area. By extending the kitchen into the side return, homeowners can create a more spacious and functional kitchen. Installing large windows and skylights can flood the space with natural light and create a bright and inviting atmosphere. A kitchen island or breakfast bar can also provide additional seating and worktop space. Homeowners can also optimise the space by adding custom-built cupboards and shelves to provide extra storage for kitchen appliances, cookware, and tableware.
A kitchen-dining area extension involves extending the kitchen into the side return and opening the space to create a dining area directly adjacent to the kitchen. This extension allows a seamless flow between cooking and dining, perfect for hosting dinner parties and social events. A large dining table, comfortable seating, and plenty of natural light can create an inviting atmosphere that encourages guests to interact. In addition, installing bi-fold or sliding doors can provide easy access to the garden and make an indoor-outdoor connection.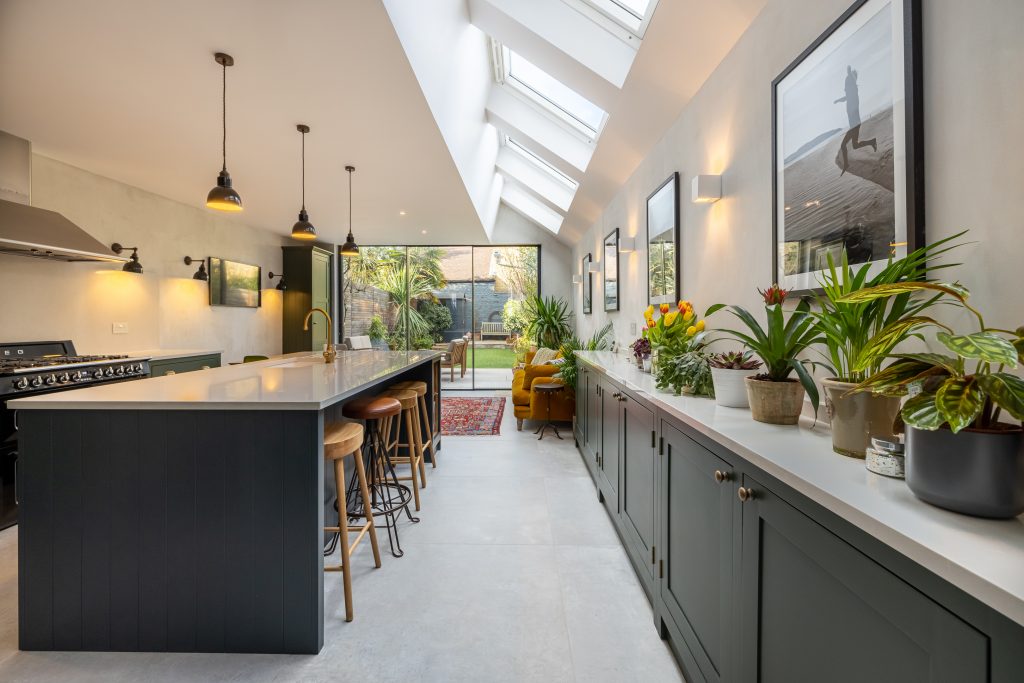 Indoor & Outdoor Dining Area
Another great idea for a dining area in a side return extension is to create a breakfast nook. This type of space is perfect for casual, everyday meals or a quick bite to eat. Adding a small table and chairs allows homeowners to create a cosy and intimate space perfect for morning coffee or a quick breakfast. Consider installing a large window or skylight above the breakfast nook to maximise natural light and create a bright and inviting atmosphere.
By installing large sliding doors that connect the indoor and outdoor spaces, homeowners can create a seamless transition between the two areas, making it perfect for summer evenings and outdoor entertaining. In addition, a large dining table, comfortable seating, and mood lighting can create a cosy and inviting atmosphere for dinner parties and family gatherings. For homeowners who love entertaining, an outdoor bar can be a great addition to the side return extension.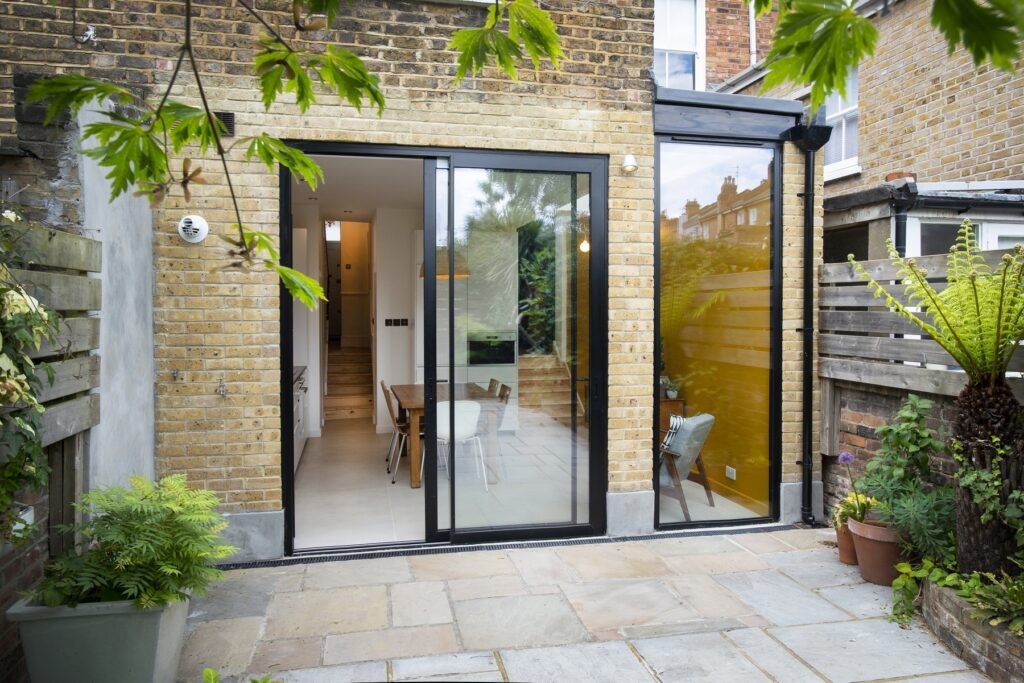 Home Office & Reading Nook
With more homeowners working from home since the pandemic, creating a dedicated home office has become extremely important. You can incorporate large windows and skylights to fill the space with natural light and create an inspiring and productive environment. Additionally, you can add custom-built shelving and storage to provide ample space for books and work materials. At the same time, a large desk and ergonomic chair can make working from home more comfortable and efficient.
A dual-purpose space may be the perfect solution for homeowners who need to use the area for work and relaxation. You can tuck away a built-in desk or workspace when not in use. Homeowners can also create a reading nook by adding a comfortable seating area, such as a sofa or window seat. By installing soft lighting, homeowners can create a comfortable and relaxing space for reading and enjoying some quiet time.
Adding soundproofing or acoustic panels to the walls and ceiling can also create a quieter and more focused environment for those who work from home. A partition or sliding door can be added to make the space more private and secluded.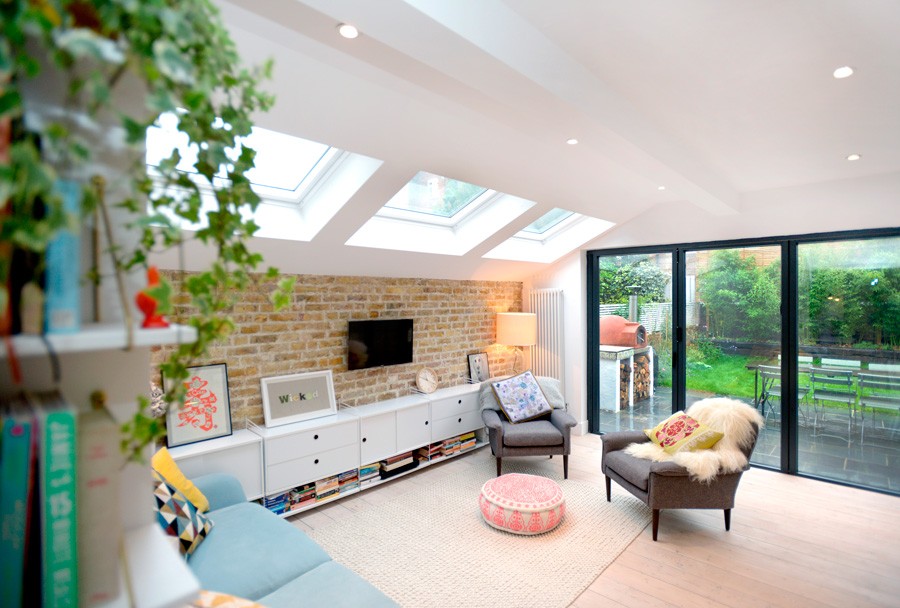 Utility Room & Boot Room
Another practical use of a side return extension is to create a utility room. This space can house a washing machine, dryer, and other household appliances. This provides a separate functional and organised space for laundry and storage. In addition, custom-built shelving, cabinets, and hooks can offer additional storage for cleaning supplies or laundry drying.
Incorporating a boot room in addition to the utility room is a clever and attractive idea for a side return extension, especially if you have pets. It provides a functional and fashionable space to store outdoor gear, such as shoes, coats, and pet accessories, while keeping them tidy and concealed. A bench or seating area can also be added, providing a comfortable spot for putting on or taking off shoes.
Consider using durable and easy-to-clean materials, such as tiles or hardwood flooring, to create a stylish and cohesive look. Adding a patterned wallpaper or a bold accent colour can also create a unique and personalised look that enhances the space's overall design.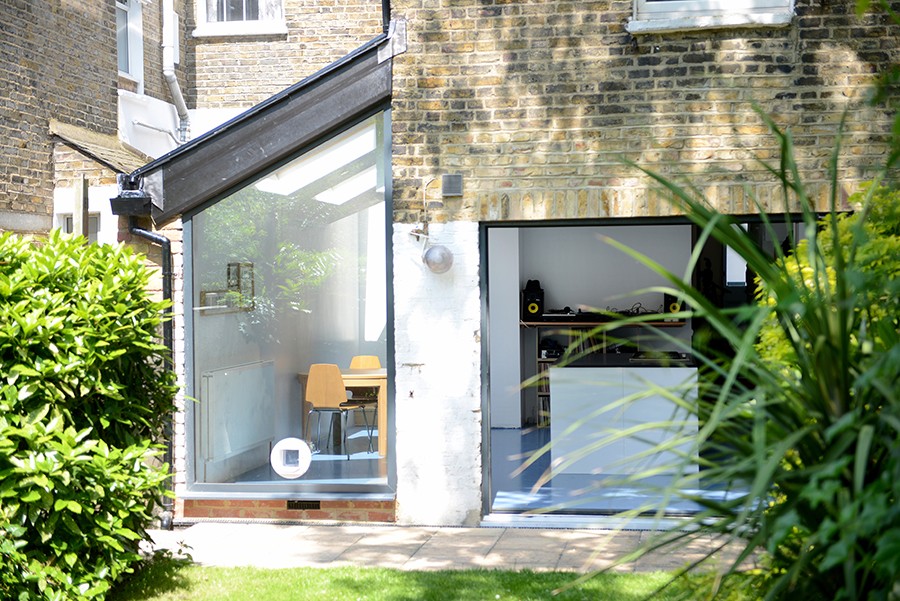 Playroom & Media Room
A side return extension can also create a dedicated playroom for families with young children. This space can be filled with toys, games, and books, providing a safe and organised area for kids to play and be creative. Built-in storage can also provide additional functionality and help keep the space clutter-free.
Children's interests and hobbies will change as they age, and a dedicated playroom may no longer meet their needs. In this case, a side return extension can be repurposed into a media room.
A media room is perfect for older children to relax and unwind after a long day of school or extracurricular activities. Homeowners can create a cosy and inviting space perfect for movie nights or gaming sessions with friends by incorporating comfortable seating, such as a sectional sofa or oversized bean bag chairs.
To create a cinematic experience, consider installing a large screen or projector and a sound system to deliver high-quality audio. Adding blackout curtains or shades can also help create a more immersive experience, blocking unwanted light and creating a more dramatic atmosphere.