There are myriad possibilities when choosing flooring options in kitchen extensions – who knew? So trying to make the decision may be a little trickier than you first thought.
Hopefully, this will help you navigate the sea of flooring choices out there, and enable you to obtain the right look for your perfect, dream kitchen. Do choose it fairly early on though, as this will help with the fitting of your new kitchen units.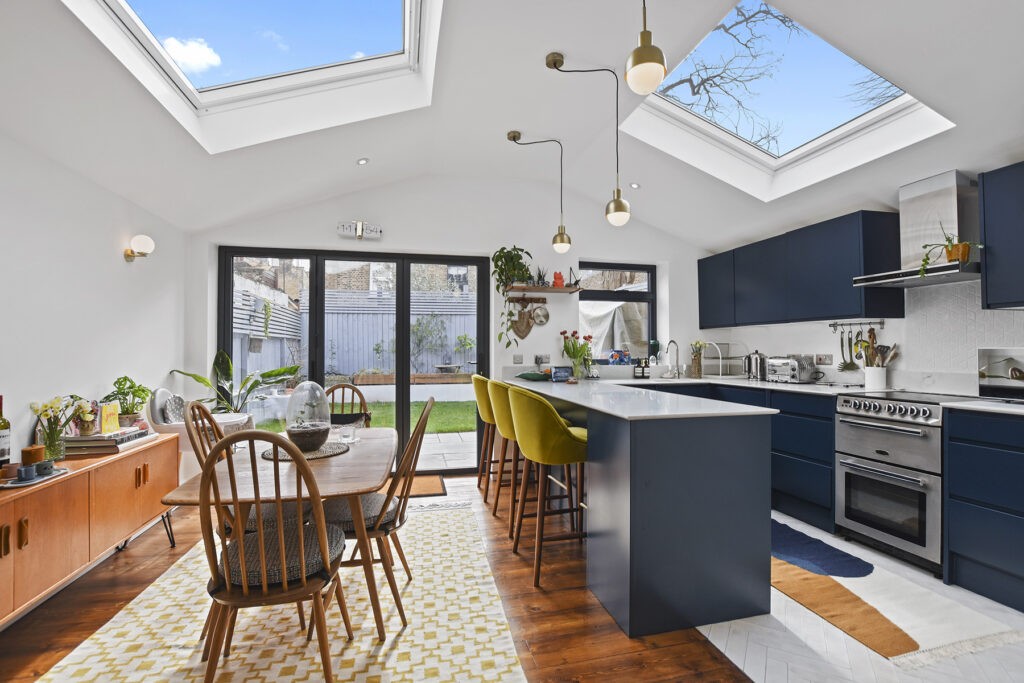 ---
Things to Consider:
Overall Aesthetics
You have achieved your ideal kitchen, now you need to ensure the flooring works with the flow and feel of the area, as well as complementing your choice of units.
Durability
Is there a door leading out into the garden, meaning messy feet upon re-entry to the kitchen? Do you have any children who will be in a hurry to get indoors for a snack, forgetting to take off their shoes or boots? What about your cast iron pans and crockery? Dropping them on a particularly hard, unforgiving surface could potentially be disastrous. Looking for something which is tough and long-lasting could certainly be high on your list of priorities.
Two Areas?
Perhaps you may wish to have two flooring types if you are having an open plan kitchen dining room – one to separate the cooking area from the dining area. On the one hand, practically, this works well in case spills are made by the stove, but on the other, stylistically and spatially, it defines different areas in your new space.
---
Underfloor Heating?
If this is something which you are considering in your new kitchen, be sure to check this is viable with your final flooring choice.
Eco-Friendly Options
Keep this in mind, as there are some good options that will tick this box.
Natural Light
Did you have skylights installed? Remember that your flooring choice can help to flood the kitchen with even more natural light.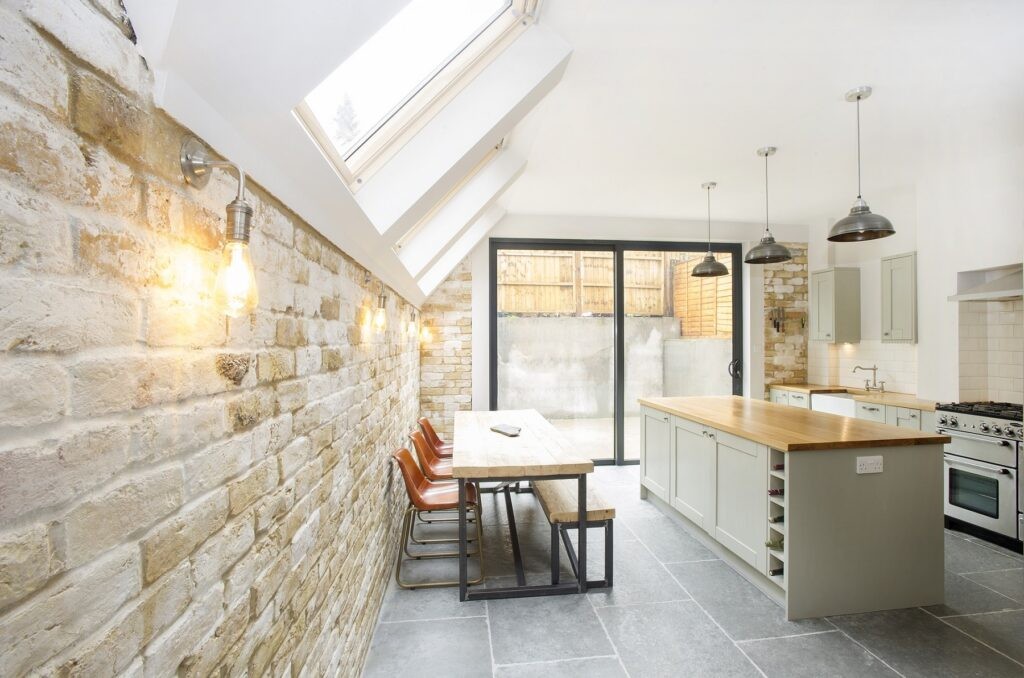 Colour Choice
Flooring can be used to complement the kitchen units in a couple of ways – choosing the same colour or completely contrasting – it's up to you.
Trends
Keep an eye out for new trends, but be aware these can swiftly change, and you may decide you don't like your choice sooner than you think. Have a look at our Houzz and Pinterest accounts for ideas in general.
Regular, Irregular or Herringbone?
Consider having a particular laying pattern to add both style and interest to the space.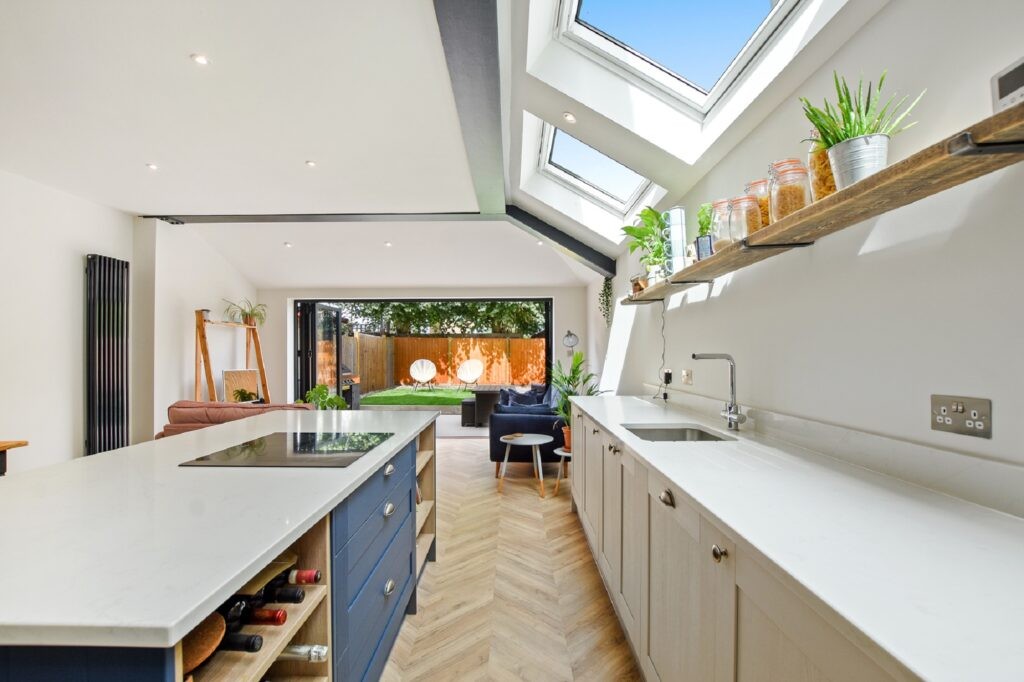 ---
So, What is on Offer?
Again, as initially suggested, there are so many flooring options in kitchen extensions, ranging from all natural materials to the more engineered versions. Be wary of price vs how long the flooring will last, and bear in mind there will always be choices to suit all budgets.
Cork and Linoleum
These two may not jump out as immediate choices, but they are certainly eco-friendly ones.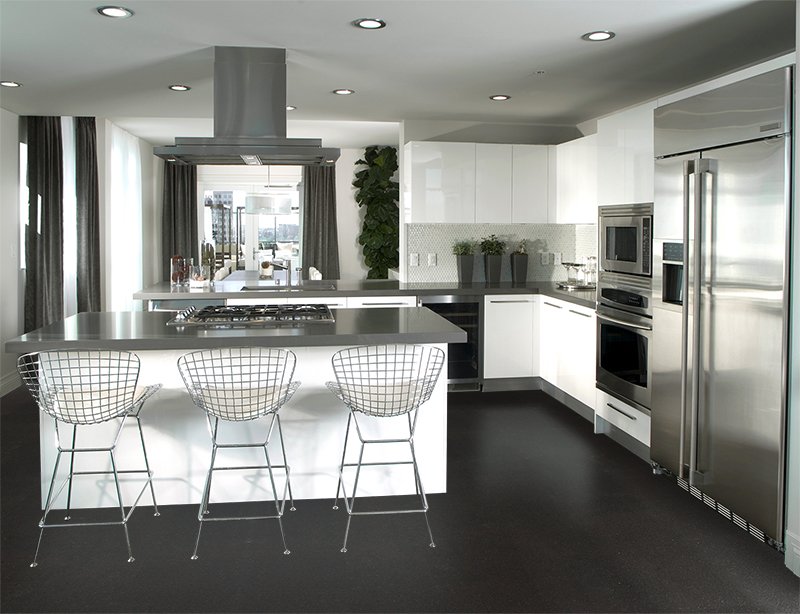 ---
Laminate
This offers a large range of options to suit all colour and texture palettes.
Stone
The natural version is tough and will need proper sealing to resist stains. Selecting a more textured surface will fit a more countrified look, whereas the smooth one will add a modern touch. The engineered version is also something to consider as it is both hardwearing and scratch resistant.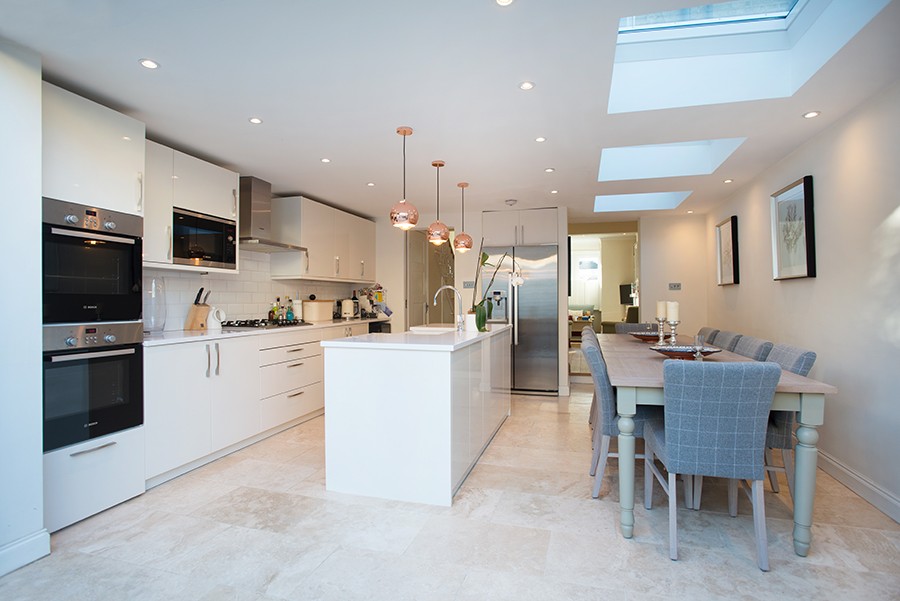 Tiling
A frequently chosen option, as it offers such a sleek finish. However, be aware of the grout cleaning required in between the stones. Ceramic and porcelain both look stunning, but be aware ceramic does not have the same colouring all the way through, meaning any chips to the surface would be extremely obvious; of the two, porcelain would be the tougher option.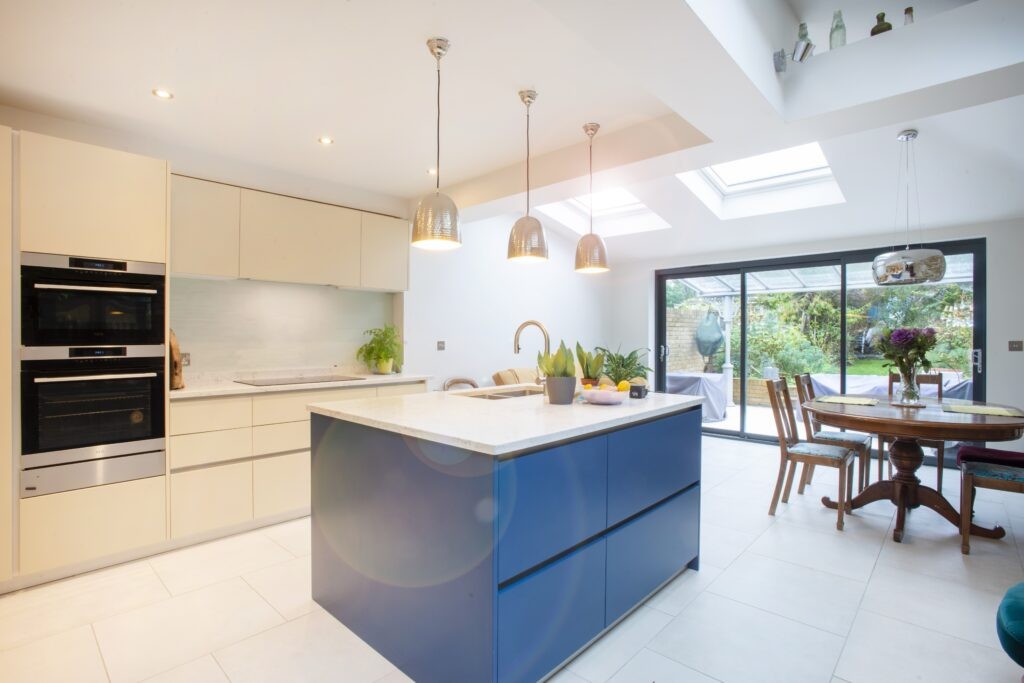 Vinyl
This type of flooring has come a long way and now has many patterns and modern looks to suit every style.
Wood
A beautiful, and sometimes costly option, this will certainly need more care than the other; for example, ensuring it is well-oiled and sanded. However, the overall look and feel will often outweigh the maintenance required. A more purse-friendly alternative would be to go for the engineered version; it requires far less maintenance and is easier to keep clean.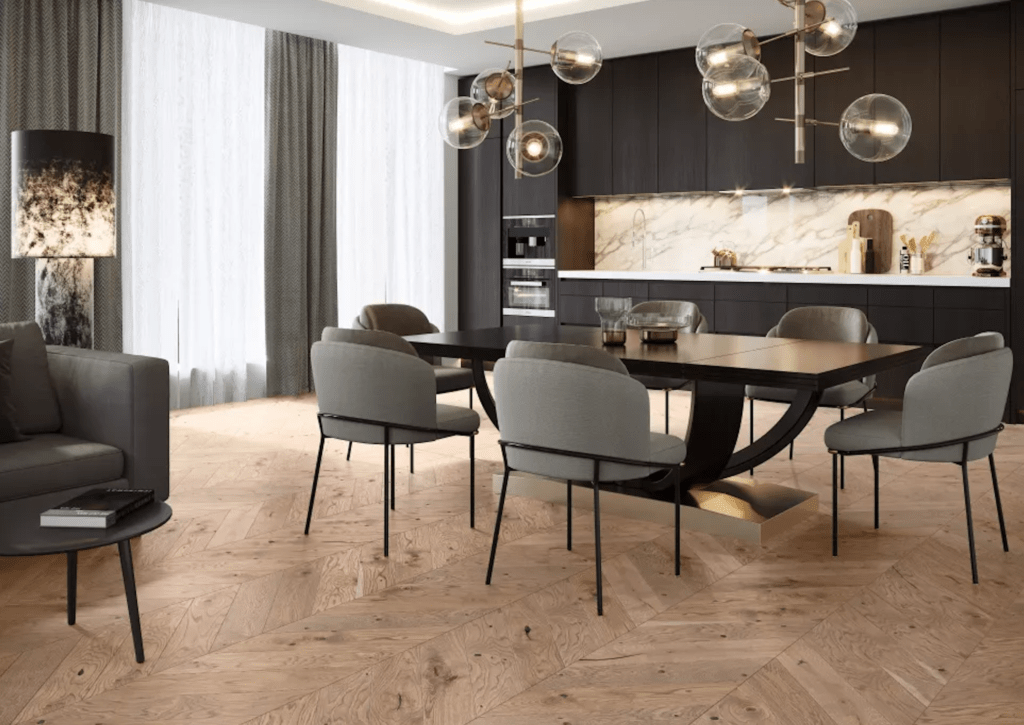 ---
As with everything, there are positives and negatives, and ultimately, you need to make a choice with which you are happy – after all, you will be the one living in and using it every day. So when choosing flooring options in kitchen extensions, perhaps sit down with your partner or housemate. Have a coffee, and make a list of exactly what you want. A top ten – or at least top five – wish list will help to go a long way when making the final decision. Good luck!
---
If you have some ideas about an extension to your home, please contact our Enquiries Team. You can call them on 0207 495 6561 or email hello@buildteam.com to arrange a FREE Design Consultation with one of our friendly architectural designers.