An open plan design is a great way to create a large multi-functional space and it's an obvious favourite for our past and current clients. Not only does this design option utilise all of the space available, but it also encourages the flow of natural light throughout the home. It also comes in useful when entertaining, and can be a great way to keep the family in one social setting, despite doing different activities.
There is one careful consideration that requires some thought with this type of design. This is how to divide one large space into smaller areas without the need for walls and doors. Our solution: Zoning. Zoning your Kitchen Extension into separate areas for cooking, dining and living creates the illusion of more space, while also allowing you to keep areas for specific a purpose.
There are two great ways of achieving a successful Zoning design, one is through furniture arrangement and the second is with lighting.
Furniture Arrangement:
Furniture arrangement is the most popular and practical way Zoning can be achieved successfully. Careful arrangement of your furniture means subtle divisions are created that are not obvious or over bearing. You can see from the floorplans below, there are three main zones: the Living Zone, the Cooking Zone and the Dining Zone.
By placing your sofa at the end of the Living Zone, you can create the illusion of a partition that marks out the line between where you sit and where you eat. Adding a sofa that faces away from the other zones means you can create greater focus within this zone. Corner sofas are also excellent for this type of zoning.

If you choose to have a kitchen island or breakfast bar, positioning the seating at the boundary of your Kitchen Zone can also help to establish separate zones. Choosing to have kitchen island seating can create an overlap between the Kitchen Zone and Dining Zone. The placement of your sink is also important; if you want to keep the space very social, consider placing your sink or hob on your kitchen island, facing one of the other Zones.

Lighting:
Another way to zone areas is through lighting; this can be natural or artificial. Well thought out lighting has always been an important element to consider in any architectural design, especially in areas like the Kitchen where task lighting allows for optimal use of the space. One popular choice is to have Velux windows over workspaces; this not only gives you the best light for cooking, but it can also shape and frame the Kitchen Zone within the Open Plan Design.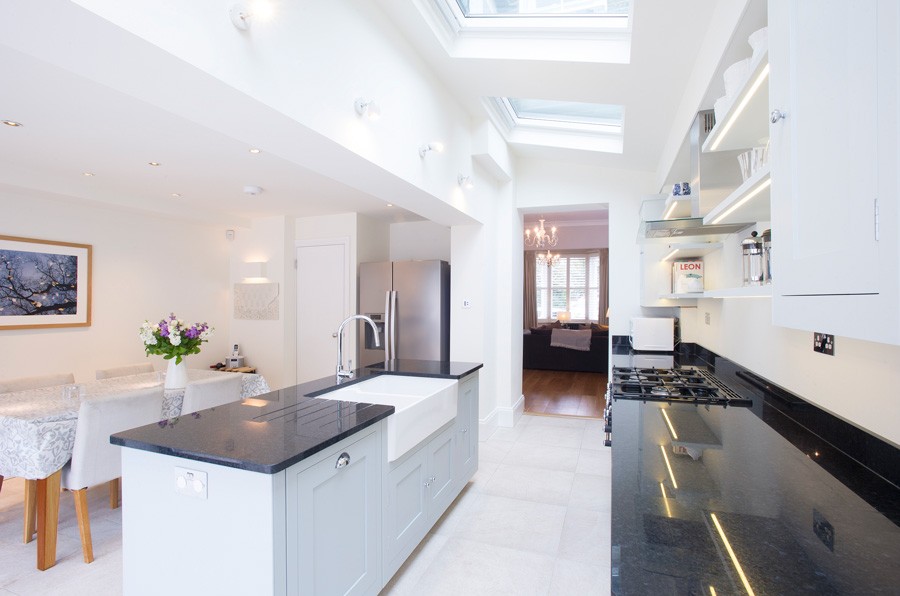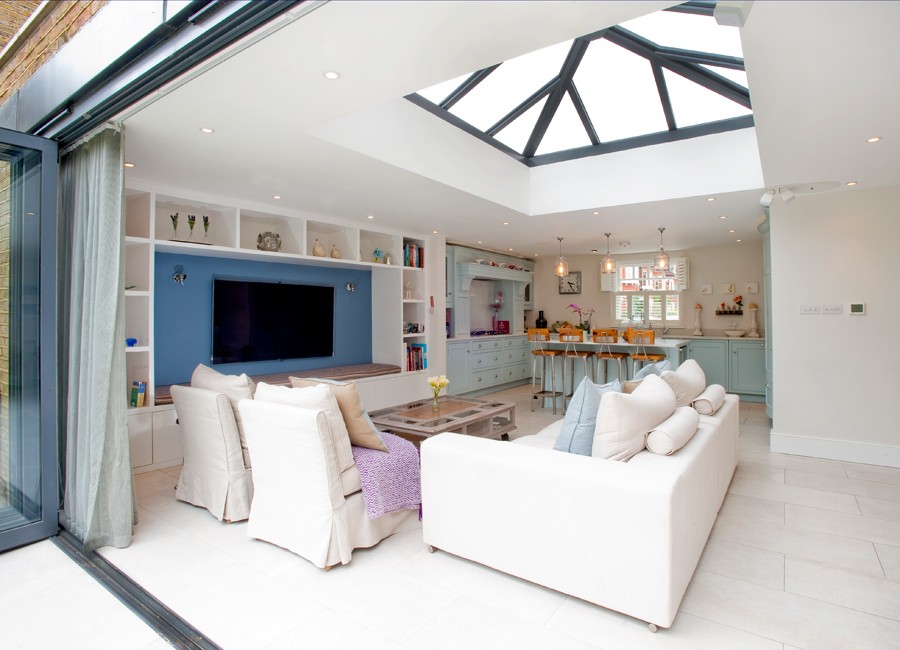 Don't be afraid to use windows to act a feature to the room, which you can later use as a centrepiece to arrange the furniture around. Roof Lanterns create a fantastic focal point to a space and when correctly arranged with furniture, can make a fantastic zone!
For more relaxed areas such as the Living and Dining Zones, lighting that you would otherwise use in the Kitchen can be a bit harsh. Artificial lighting, which can be adjusted with either a dimmer switch or a bespoke shade of lightbulb, can be a great solution to creating the perfect ambiance. The use of pendant lights or low hanging lighting over a dining table is the perfect way to create a more laid back environment, and is a very popular choice!