When designing your extension, you need to consider how to shape your new space. The two most popular kitchen extension roof types are pitched or flat and each one offers different advantageous qualities. The type of roof also guides your options on what kind of windows you can have; here's a quick breakdown of your options.
Pitched Roof
Pitched roofs are sloped and are great if you would like to increase your internal head height. They can be used for side in-fills as well as rear or full wraparound extensions. Pitched roofs are easy to maintain and allow for a variety of different material finishes such as slate, zinc, lead or clay tiles. They are a great option if longevity is a priority or concern and are often better suited if you want to maintain the traditional, exterior finish of the your property.
When designing your kitchen, one of the most important factors is how to maximise natural light. In most cases, adding an extension will involve removing exterior windows to the rear of your property. Many opt for largely glazed doors and rear walls but one other way to optimise natural daylight is through your roof.
Pitched roofs also give you the option of roof lighting such as Velux windows or all glass windows.
Angled and sloped roof lights deepen the span of which natural light enters your space, so are a great option for those of you who love light, bright airy ro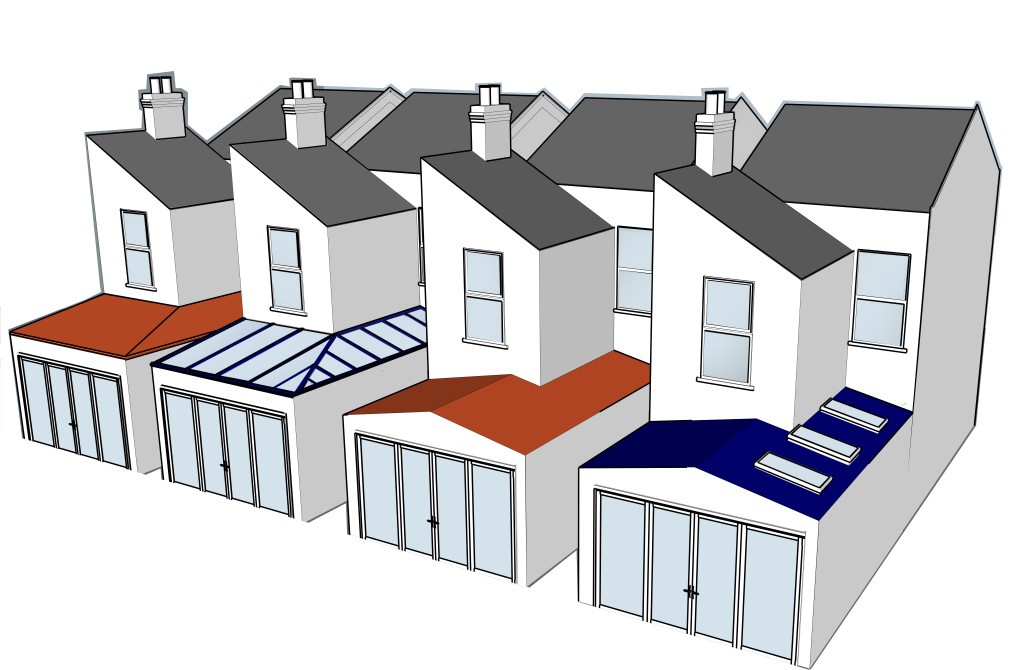 oms.
Flat Roof
Alternatively Flat roofs are equally as popular. People are drawn to flat roofs because they can be cheaper and require less material labour; they also have a modern, sleek finish. Flat roofs work well with roof lights, skylights and lanterns/pyramids. Roof lights on a flat roof are great if you would like to focus light in a specific area such as above a dining table or seating area.
Flat roofs offer privacy from neighbouring properties and offer other design opportunities such as roof terraces.
It's important to note that even a flat roof will have a very slight pitch; this is to allow rainwater to drain off efficiently. The 5 Degree pitch is hardly noticeable and still looks flat!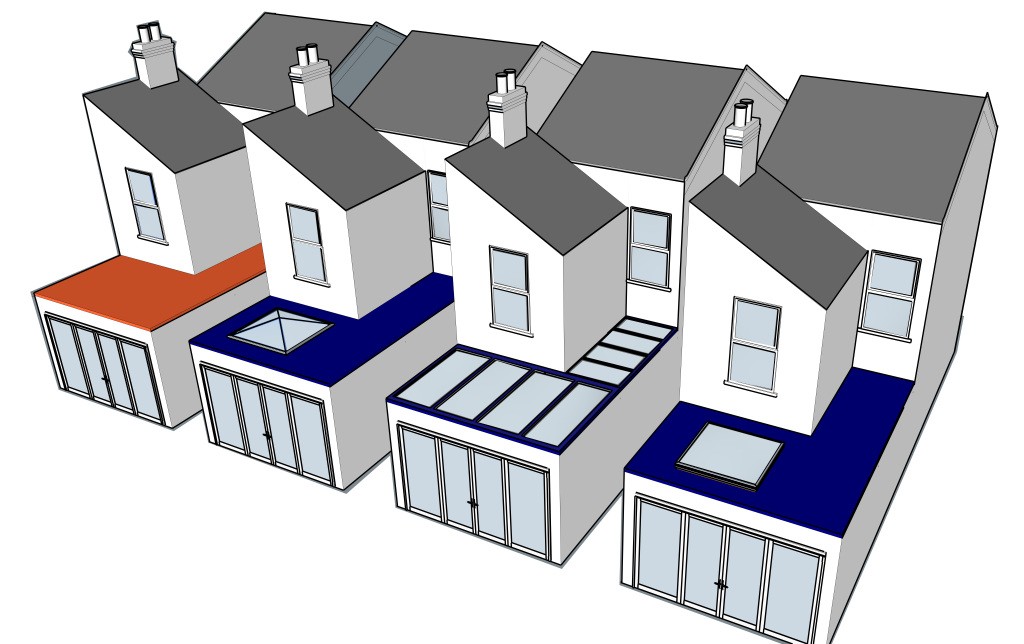 Half pitched / half flat
Finding it tricky to pick one? Why not opt for the half and half option. This option gives you more variety, as it offers the opportunity to have skylights, lanterns, Velux and as demonstrated in the diagram, inflected windows.
This option is very popular because you can gain the advantages that both flat and pitched roofs offer. You can get the privacy that comes with a flat roof, as well as maximise your internal head height; combine that with the Velux windows that encourage lots of natural light, and you might find your perfect extension!