The best kitchen layout is dependant upon you and the way you use this space. The kitchen is often considered to be the heart of the home, which is why it is no surprise that many homeowners across London want to extend theirs and create a larger open plan space for all the family. However, it is easy to get distracted by the visual characteristics of your home extension and forget to put functionality at the forefront of your design. If the new space is going to work for you, then function is more important than aesthetic. This is why there is not one 'perfect' kitchen design; it completely depends on your personal preference, lifestyle and the space you have available. There are however five basic layouts with which you can start and adapt to suit your needs. Read on to find out more.
---
U-Shaped Kitchen Layout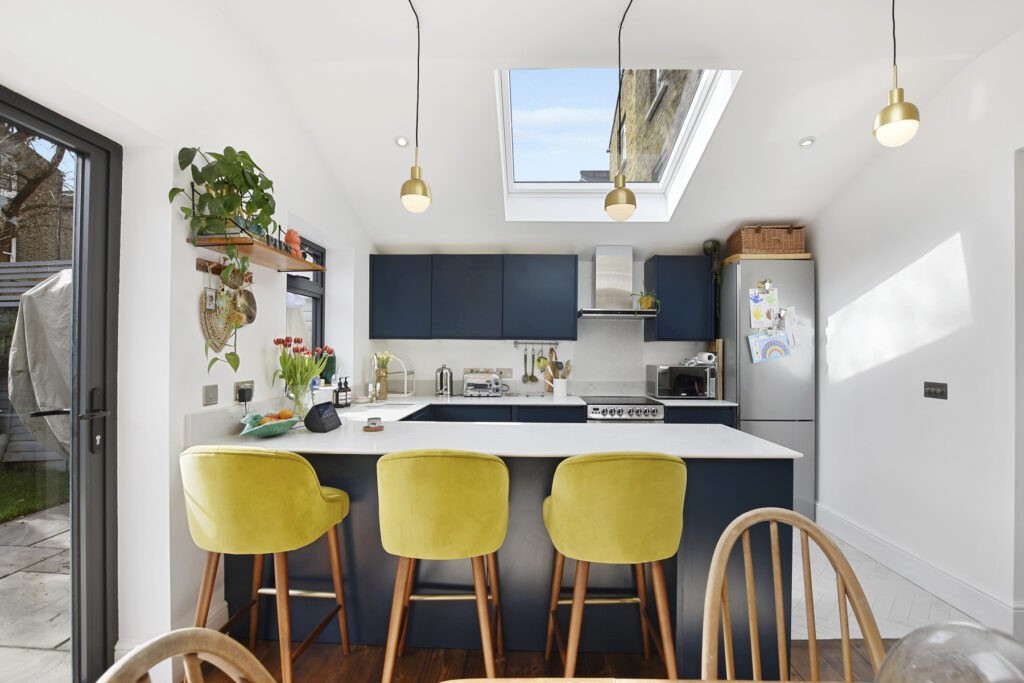 The name describes this one perfectly. It is a kitchen that wraps around three sides, creating a U shape. All three sides do not need to be against a wall, for example our project in East Dulwich utilises one side as a breakfast bar into the dining space. This U-shaped design is most efficient in smaller kitchens as it recycles the floor area. It also maximises your storage and counter-top space.
---
Peninsular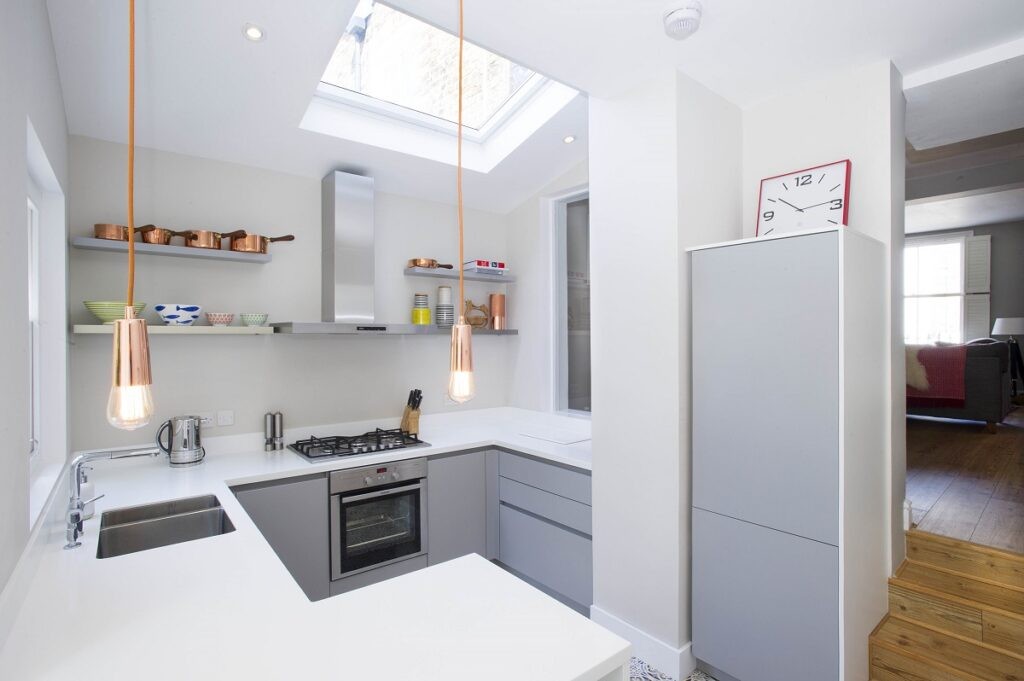 The peninsular, also often called the G-shape, is similar to the 'U' but with an additional arm which tends to work well as a breakfast bar. This is a fantastic design alternative to a kitchen island in narrower or smaller kitchens where the space is not quite large enough to have a stand-alone island. The design also works well when you are looking to create defined zones within your home like this project in Battersea. The kitchen is within a designated zone, but still open to the rest of the space.
---
L-Shaped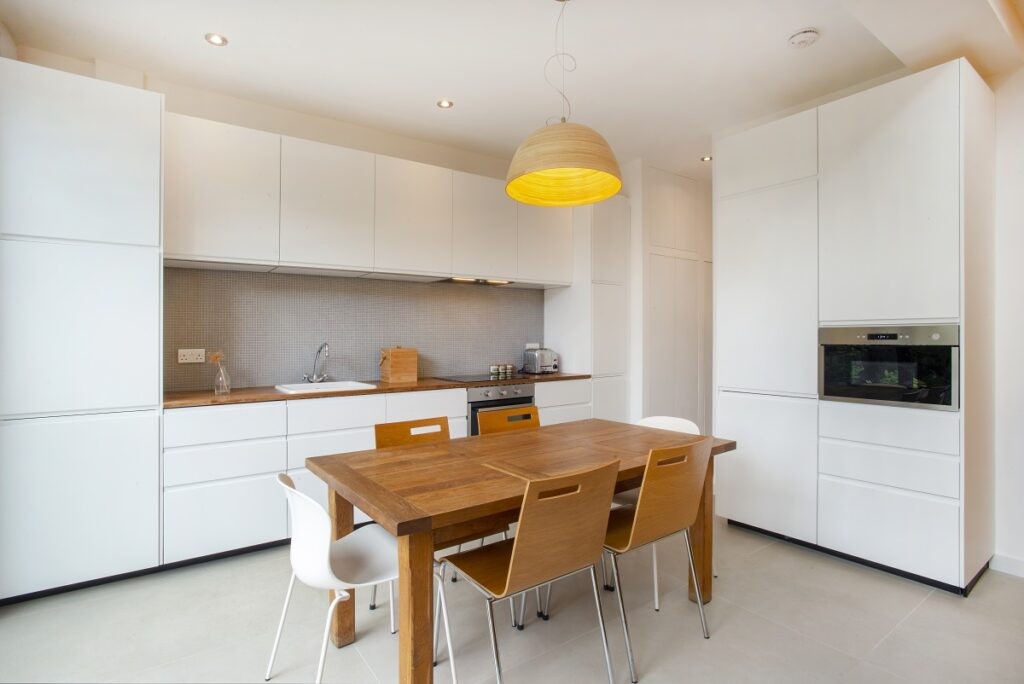 This is a very popular shape for a kitchen of any size. The design is common if you want to integrate two zones, such as the kitchen and dining space, into one. By having the kitchen on two sides, it opens up the rest of the space and leaves it free for a multitude of uses. This ground floor extension in N4 uses a L-shaped kitchen effectively to allow the dining table to be part of the space.
---
Galley Kitchen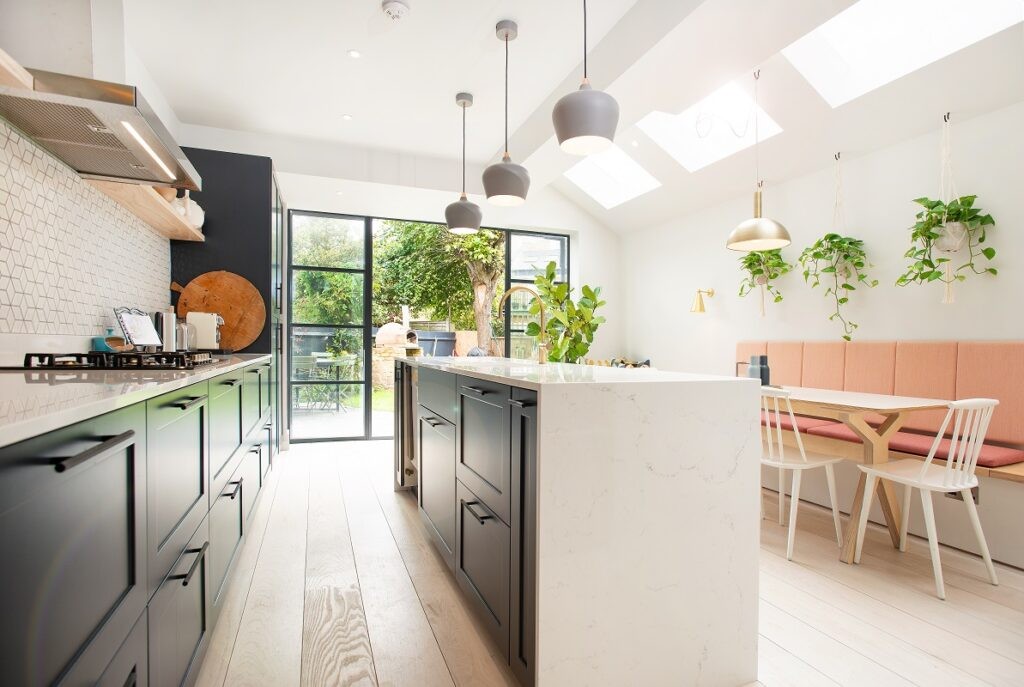 The galley kitchen is the best option for narrower spaces because you can use the central space as a corridor between two zones. You can also use each wall to have plenty of storage. Having the two workstations parallel to each other also means that there is an easy connection between the two sides making it more practical. It is worth noting that both sides do not need to be against the wall. You can have one side open to the rest of the space in the form of an island, just like this project in Finsbury Park.
---
A Kitchen Island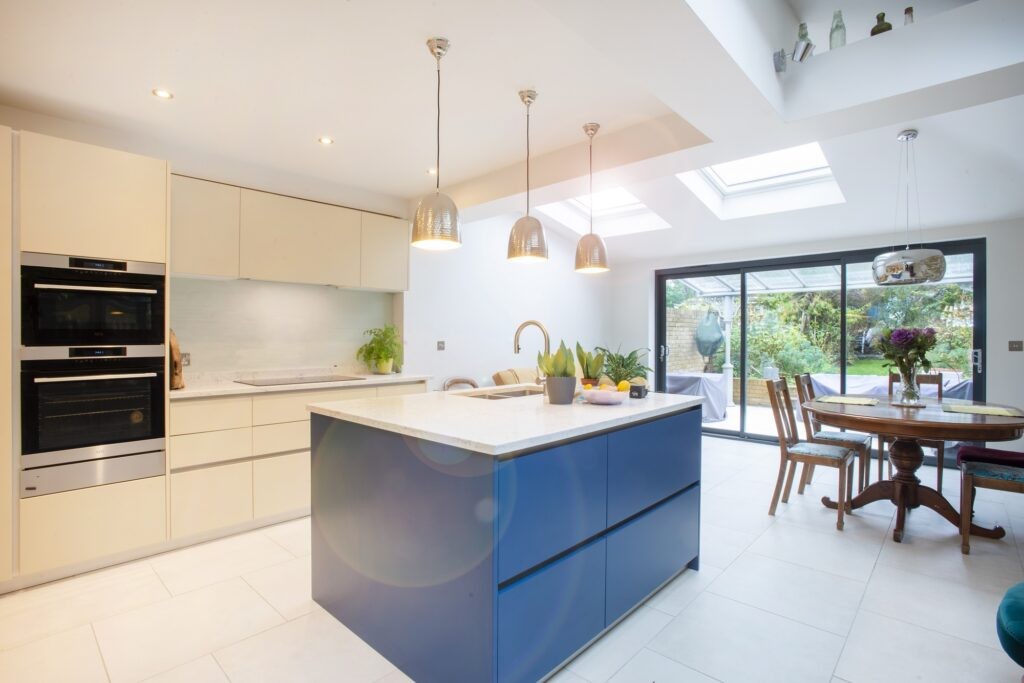 A very popular design feature in larger kitchens is an island. This helps to zone space and make a larger kitchen feel more connected. Our SE14 project shows this, as the island fills what would have been a large open space, and brings the dining area into the kitchen. Adding a kitchen island to your design gives you additional worktop which is usable on all four sides too. It can be a great place to have a breakfast bar, or to place the hob or sink, allowing yourself and guests to continue to socialise while you are preparing food and drinks.
---
The Broken Plan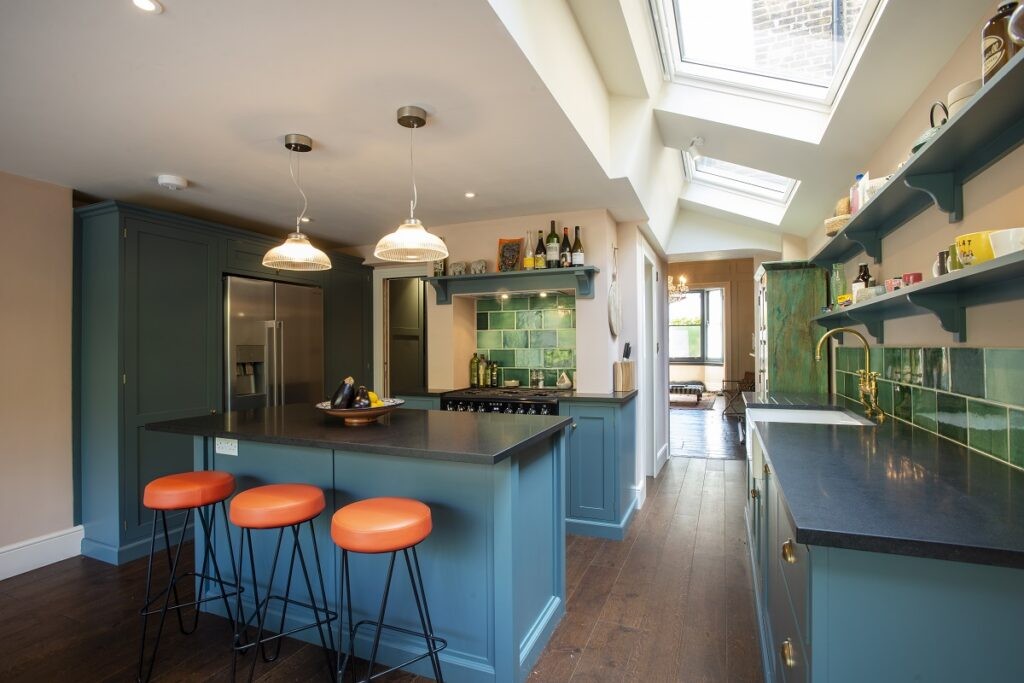 It is worth remembering that you don't have to stick to one of the set layouts above. You can use what we call a broken plan. This is a combination of different segments from the above kitchen layouts, to create a bespoke design for your unique space. You will regularly see kitchens laid out in a way which combines various elements to create a layout that works best for both the shape, and how the homeowners will use it. For example, this kitchen in South London uses a U-shape plan broken into three distinct parts. There is also the addition of an island to create their spacious kitchen.
---
We recognise that your kitchen layout will help to inform and shape the design of your home extension. This is why we include the outline of it within our Architectural Design Service. We believe that when it comes to kitchen design it is important to get it right first time, which is why we offer up suggestions and actively encourage you to experiment and try out layouts in the design phase. We want to make sure we design the perfect home extension for your lifestyle.
To start the process of designing the perfect kitchen layout for your home, arrange a free Design Consultation with one of our architectural designers now. Simply click here or email hello@buildteam.com, and a member of our team will be in touch.