Building Control is a collection of guidelines designed to maintain your safety when extending your home. During the build process, this typically involves four site visits: the first visit when the foundations are being laid, the second when the cavity wall is erected, the third during the installation of the steel and the final visit when the project has been completed.
Building Control are particularly interested in very practical elements of your home – one of which is your staircase. We thought we would run through some of the staircases we have designed and built and how Building Control applies to them.
Spiral Staircases
Spiral staircases can be a wonderful design feature and are partially useful when you want depth, but don't have much room. They're brilliant space savers and can have a very sculptural appearance.
The minimum diameter for these staircases is about 1.5 metres, but be aware that if the space is tight then the final say goes to the building inspector. Handrails are typically 90cm high with a balustrade of 1.1 metres. These are the Building Control safety requirements to prevent people falling from the staircase. This should not put you off however as they are a wonderful design feature for both loft and basement conversions and becoming increasingly popular in modern day living.
Standard Staircases
Standard staircases are designed as the easiest way to ascend to the next floor; they are probably stairs as you know them. These stairs have regular spacing along their width and a landing above and below, equal to the width of the stair.
Building Control Considerations
There are a few rules of thumb regarding staircases that you should be familiar with. Firstly the balustrade shouldn't allow a 10cm sphere through it as this is about the size of a child's head. Balustrades are required when there is a drop of more than 60cm.
Another consideration is Open Treads; this is where the steps don't meet together. This is best imagined like a cantilever stair protruding from a wall and is typically done for aesthetics, as the result is a sleek and modern staircase. You have to ensure that there are safety provisions in place to stop anything falling between them and fire rising up through them.
Thirdly, handrails are required and you will need at least one handrail to be installed. This shouldn't stop you from having a creative effect and you can recess them into the wall to stop them protruding and interrupting your walk way. There are tons of types of handrail so the aesthetic of the staircase can be fully customised – be it modern or Victorian-style timber handrails.
Headroom is another important factor which needs to be considered. Stairs have to have a minimum head height of 2m; however, there is some leeway for loft conversions. These are general rules and good 'stair math' from your Designer will give you that 2m head clearance so you're not ducking to get into your loft extension.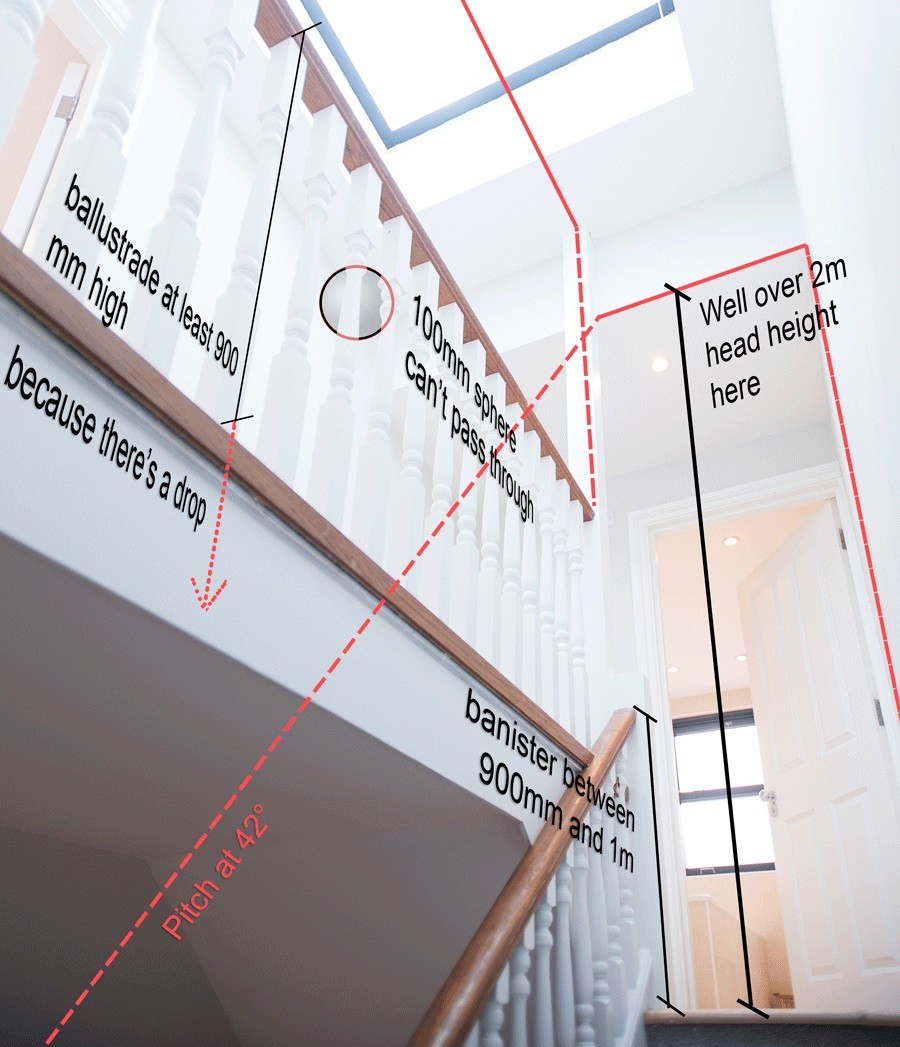 The procedures above are a brief introduction to Building Control, your Designer will be thoroughly aware of the rules and be able to guide and advise you fully. With so many factors to take into consideration, why not book a site visit to meet with your Architectural Designer who will discuss the options available to you. To book your site visit, get in touch with our team today on 0207 495 6561 – we're open 7 days a week! One last sneaky design tip – if your staircase is 80cm wide, you might be able to fit a compact WC under there!