For many of you, having the opportunity to design an extension will be the first time you are offered the opportunity to design a living space exactly around you and your lifestyle.
The layout of your extension is completely yours to design and should be suited to your needs and requirements. It does require some thought to what you and your family need, and it's always important to consider what will be valuable if you choose to sell your property; it's all about finding the right balance.
The most common design question we are asked is whether to include a WC, a Utility room, or knock through internal walls. Here are some of the most popular floorplan options we have completed to give you an idea of your options:
Open Plan Layout
Knocking through the internal wall that typically sits between the dining room and kitchen area is a very popular option. This option makes quite a statement and it looks amazing to have the light from the front windows and the back glass doors meet in the middle of the property. This is also a great way to make use of the 'dead space' that is often left unused due to the lack o
f light.
Open plan layouts are a fantastic way to combat the small, tight spaces that are often associated with living in an urban area. When an open plan layout is executed well, you can achieve a free flowing larger space. This doesn't mean you have to sacrifice your designated areas as you can still create zones within the larger space – have a look at our blog on Zoning for more info.


WC or Utility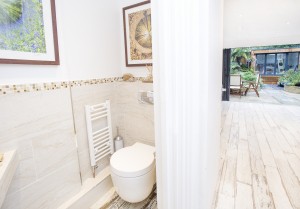 Having a downstairs WC is incredibly useful! Apart from its practical day to day uses, it also comes in handy when entertaining, as you can keep your downstairs area as the designated party zone (this also means you don't have to tidy upstairs!).
A common question when adding a downstairs WC is 'will it take away much space from my extension? The answer is no; it is all about the placement. Many people look for a small area such as the space under the stairs or a cupboard near the entrance of
the kitchen or living area.
These areas can be manipulated to house anything from a WC, a small utility space, storage space or even a shower for your dogs!
There are endless opportunities with a kitchen extension and we always aim to make it organised, efficient and designed around you.
If you're still struggling to visualise the space, come and see one of our completed Builds at our Open House Days.