Depending on your design options and personal preference, you might need to find a way to get natural light through to the room that sits behind your kitchen. This is a common obstacle for designs that want to avoid knocking through that internal rear wall to open up your ground floor completely.
One option is to create a courtyard space. 
Yes you heard right! Most council's happily allow for courtyards to be used as they have no negative impact on your neighboring properties nor do they add or remove from the existing external look of the building. As you can see on the image below, you can't tell it's there.

Opting for a courtyard is great for both increasing your natural light potential and adding that contemporary 'wow' factor. It's great for entertaining and with some well thought out lighting, it can be a warm, inviting space all year round.
You have a few options with a Courtyard:
Single glazed window/door:
This is a great option for those of you who would like to direct natural light into a specific room. The image below shows a window/door which directs light into the room behind the extension which would usually struggle to get natural light. You would also get a lovely view of the courtyard as well.

Fully glazed Courtyard:
This is a beautiful, contemporary approach to a courtyard with maximized light entry potential. This design can be used to separate the space whilst still keeping the area connected and merged; in the example below you see seating area and the kitchen are well defined yet connected via this courtyard space. This option is stunning and can create quite a feature, but it is definitely one of the more expensive options.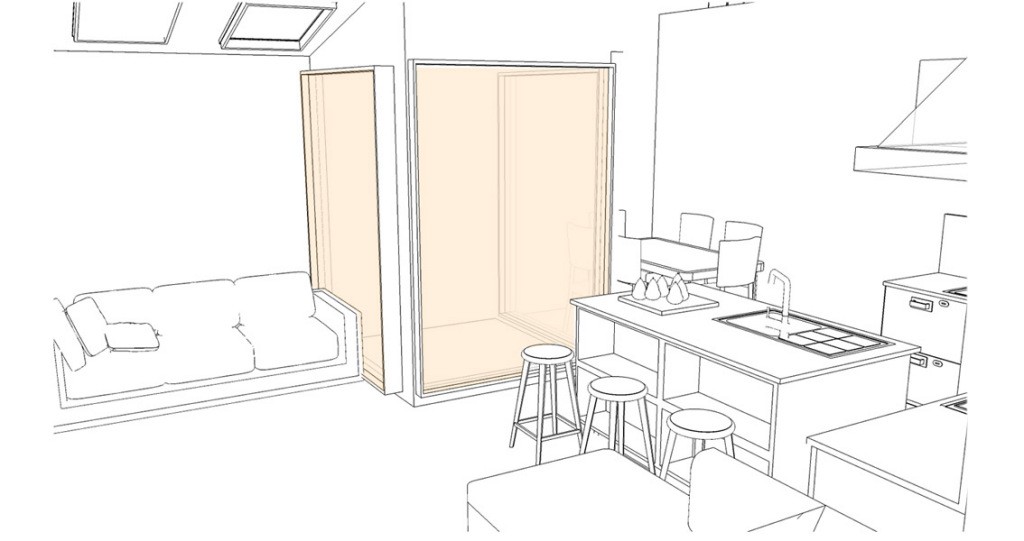 Finally, with a courtyard space you can truly take advantage of your Landscape.
Don't be deterred by the limited space and think outside the box – literally!
Design upwards:
If you haven't got the room to design horizontally, consider designing vertically with varied vegetation heights and steps or platforms.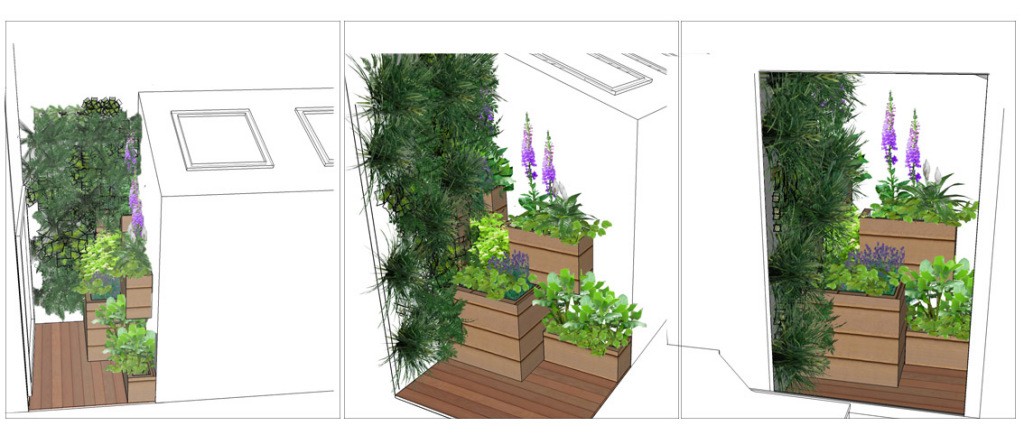 Add a feature:
Adding a water feature can really help create a new dimension to your design. This option will add movement, colour and sound. It offers a great focal point and is an impressive feature, great for entertaining.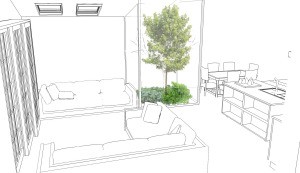 Design with themes and function:
Draw inspiration from meditation gardens with stones and gravel. If you choose to add basic vegetation, you can create a plain, calm, flat area which is great for meditation.
If you'd like to see an example of a simple courtyard space have a look at our project in Stroud Green.