Estate Agents get all excited about storage space when showing prospective clients around a house.  In their opinion, you can never have too much storage space.  Are you drowning in clutter?  Beginning to think that maybe they've got a point?  Here are a few ideas to help you have a clutter-free kitchen.
1)  Firstly set a clear-out day and get to grips with your hoarding issues.  Sort your clutter into groups:
Stuff to throw away
Items for charity shop
Things that can be recycled
Allocate days to action those three groups, otherwise they will just sit there again in groups for yet more days/weeks/months…
2)  In most kitchen cupboards, a lot of space is left wasted.  Get some mini-shelves, dividers and stacking boxes to make full use of the cupboards.  A little bit of organization may just stop the cereal boxes falling out every time you open the door.  Drawer organizers will help you store more and keep it neat and tidy.
3)  If you don't have deep wide drawers for your pots and pans, consider hanging them from the ceiling with a pot rack.  Not only can this look stylish, you will also look like a serious chef!  But, make sure its within easy reach of the oven.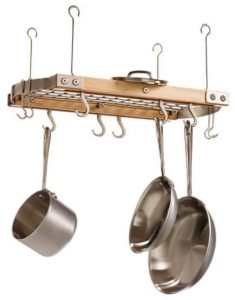 4)  A mobile kitchen trolley can provide handy extra storage where you need it.  Keep your cooking tools such as ladles, whisks, wooden spoons, etc in stylish containers on the trolley.
5)  If you have open shelves, use nice-looking trays and baskets to keep the look neat and stylish.
6)  Hang kitchen cloths and rubber gloves on hooks screwed to the inside of your kitchen sink cupboard. This way they can dry, out of sight and not clutter up the rest of the cupboard space.
7)  Reaching for the jam jar at the back of a crowded cabinet can be awkward. For a simple fix, gather the small items you store on the shelf onto a spare baking tray, then treating it like a drawer, carefully slide it in and out for easy access. The pan will also catch drips, speeding cleanup.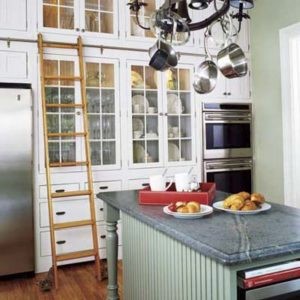 8)  If space is tight, consider adding floor to ceiling open shelving and install a rolling ladder which allows you to reach to the top shelves.
9)  A kitchen island offers ideal built-in storage space, so make the most of it if you are planning on having one in your kitchen.
10)  A handy place to keep a shopping list is on the inside of one of your kitchen cupboards.  Paint the inside door with chalkboard paint – you can customise the paint so that it blends seamlessly with the rest of the door.