Advances in Technology have not all just been about mobiles, televisions, cars and computers. Now it's the turn of kitchen equipment, or more specifically the tap.  In its simplest form the boiling water tap can simply be a useful addition to your existing kitchen sink arrangement. The latest sink equipment however puts every Smartphone to shame as you can choose between cold, hot, boiling, chilled and even sparkling water. The water can be filtered or purified and can even include an inset counter touch screen menu, an iphone-style remote or a touch screen on the tap itself. All very impressive, but what are the actual benefits of installing a boiling tap?
We can start with the obvious, that a boiling tap provides instant and very hot water for drinks and food, in-fact a boiling tap can cut to half the boiling time of vegetables on a conventional gas or electric oven.  Just think no more waiting for your kettle to boil (during which we often tend to walk away and forget about it) and instant access to boiling hot water that previously has been limited to a privileged few.  The fact that there is now increased availability, reduced costs and relatively easy DIY instillation, (just ask Build Teams very own Dan Davidson) means the question you should be asking yourselves is not why should you have a boiling tap, but why don't you?
And we're not finished; the water can be filtered and purified depending on what systems you have in place to cleanse the water prior to heating and chilling. The options for this are endless, dependent on how much space you have for the system, the funds available and also whether or not you wish to purify/filter all of the incoming water to your home or just for the boiling tap system.  If you want to spend slightly more and really make sure the water you're drinking is totally purified, you may install a reverse osmosis water purification system where practically all the chemicals and impurities are removed from the water before heating or chilling. Safety wise many of the bands available on the market have installed child safety features on the Tap.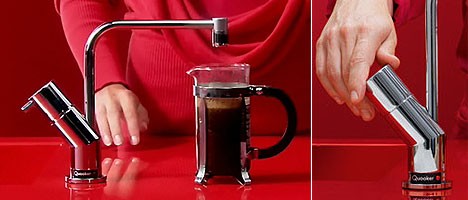 The Quooker and the Franke, the most popular boiling taps on the market, comes with a tap that is securely mounted to the worktop, has a child-proof push-and-turn handle and the water comes out of the tap in a fine spray rather than a solid jet. Reviews online praise both of these taps for their safety features and while on average the tap may cost you around £800, the general consensus seems to be that this is worth it. From removing stains on clothes to cleaning pots and pans, the boiling water tap seems to have become a convenience that cannot be lived without.
So will the boiling tap replace the kettle?  Most likely; increased availability, choice and easy installation (some suppliers offer this free) means that more and more people consider installing a boiling tap as a viable option, particularly when refurbishing their Kitchen. While not perhaps as energy efficient as is claimed, with relatively low safety issues, we feel the boiling tap would be a welcome addition to any kitchen and would certainly make life easier for you and your family.