Kitchen Shapes
Designing an extension offers you the opportunity to tap into your creativity and design the interior space to suit your personal style. The layout of your kitchen is very important as it's a very functional space – looking pretty simply isn't enough! It is also important to remember that there is not one 'ultimate' kitchen design; it's completely dependent on your existing building design and personal preferences.
With so many decisions and variables at your disposal – where do you start? We will run through some kitchen layout options below that will range from large extensions with tons of room, to cosy and quaint spaces.
Kitchen Islands
The kitchen island design is extremely popular and a fantastic option if you have the space. It's multi-functional and offers both additional counter space and storage. On top of that, it becomes a statement piece within your extension and can often help to break up that large room by encouraging the formation of zones.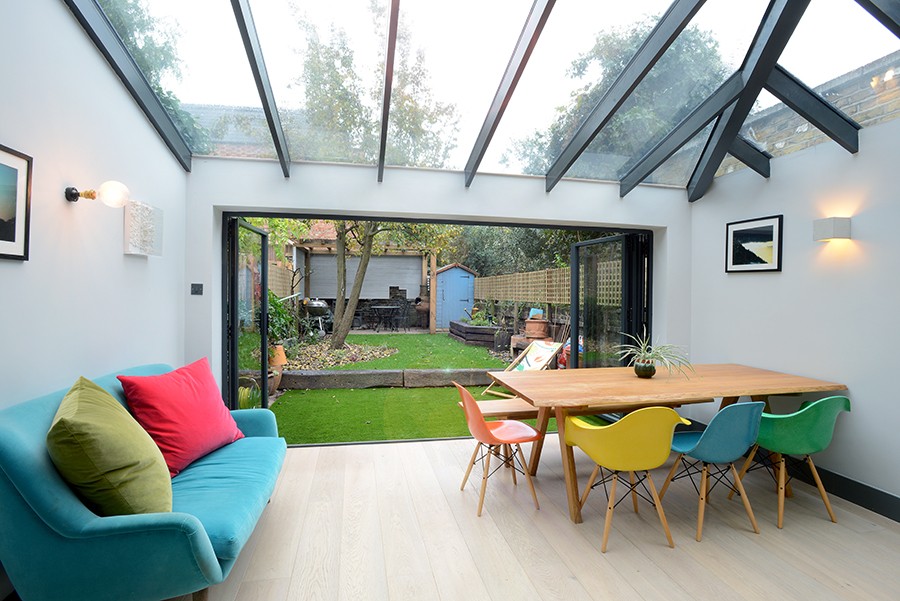 Our clients in Stoke Newington, N16 have designed a huge kitchen island in their extension which has helped reduce the amount of clutter within the rest of their kitchen. They have also taken advantage of the island by putting seating along the side of it, thus creating another gathering spot for the home. The one downside of having a kitchen island is that you do require plenty of space for it to stay practical. If your extension is on the smaller side, then the island could make your kitchen look a bit cramped. If you love the idea of an island but don't have the space, look no further than the Breakfast Bar – detailed below.
Breakfast Bars
The breakfast bar is a perfect alternative for homeowners who love the idea of island, but simply don't have the space. It has all of the same advantages – including additional counter space, storage space and it is also extremely effective at creating those zones which are important with open plan living. A breakfast bar generally consists of a counter-top that overhangs enough to comfortably fit stools underneath.
The L-Shape
Some homeowners want lots of open space and love the idea of keeping storage and counter-tops to the edge of the room. The L-Shaped kitchen is an incredibly popular option as it keeps the middle of the room free of clutter, which means you have more flexibility in what to use the space for.
The great thing about L-shaped kitchens is that they are suitable for both large and small spaces and it's just down to personal preference. This option will usually result in you combing your dining and kitchen zones as they overlap, which is just what our client in Lambeth has chosen to do. If you happen to be a social butterfly, then this design might not be suitable for you since the majority of the time you'll be facing a wall while preparing and cooking food for your guests.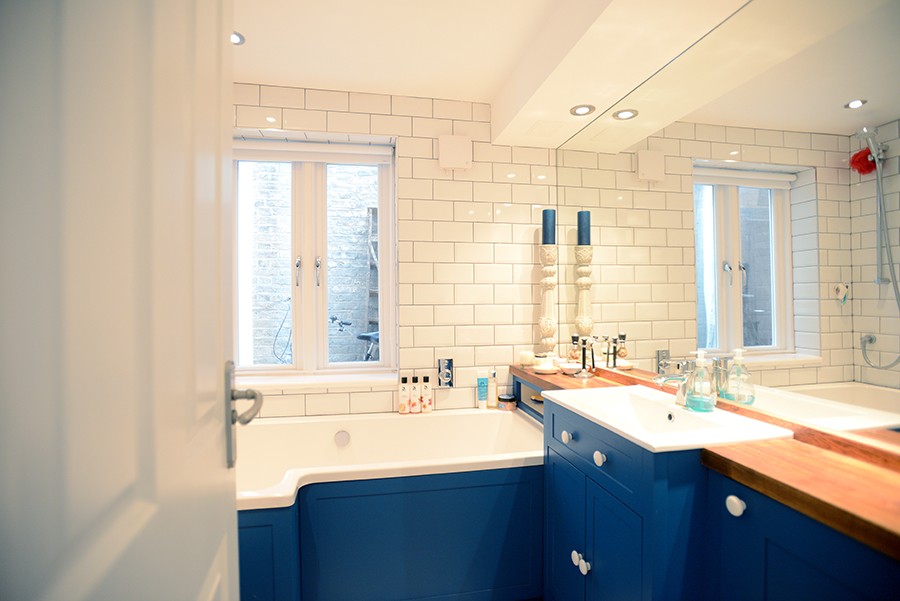 Square Shape
If your extension is on the smaller side, don't let this stop you from creating your dream kitchen! Since space is limited within your extension, it will take some smart planning to create a multi-functional and aesthetically pleasing kitchen. The most important thing to do when it comes to small kitchens is avoid all clutter and any bulky items. Instead of putting in cabinets, having open shelving can make a huge impact in a small kitchen since it will create an open and airy feel.
Our clients in Battersea designed their kitchen around the space they had available, and didn't try and force anything that didn't quite fit. They created this enclosed style kitchen which is perfect for their extension shape.
Another tip to consider is the colour scheme and style of your kitchen. Having something as simple as white can really make a room seem larger and if you use reflective materials, it will bounce the light around the kitchen which will make it seem even brighter and more spacious.