The kitchen is the focal point of your home and is often the only room which is consistently used by the entire family. It's such an integral part of the home, it's important to put functionality at the forefront of your specification. The layout options are endless, and can be completely tailored to your style and preference, so it's important to think about what you want from your kitchen and how it's going to fit into your day to day life.
We've answered some of our most frequently asked questions when it comes to Kitchen Design. If you have any questions at all, our Design Team would love to help and please don't hesitate to get in touch.
How much Space will I need?
The size of your kitchen will be dependent on your finished room size. People tend to want lots of storage and counter space in a kitchen, but you don't want it to dominate the room. Size is essential here and it is worth knowing some typical dimensions:
A standard kitchen counter top is 60cm in depth.
A comfortable gap to allow movement between units is 90cm.
The typical height of a kitchen countertop is 90cm high.
A typical island breakfast bar is 90cm long which is comprised of 60cm cupboard space and 30cm overhang.
During the Design Phase, our Design Team draw the proposed kitchen layout in floorplans to allow you to visualise the space before making any big decisions on the extension design. Everything is done to scale, and we'll make you aware if we think a gap is too narrow or a counter top will be difficult to access.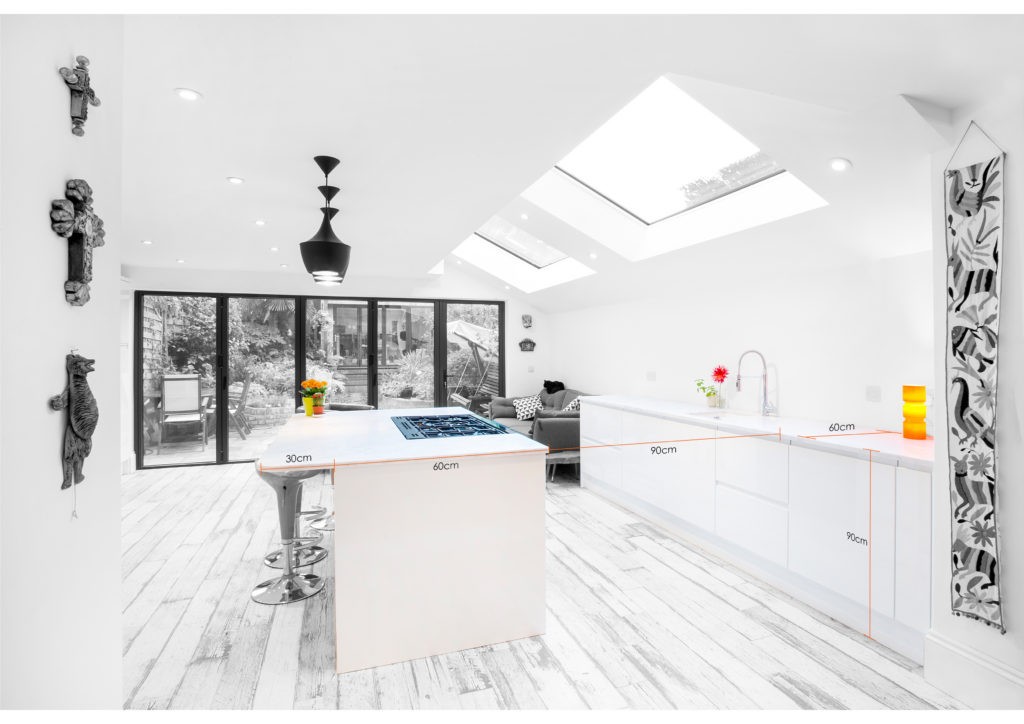 The Magic Triangle
If you've done your research, you've probably heard of a term used in Kitchen Design called The Magic Triangle. This rule tries to make you think about your main appliances and where they lie in relation to one another – these are your cooker, your fridge and your sink. The Magic Triangle recommends that the distance between the three should be between 4ft to 9ft. The rule aims to ensure you have sufficient space between these appliances which enables comfortable movement when you're cooking. We have a blog about the Magic Triangle, so if you want to learn more, click here.
What are my Layout Options?
Luckily, your layout options are endless and can be completely tailored to your everyday needs and life style choices. We'll talk you through our three most commonly used kitchen layouts:
This is perhaps our most popular option and can really take centre stage in your extension. Our client in Highbury chose to have a huge island which takes the bulk of the kitchen storage and offers almost all of the counter top space. To ensure the Magic Triangle rule applies, they added a second sink on their island to allow flow between the cooker, fridge and sink.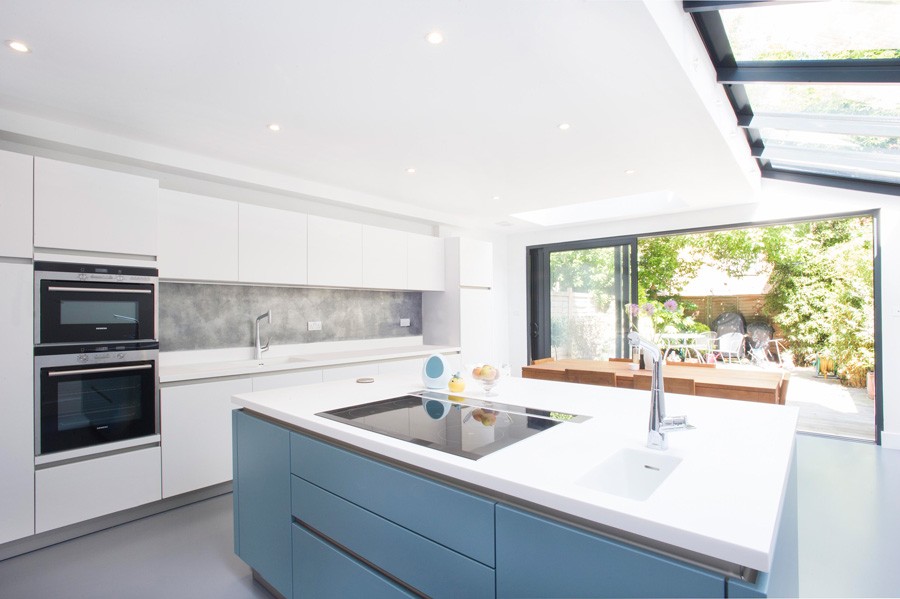 A breakfast bar option is useful if you're thinking of having a living area towards the rear of your extension rather than a dining area. Our client in Haringey chose to have a breakfast bar for this very reason, so there was still the option to eat in the kitchen despite having their dining table in a different room.
If you don't have much space, making use of your wall space is your best choice. Our client in Palmers Green did just this, and they've ended up with a spacious kitchen which offers lots of counter space and storage options.

While layout is important, it's also important to think about what you would like to look at while doing different functions. Would you like to watch the kids while you're cooking or look outside while you're doing the washing up? These are all things to think about and they can be fully tailored to suit your preference.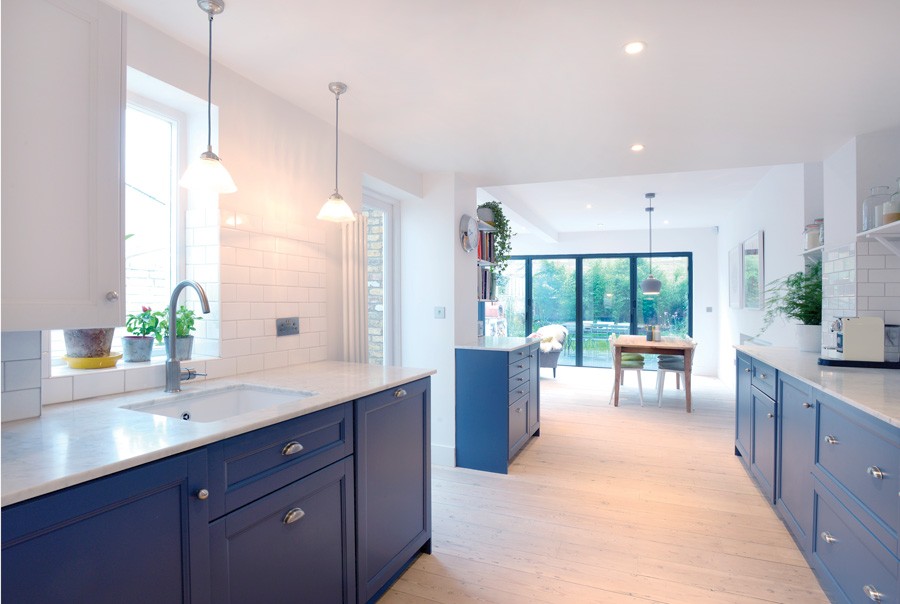 When do I need to think about Light, Power and Drainage?
Our Design Team will encourage you to think about your kitchen design during the Design Phase, as it can help shape your extension as a whole. You do not need to make any final decisions until you are onsite and the build is in full swing. We will tell you when we need to know what, but we don't rush you to make any decisions and will give you plenty of notice. The main things we will need to know if where you want your sink so we can accommodate the drainage.
At Build Team, we know that every kitchen is unique, so these considerations only scratch the surface! If you have any further questions or would like a member of our Design Team to visit your house for some advice, please call us on 020 7495 6561 or email us at hello@buildteam.com.