London has some pretty incredible views – they might not be seaside savvy or mountainous landscapes, but the city skyline is a hard one to beat. Roof terraces offer a fantastic opportunity to incorporate some sky-high views into your home; they can also be a quiet and peaceful escape from the busy city life.
Roof terraces come in all shapes and sizes and can be one storey or multiple storeys off the ground. Local councils are usually okay with roof terraces as long as privacy has been addressed, to stop the scheme becoming overbearing or invasive on your neighbours homes.
It's important to note that in some conservation areas, where there is no precedence for a roof terrace, the council could be more reluctant to set a new precedence or allow a structure that doesn't fit into the existing character of the area.
Benefits
One of the main benefits is the additional space. Roof space is ordinarily completely wasted, and in a city where space is so valuable, why not make the most out of what you have available. If you're opting for a ground floor extension, you're very likely giving up some of your garden; a roof terrace can help to gain this outdoor space back.
Roof terraces can become particularly useful for flats, as they often act as the only outdoor space for flats above ground floor level. They also tend to add tremendous value to the property, as outdoor space in London is a real luxury!
A roof terrace also has the potential to help catapult natural daylight deep into your master bedroom, living room or study, as they offer further opportunity for larger windows or doors.
Design Ideas
The most common roof terrace design is to have it leading off from a master bedroom or study. There is also the potential to create a roof terrace that leads straight from a study in a loft space; this is the most desirable option as the loft is the highest habitable space in the property which is more likely to give you an unobstructed view.
Please see a design below with a roof terrace that was approved in SW19. This design has a roof terrace on top of their proposed ground floor extension and leads directly from their master bedroom, giving the client an amazing view of the landscape beyond their garden.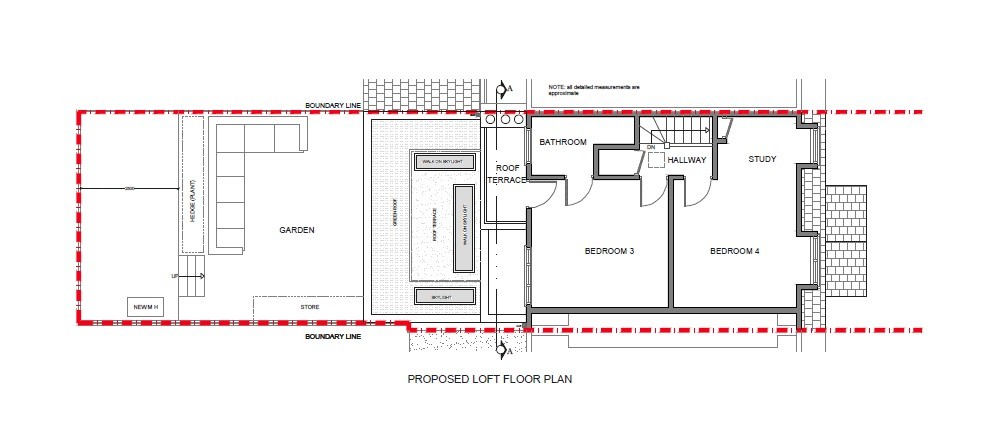 If you are considering a new extension and aren't sure what would be possible in your current home, give us a call and book a site visit. The Architectural Designer will discuss options with you and additional design considerations. To book your site visit, get in touch with Build Team today on 0207 495 6561 – we're open 7 days a week!