Ground floor extension roofing options are many and various. In fact, roofing styles for ground floor extensions might not seem very exciting, but they are actually a very important design decision and will impact your overall scheme. The roof design can be influenced, and sometimes restricted, by Local Council guidelines as well as existing property details. So, the circumstances surrounding each project are often completely unique. To understand what will be the best fit for you, it is important to know the advantages and disadvantages of each option and explore how they will affect the space and completed design.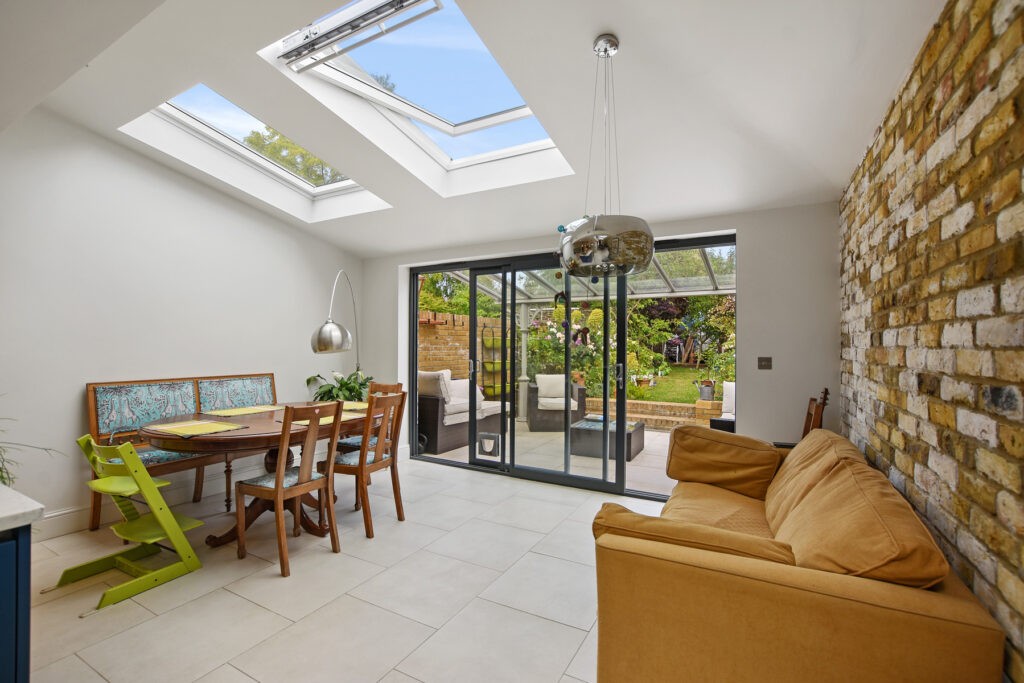 There are generally a few main shapes to choose between. These include: sloped, pitched or flat, but you can mix and match materials, window styles, or even use a combination of different types of roof to create the best design for your home. Your architectural designer will go through different options with you during the Design Phase and explain how these apply to your project. However, to get you started on your design journey, we have explored a few options below.
---
Sloped Side Return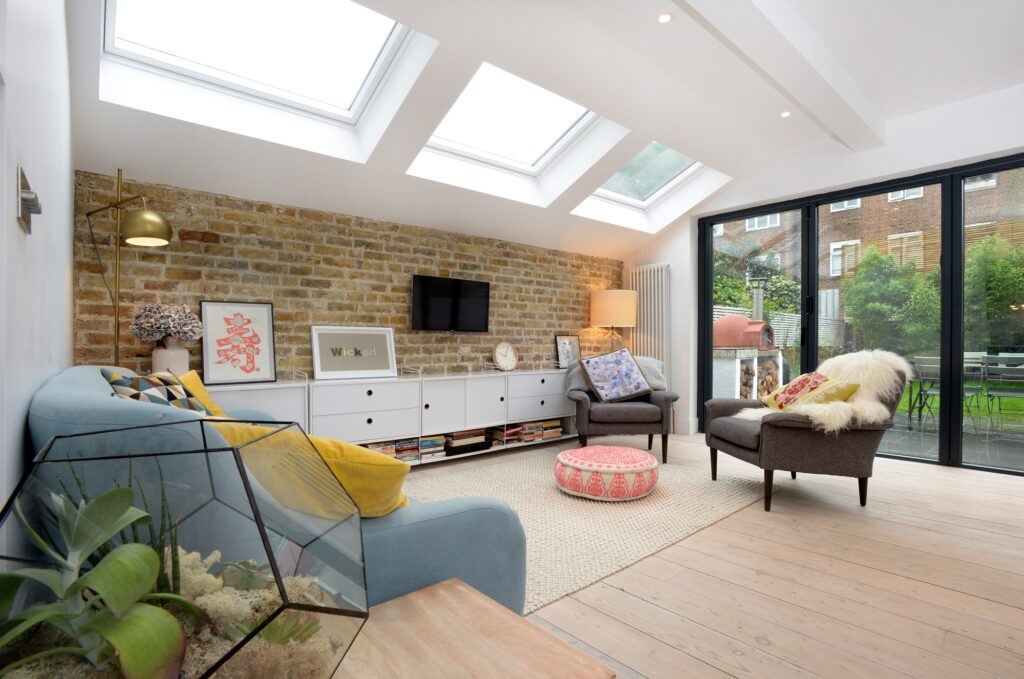 When extending along the side return of your home, the most common roof shape to use is a Pent Roof or Mono-Pitch Roof. This means you have a single pitch angled down away from the host property. This is usually because most local authority guidelines dictate the maximum height the boundary wall can be. Therefore, to gain the greatest amount of head height, you want to angle the roof upwards to increase the interior space.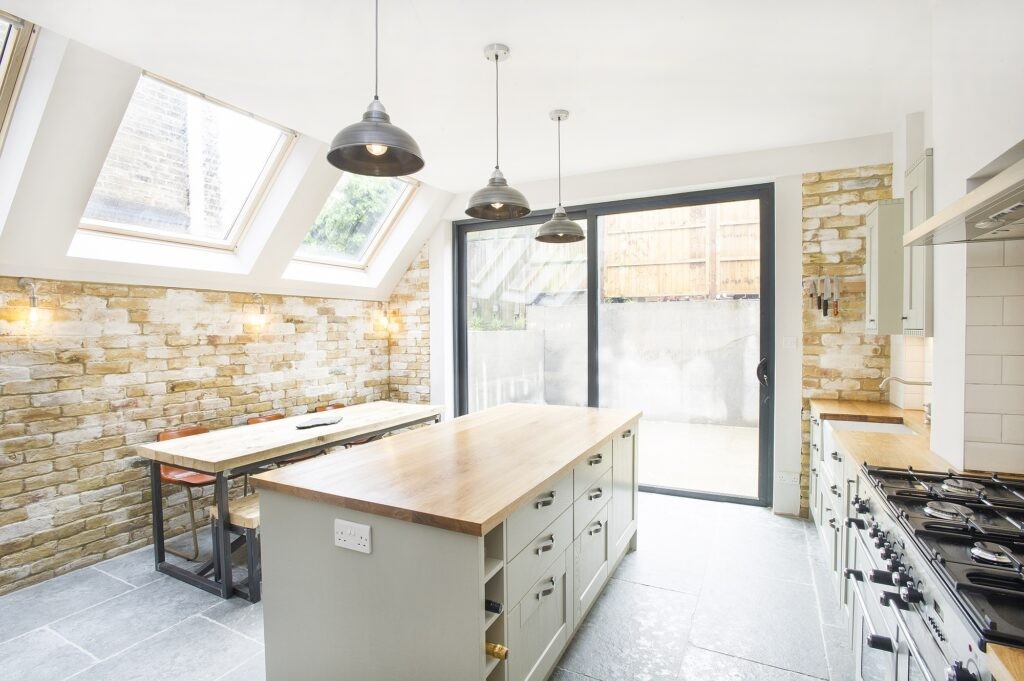 The slope of your side return then has a number of window and finish options. Commonly, slate matching that of your main roof will be used. But, other materials, such as metals or timber, can be used depending on the angle of the pitch. With regard to windows, our clients most frequently choose Velux windows, which can be opened to allow fresh air and ventilation. They also choose fixed pane architectural skylights which offer a sleek and minimalist finish to the extension.
---
The Flat Roof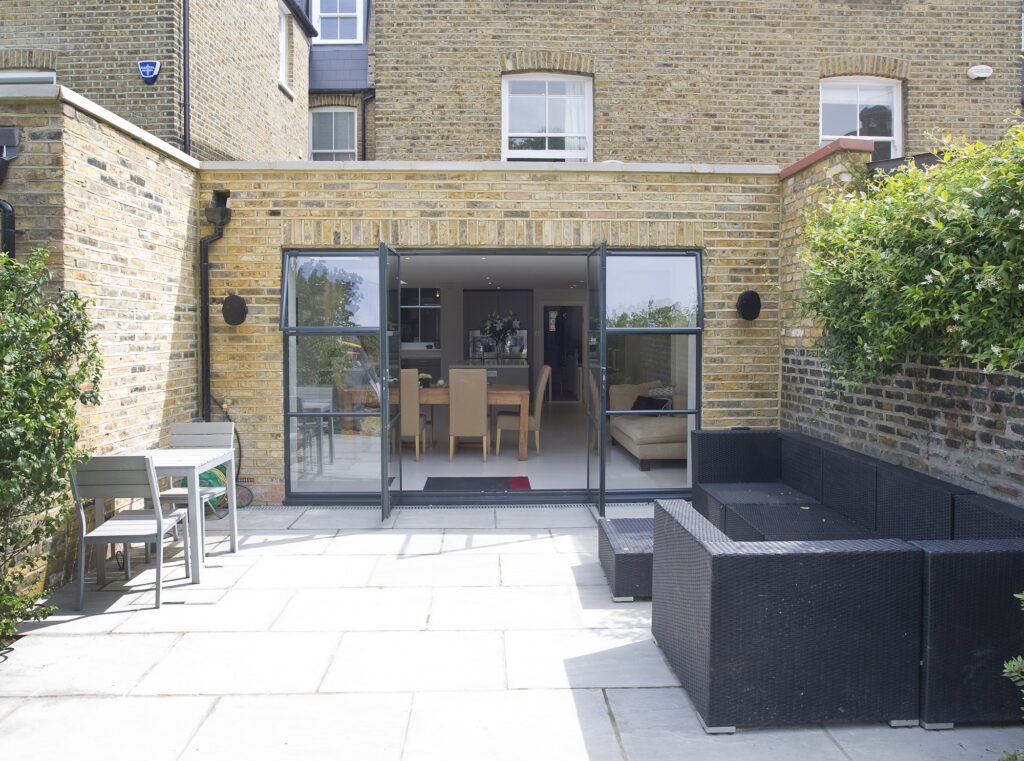 Flat roofs tend to be the preferred choice for homeowners who want a more modern, clean cut appearance. If your local council doesn't have height restrictions, you are able to have a flat roof. This is not only at the rear of the property, but to the side return as well. This can create a space with lovely high ceilings.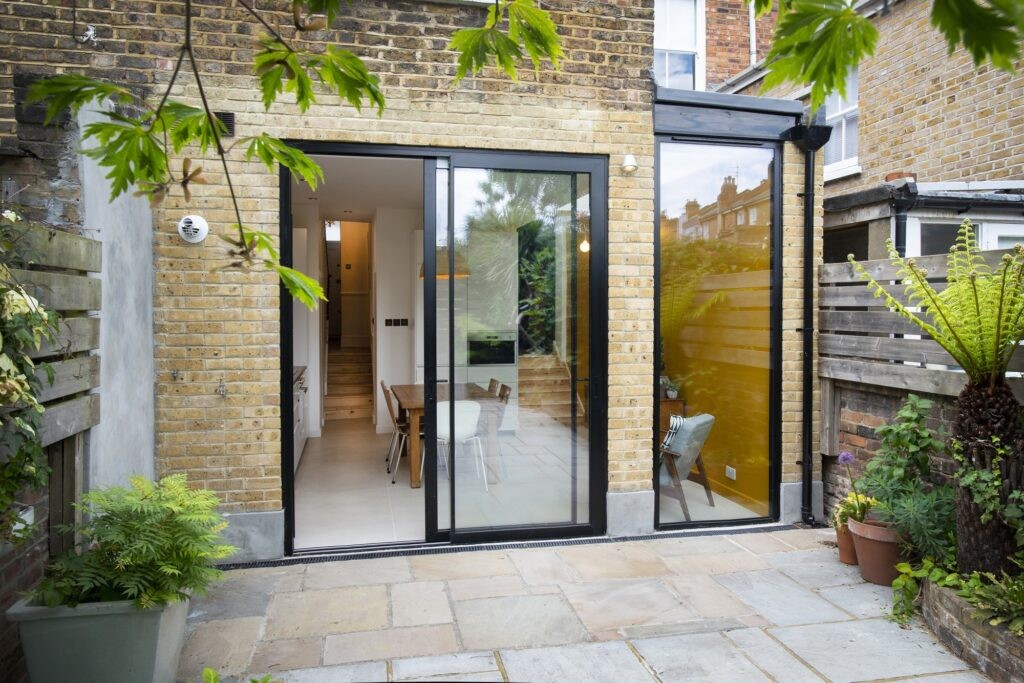 Flat roofs work very well with roof lanterns. These can be particularly impressive when placed over a defined zone, such as a dining table or seating area. So, it is worth considering how you are going to use and zone your space early on in the design phase. With this in mind, you can work in features to the scheme. A flat roof will always have a very slight pitch. This allows rainwater to drain effectively, but this is barely noticeable.
---
Pitched or Apex Roof
Pitched roofs are a great option for roofing for ground floor extensions. Especially if you would like to increase your internal head height and are restrained by the heights of your boundary walls or neighbour's properties. With a pitched roof, you will need to choose the angle of your pitch, be that a steep incline or more gradual slope. This will change both the look and feel of the interior and exterior of the extension.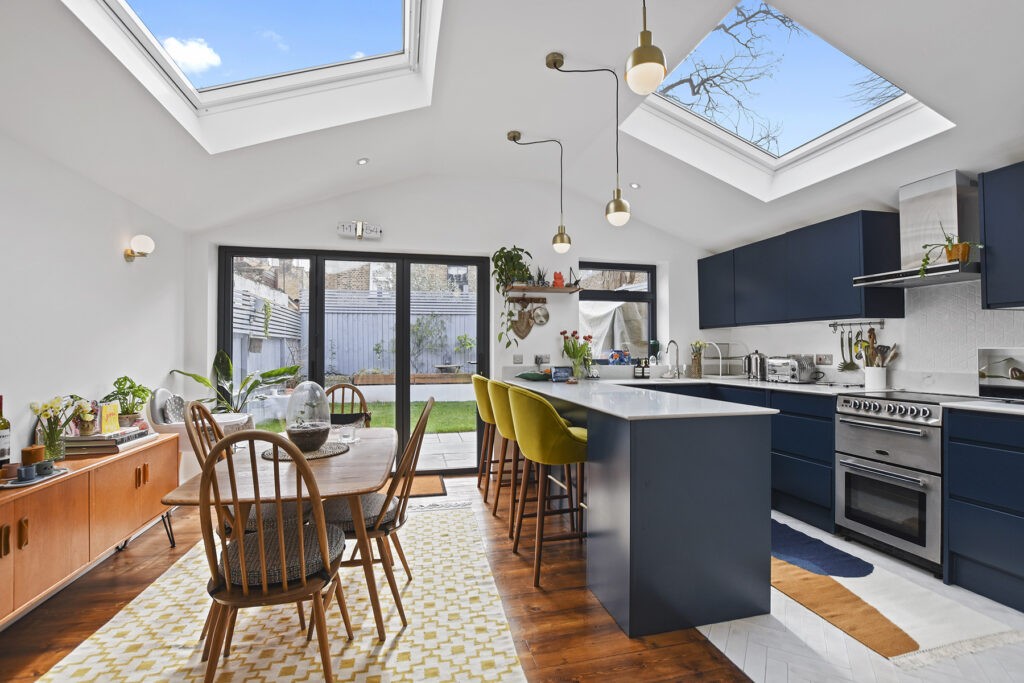 A pitch which is equal on each side is often better suited to the original, traditional exterior finish of the host property. It can be favoured in planning for this reason. However, using an asymmetrical pitch can create architectural interest and a space that is unique and exciting inside and out. Covering the roof, and even the walls, with a zinc or timber cladding can make a very contemporary statement. It can also help to define the old and new elements of your home.
---
All-Glass Roofs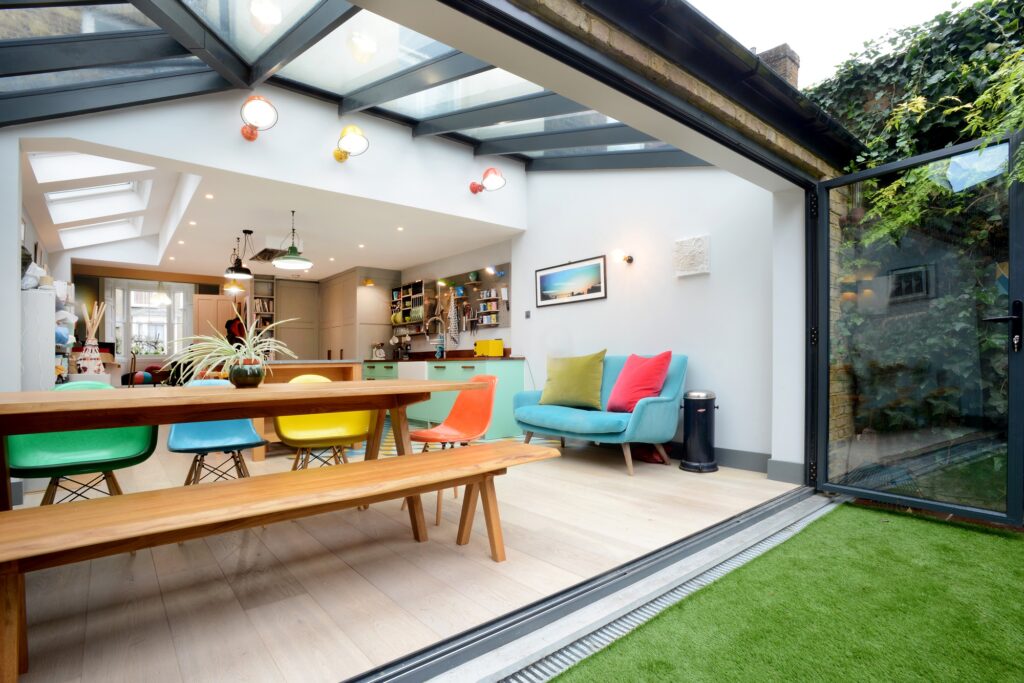 All-glass roofs are most commonly seen used along the side return, where they flood the space with natural light. They also form a clear definition between the original property and the new extension. However, they can also cover the end portion of a wraparound extension to bring light directly into the space. In doing so, they reduce the mass of the new extension, as seen above.
---
Mixing Multiple Elements
Roofing for ground floor extensions means you can always mix and match design styles to create the perfect space for the style of your home. A combination of both flat and pitched is a good option for many homeowners with classic Victorian houses. The pitch along the side return enables the extension to blend with the host property. It also allows it to remain sympathetic to neighbouring properties, due to the lower level of the boundary walls. While for an extension to the rear, a flat roof will enable you to maintain a flush ceiling level. It will also create a good amount of head height across the space.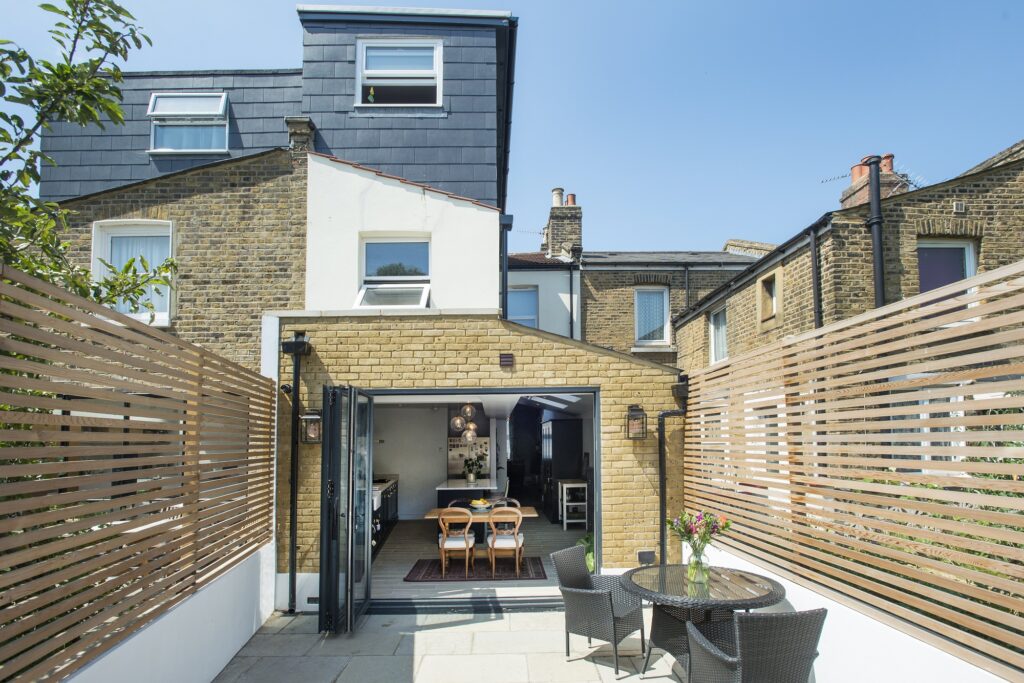 ---
If you are considering a ground floor extension, why not contact us by emailing hello@buildteam.com? Alternatively, visit our website to book in a free Design Consultation with one of our design and planning experts. This will allow you to find out more about options, cost and the feasibility of extending your home.