As we start the New Year we are again spending more time than usual at home, we all look forward however to the summer of 2021, a time when we hope we can come together again with large family celebrations, parties and get-together's – we will all be entertaining like never before!
Therefore, why not use this time in lockdown to explore the extension potential of your home and make sure you have a space that is perfect for all occasions. With that in mind, here are some key features to consider when designing your beautiful new home extension.
---
Kitchen Island
A large kitchen island is perfect for entertaining, social gatherings and even day to day use. Placing a sink or hob along with a breakfast bar will create a natural hub for gathering people together. As the host you can continue to mingle with your guest while prepping food or making drinks and guests can then sit and relax in your company. Day to day Islands are also a great place for kids to sit and do homework whilst socialising with parents who might be cooking or cleaning, continuing to bring the family together as well as zoning the various spaces within the new extension.
---
Dining Tables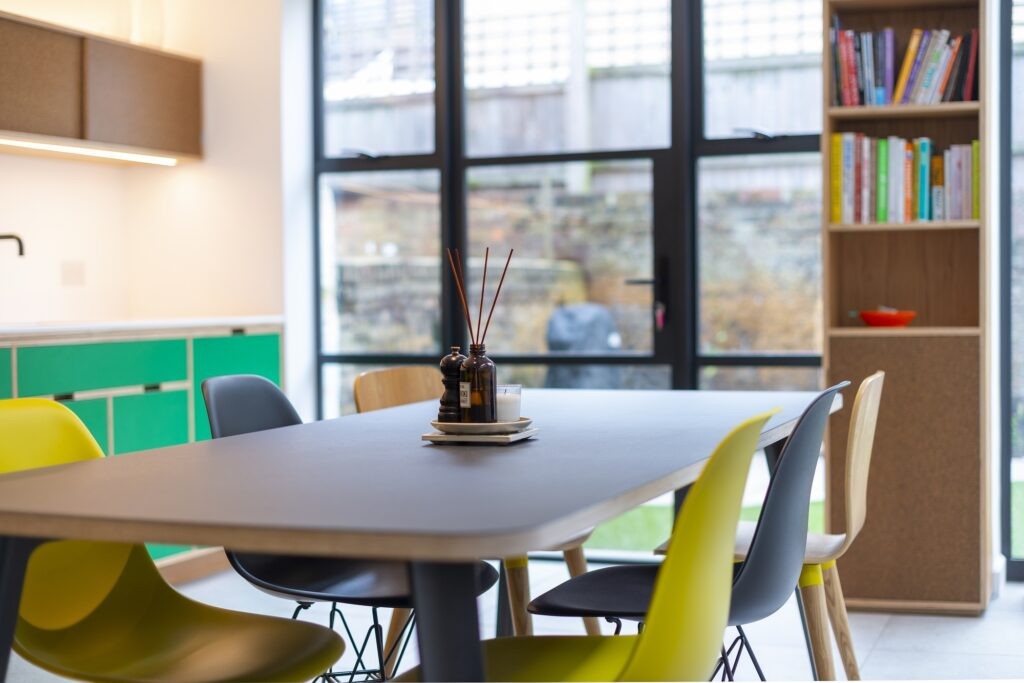 If you are designing a new open plan extension consider a large dedicated dining space, this will be fantastic for more intimate entertaining and family dinners. Using a large or rounded dining table will allow you to seat plenty of guests while placing it under pendant lighting or a skylight will create a feature within the space but also a brighter dining space with a gorgeous view.
---
Snug Spaces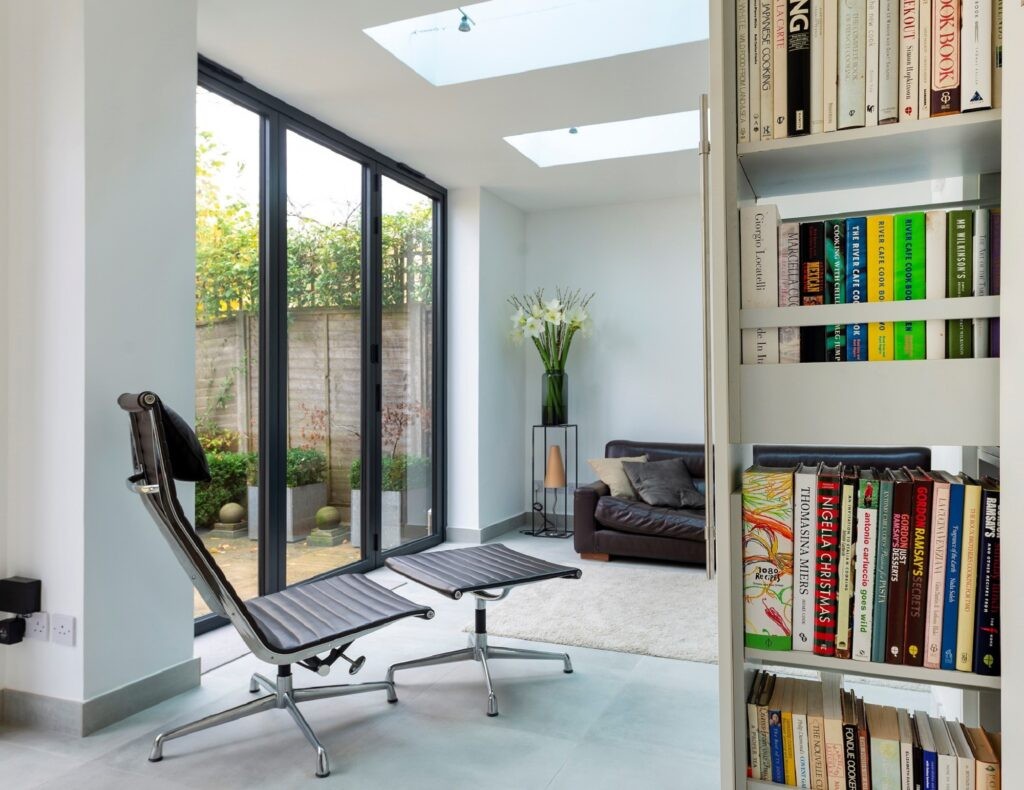 Dedicating some space for a small snug with a cosy sofa is a great way of giving your kitchen a homely feel and a more practical use throughout the day. A dedicated seating area is a great place to snuggle up with a good book whilst waiting for your Sunday roast, watching some TV with the family, having a coffee with a friend or as a place to retire to with cocktails after a dinner party with friends.
---
Remember to Zone
Many extension projects aim to create an open plan space however; you may want to consider zoning the area. When designing your kitchen around entertaining, small pockets of spaces will split the space up to accommodate a range of activities. A few things to consider are; where will you be cooking? How will guests move around the space? Where will snacks or main courses be served? Splitting up the space doesn't necessarily mean putting up partitioning walls. Use your furniture, island or breakfast bar to divide up the space into smaller pockets of spaces whilst maintaining a visual connection through the open space.
---
Multi-functional Space
With many of us working from home, something that may become a more common sight in post Covid society, it is important to make sure you create a space that can accommodate more than one function. Incorporating a space to allow you to work from home when needed is a good idea, perhaps sliding screens or walls can help to create a private space during working hours but allow the space to open back up in the evenings to be part of your open plan living space. Every space is unique and working with your Architectural Designer can help you come up with the perfect solution for your home and way of living.
---
Additional Utilities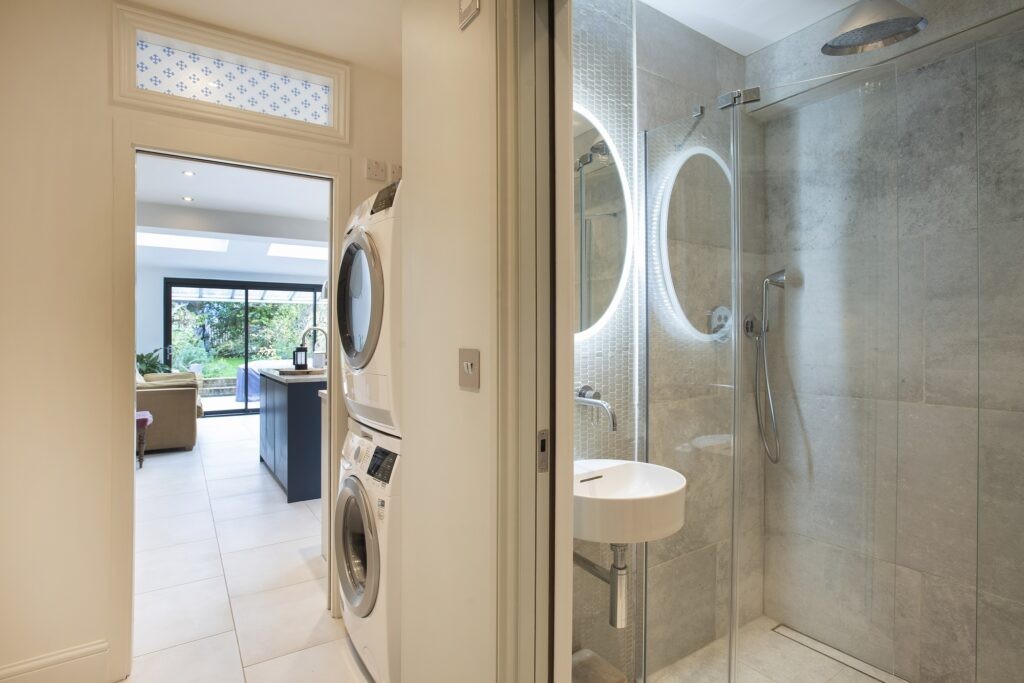 When creating a new extension don't forget to think about services and utilities such as WC, boot room or a pantry. An additional WC downstairs can be very useful when you have guest over and saves you traipsing upstairs throughout the day. A utility, or boot room, is a great addition to any family home and can make entertaining a little less stressful by allowing you to hide all the prep, mess and washing up out of the way so you can spend time relaxing in a clean, tidy space with your guest.
---
Open to the Outside
Installing full width doors across the rear of your extension will allow you to open up the extension to the outside and automatically increase your entertaining space and make the garden feel like an additional room and an extension of your home. This is fantastic in the warmer summer months for BBQs and making sure the garden feels as much part of the home as possible.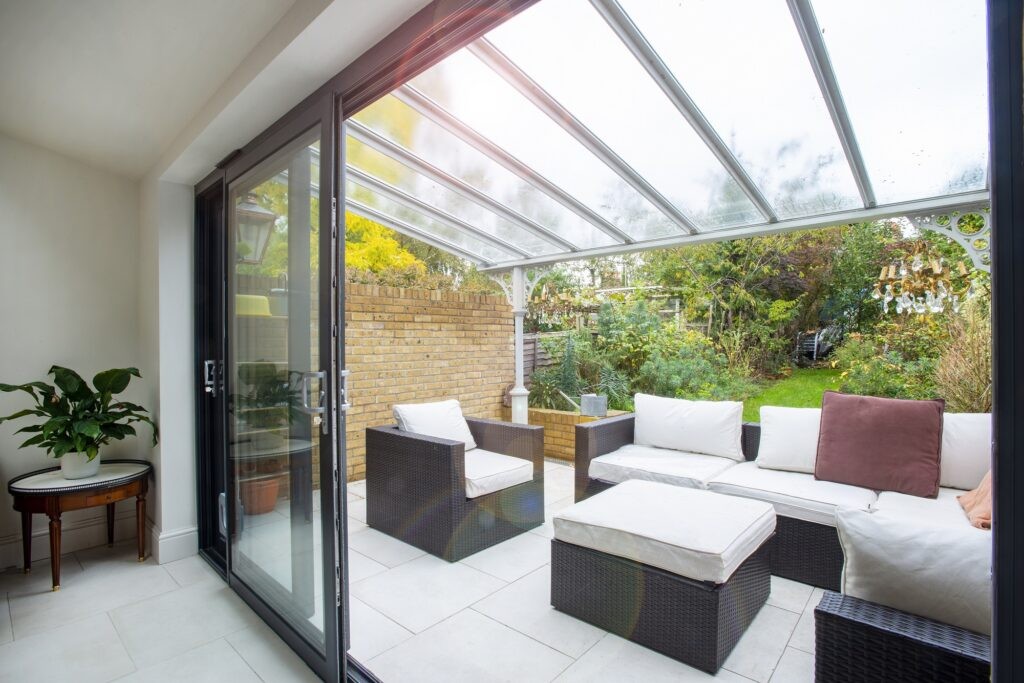 There are so many options when adding glazing to the rear of the property, Bi-fold doors will mean that the full opening can be utilized while sliding doors will offer you more glazing and uninterrupted views when closed. Alternatively, Crittall style doors and windows can offer a stylish and characterful appearance and have become increasingly popular in recent years.
---
Natural Lighting
Using skylights or an all glass roof over your new extension will make sure you capture as much daylight as possible to flood the space with light all day long. Consider placing skylights along a side return to bring daylight into the center of your home or even place a large feature skylight over a table or island to create a striking architectural feature which will in turn zone the space.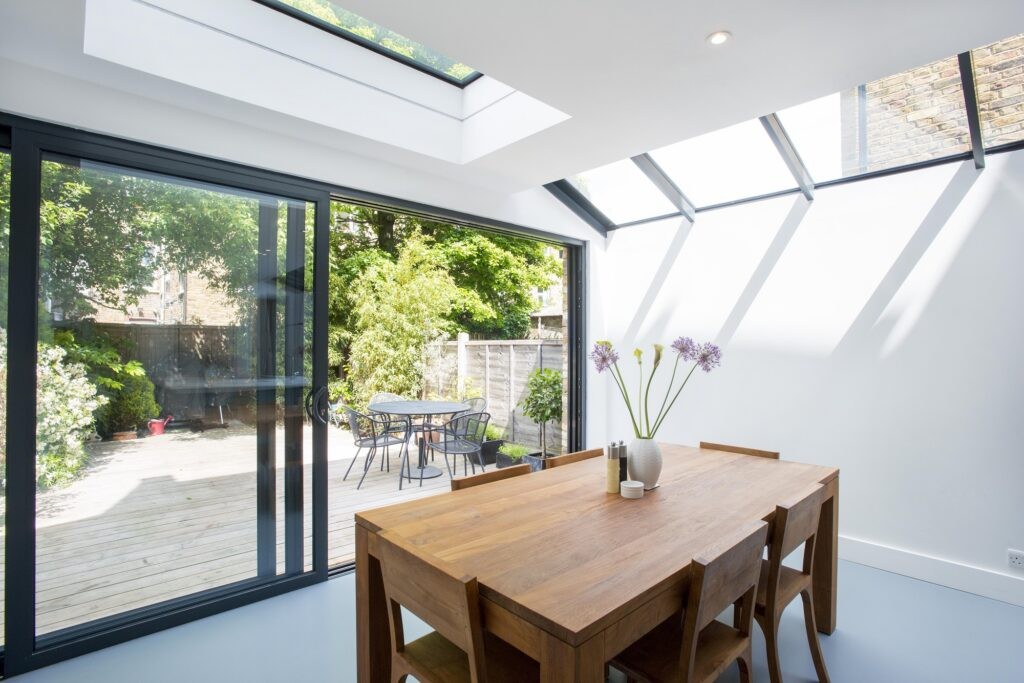 All glass roofs, although more expensive, will draw in even more light and create a beautiful architectural feature that will give your home a real wow factor. You can also look at installing an inflected skylight to the part of the new extension roof that meets the rear reception room, this will mean that light can be inflected back into the heart of the property too – finally bouncing that much needed natural light right into the centre of the home. These modern methods have been perfected to maximize natural light penetration and are an ideal way to create a beautifully light filled space.
---
If you are considering a ground floor extension in 2021 and have any questions or would like to talk in more detail about the option and possibilities, please do not hesitate to get in touch by emailing hello@buildteam.com or using the 'contact us' link at the top of the page. Our Enquiries team would be happy to arrange a FREE Design Consultation with one of our Architectural Designers allowing you to find out more about options, cost and the feasibility of extending your home.