Choosing floors to last a lifetime can be a sensible investment. If you are undertaking a home extension, it is a fantastic time to refurbish other parts of the home. Floor finishes are a massive eye-catcher, and can really impact the way a space looks and feels. So why not dedicate some time and thought to this when thinking about how to renew and brighten your home? Flooring is one of the main focal points within a room, and clever choices at the start can ensure your floors last a lifetime. To help you on your road to discovery, we've taken a look at the four main rooms in a home and highlighted which flooring types we think would suit these spaces in terms of aesthetics and functionality.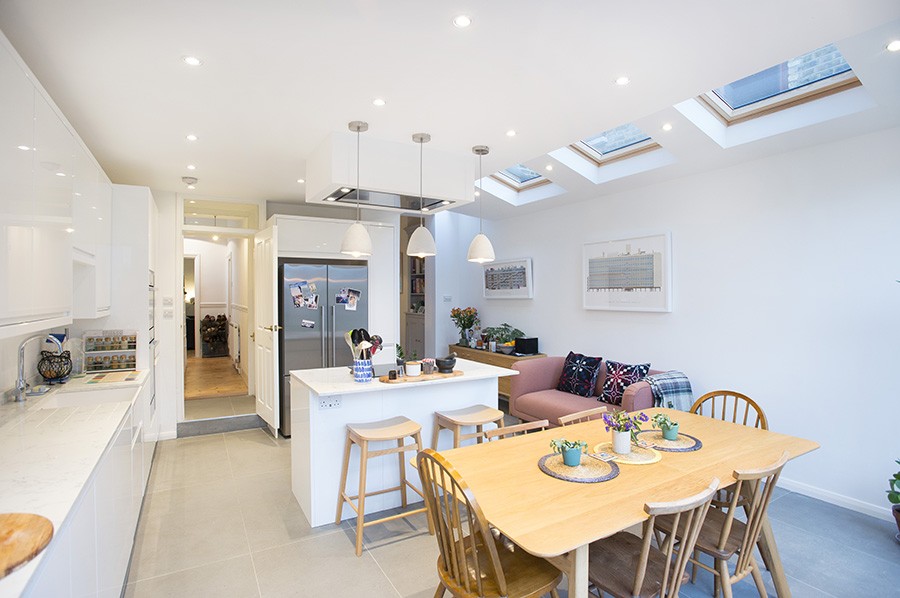 Bathroom
Ceramic or porcelain tiles are a strong option for a bathroom. They are water resistant, relatively sturdy and can be used on the floor, ceiling and walls. If you're looking for top level durability, then opt for a porcelain tile. Although it is more expensive than ceramic tiling, it is more cost effective in the long run, since it lasts longer. It is also less porous and is therefore easier to clean and less likely to stain. Both kinds of tiles come in an array of finishes, colours and intricate designs. Plainly put, this means you can switch on your interior designer and style your bathroom to your heart's desire.
Kitchen
Wooden flooring in the kitchen can look very elegant. It also lasts a very long time, if treated properly with the correct finishes. For example, polyurethane or linseed oil. Bamboo is a newer option that has become vastly popular due to its eco-friendly qualities. It is also incredibly durable and less likely to warp when it comes into contact with moisture. A more expensive option on the fashionista side is concrete. Concrete is very low maintenance in the long run, and comes in a variety of colours and finishes such as resin and polished.
Living Room
The fantastic thing about living rooms, is that they are so versatile and almost any kind of flooring can look great when paired with the right décor. However, the living room is commonly known as the cosy, family room where families come together to relax. It is therefore important to make this space comfortable and warming. Wood is a fantastic option, as it comes in a variety of tones and is very hard wearing. Throw down a nice colourful rug or two, big cushions and blankets, and voila, you have a fashionable yet homely family space.
Bedroom
Carpet is usually the go-to flooring for bedrooms – understandable, since it adds a feeling of luxury, softness and relaxation. Unlike in busy parts of the home, such as the corridors or kitchen, low-traffic bedrooms give the generosity of allowing for plush and sophisticated materials such as wool, velvet or silk. If you're not a fan of carpets, but you still want that luscious look, then try sanded or painted French-style weathered floorboards. These can be paired with accessories in grey, silver and white – simply add a luxurious fluffy rug to give that 'ooh la la' feel.
We hope this has helped with your selection of floors to last a lifetime, and that your project will benefit from your new selections.
* * *
If you are considering an extension, book in a FREE Design Consultation today! Alternatively, you can give us a call on 0207 495 6561, or use our Contact Us page. We look forward to helping you with your project.