There are plenty of articles available online that offer advice on home renovations. From counter top finishes to the material of your light fittings, no detail is too small when it comes to designing your ideal space. It is important to dedicate time and thought to the main focal points of your extension; think about what you notice first when you enter a room. Floor finishes are a massive eye catcher and can really impact the way a space looks and feels so it's really important that you do your research here!
To offer some guidance, we have put together a list of the most popular types of flooring which clients have opted for in 2015.
Resin
This has become a very popular option recently as more clients are recognising the benefits of resin flooring. It is durable and low maintenance which makes it a great option for families with young kids… or messy cooks! It's quick and easy to clean and doesn't require special care to keep it looking fresh.
On top of that, it is available in a large range of colours, so you can generally find a style which will blend seamlessly into any kitchen design or colour scheme.
Our clients in Highbury, N5 chose a beautiful blue resin floor which really complemented their new modern kitchen.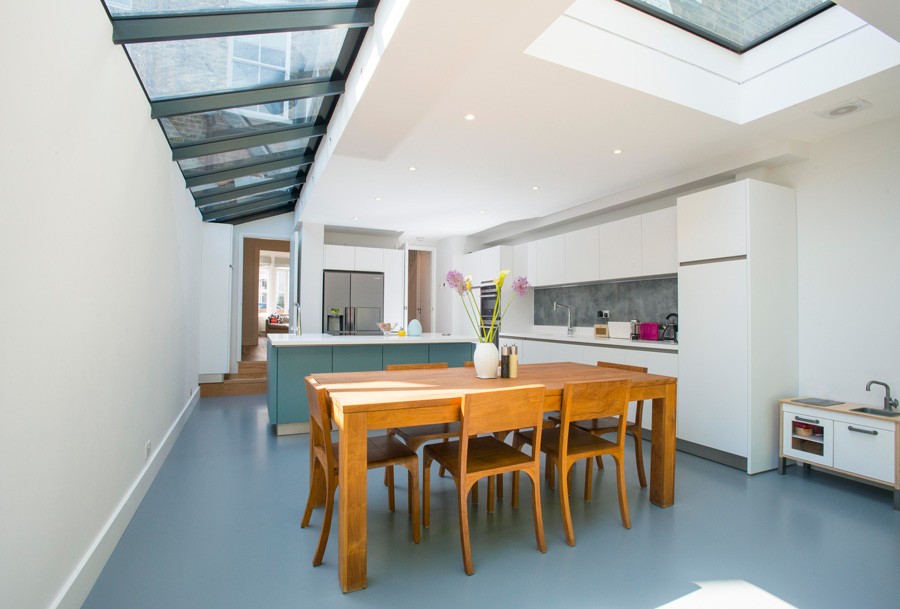 Stone
Many of our clients like the idea of blending the inside and outside spaces when extending their homes. This can make both spaces feel much larger which is always a major positive in London, and it also helps to better connect the new space to the old.
If this is an idea you like, then using the same flooring for the inside and outside spaces is one of the best ways to blur the boundaries between them, just as our clients in Camden, NW5 have done. They opted to use the same large ivory limestone tiles in their new kitchen and dining space as in the outdoor patio area.
Stone flooring a good option when trying to achieve this as it looks natural in both the outdoor area and the kitchen space. There are several options when it comes to choosing which type of stone flooring you want. The most common are limestone, sandstone, granite, marble and slate.
Stone flooring can be expensive, but can also add a touch of class to your living space and is less prone to fading.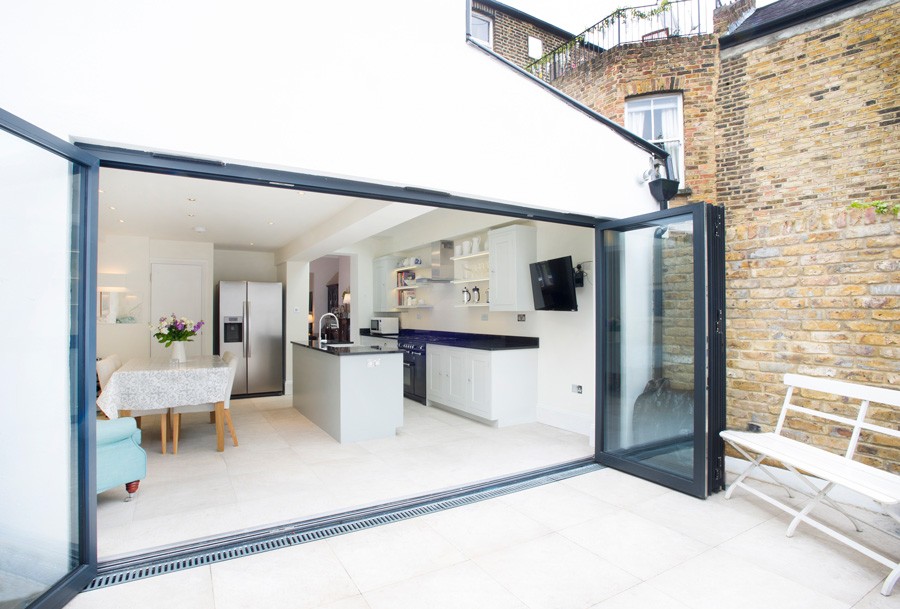 Wood
Wood flooring is a classic option and has always been favourable with clients as it is timeless and hard wearing. It can also add warmth and comfort to a room which stone and tile sometimes lack.
Although wood flooring, both real and engineered, generally arrives with a hefty price tag, it can actually add to the value of your home. Many estate agents state that homes with wood flooring sell twice as easily as its value is widely recognised and very much appreciated.
Porcelain Tiles
If you love the look of wood, but would rather not spend a small fortune on flooring, then opting for a porcelain tile which mimics wood could be an alternative. Our clients in Harringay, N8 chose a lovely porcelain tile which resembles reclaimed wood. The tiles are extremely well made; the texture and appearance are so close to real wood it would require a trained eye to tell them apart.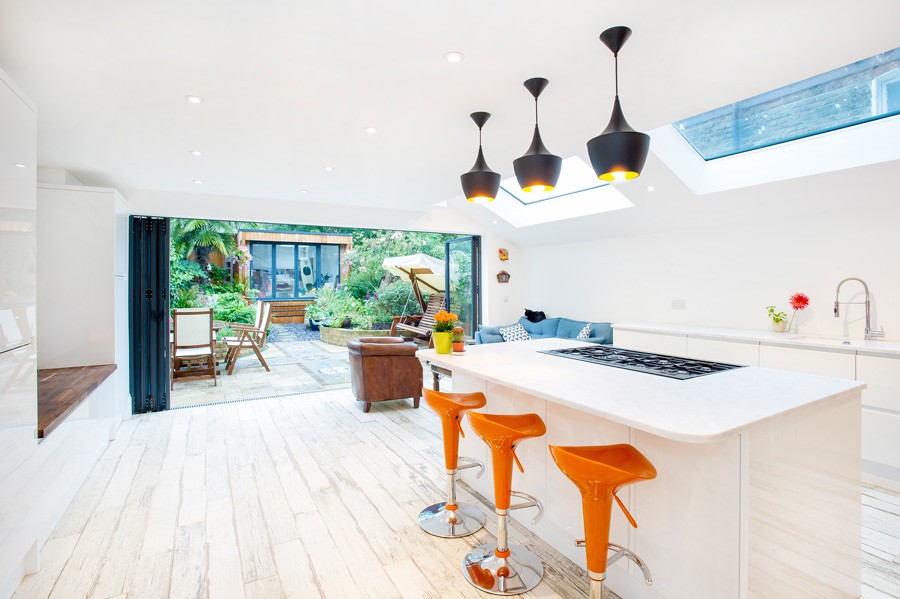 There are countless options when it comes to porcelain floor tiles as they are available in a large variety of colours, patterns and textures, so you're more than likely to find something which suits your home and individual taste.
Our clients in Battersea, SW6 opted for a unique patterned tile from Fired Earth which they loved so much they decided to design their kitchen around the tile itself.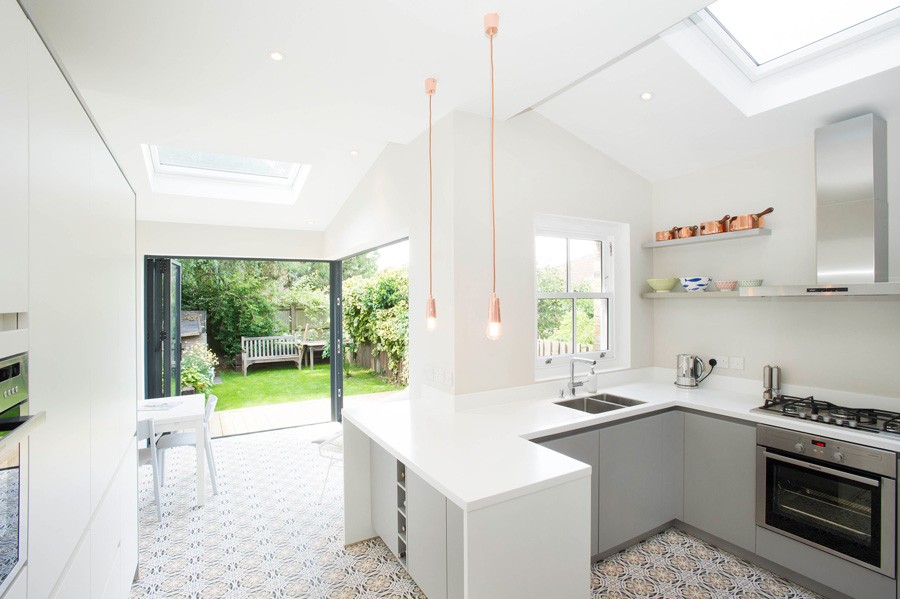 Porcelain tiles are resilient and easy to maintain and keep clean. They are a great option if you're looking for variety or want something which is unique and unconventional.
The only downside is that they can be rather cold in the winter months, which can affect the overall feel of the room; however they are very compatible with under floor heating as they have great thermal conductivity.