The autumn season is upon us; leaves are falling and there's a scattering of conkers along the pavements. Autumn is a great time to get those home maintenance jobs out of the way before the colder winter months.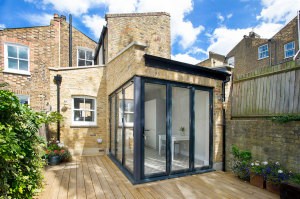 Just as regular household chores are necessary to keep the inside of your new side return extension clean, tidy and presentable, there are also jobs which are required to ensure the external parts of your extension are also looked after. We see these external maintenance jobs as far more important to the upkeep of your extension as, in some cases, if left unchecked they can cause more serious problems.
Clearing blocked gutter systems
A leaking roof is never a good sign and can cause homeowners to instantly panic, as most of us equate a leaking roof to huge expenses.
We understand homeowners concerns when it comes to such matters, and as we offer a 10 year guarantee on our extensions if a client mentions the word "leak" we are on hand to fix the problem!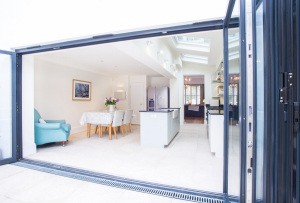 Gutters are intended to help water travel away from the roof. When the gutter system and hopper become blocked with leaves, moss and other debris, which is very common in the autumn, this can cause rainwater to backup and remain in the system, rather than flow out as it should.
If the hopper and the gutter system are not cleared then the system can overflow. This really is a maintenance issue and something which homeowners could certainly prevent. Whether you opt to call in a professional to clear the gutters, or you do it yourself – this is a vital home maintenance job which needs to be carried out at least once a year.
When clearing the gutter system it is also a good idea to check and clean out gullies to ensure that any debris is removed so that surface rainwater drains away freely.
If gullies are left unchecked, they may become clogged with debris which can cause drainage issues at a lower level. As with clearing the gutter systems, this is a maintenance job to be carried out at least once a year, in order to avoid damage to your patio or terrace.
Cleaning Velux roof windows / skylights
We are often asked by our more practical-minded design clients about how to clean and maintain Velux roof windows.
When it comes to looking after roof windows safety is key. You must be aware of your limits and if you cannot safely access the area then it is time to call a professional.
Many Velux roof windows are able to rotate 180 degrees making it easier to clean the outside section safely and easily. We suggest a mild, non-abrasive cleaning solution for the windows; we would recommend a solution consisting of water, ammonia and alcohol. This is a good way to clean the glass giving it a clear and streak-free finish.