Kitchens are no longer just spaces for cooking. They have become a space for social gatherings, a hub for day to day activities or even a place for the kids to do their homework whilst you're whipping up dinner. You'll need to design a layout that makes the best use of space for a range of activities and consider the fundamentals with care. Whether you intend to have movie nights in, host late night cocktail parties, or just cook up a storm, we have highlighted some tips on how to design your kitchen around entertaining.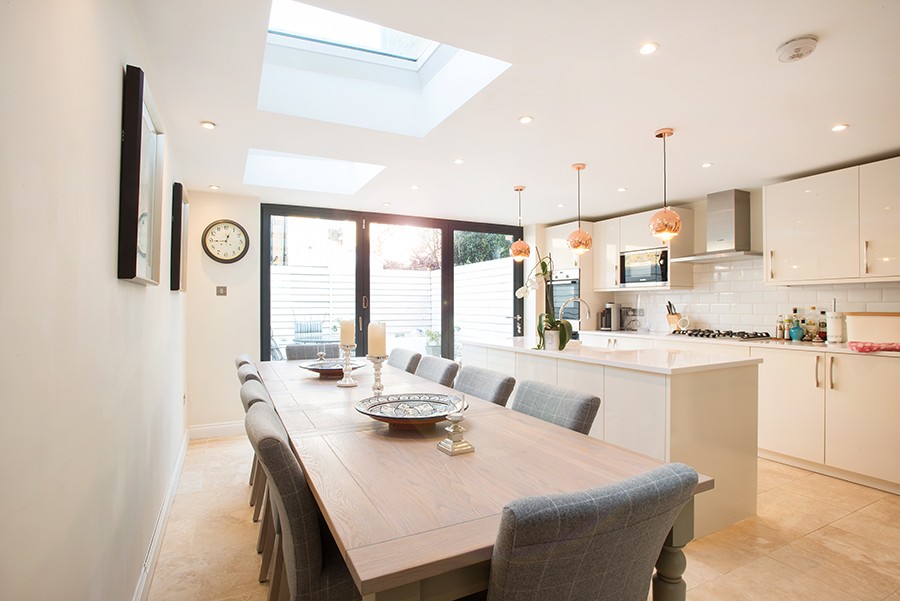 Dining Spaces
Opening up your kitchen can give you space for a sizeable dining table, allowing you to seat plenty of guests. Dining tables underneath skylights or by a large opening will allow for a brighter dining space with a gorgeous view. As well as a formal dining space, islands are perfect for social gatherings and even for daily use. Islands are a practical addition to your new kitchen as they provide extra storage, preparation space and act as a great place to grab a quick bite to eat, or have drinks for events.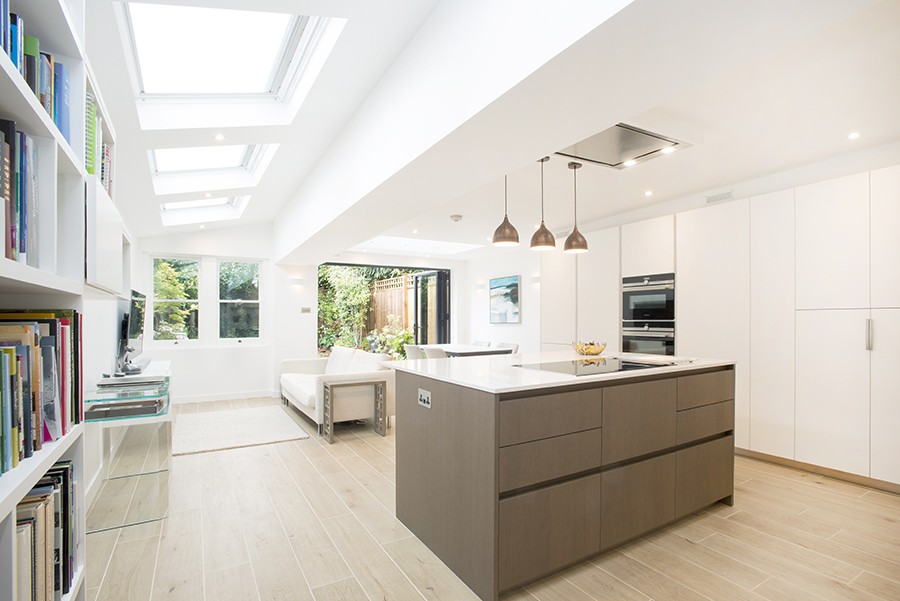 Smart Storage
Keep your kitchen clutter-free with smart storage to ensure appliances, utensils and other kitchen tools are out of sight. This will give the illusion of a larger kitchen space and will allow you to hide all unneeded items when guests arrive. Islands are also a great multifunctional storage solution. You can choose to position the hob and preparation areas around the island so you engage in socialising as well as cooking.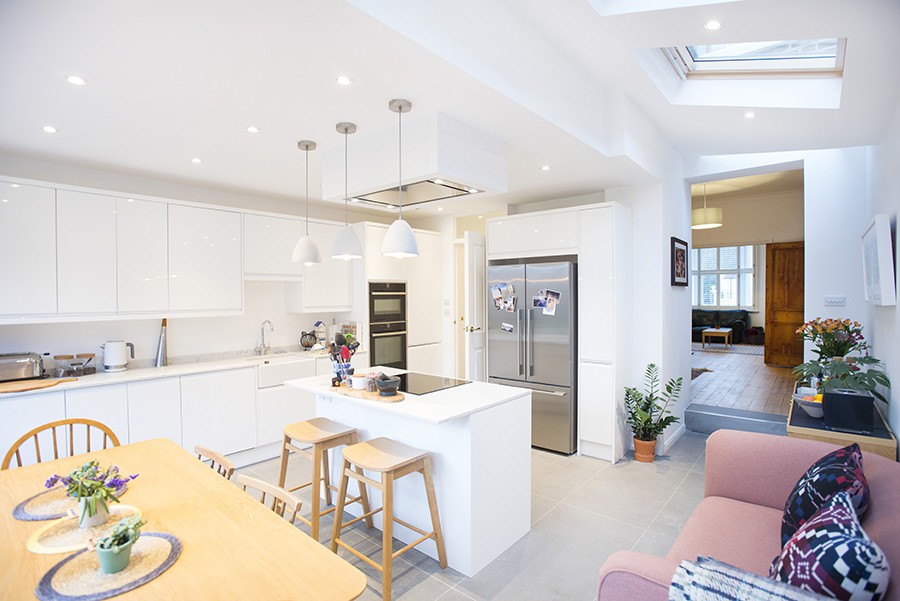 Zones
Many extension projects aim to create an open plan space however, you may want to consider zoning the area. When designing your kitchen around entertaining, small pockets of spaces will split the space up to accommodate a range of activities. A few things to consider are; where will you be cooking? How will guests move around the space? Where will snacks or main courses be served? Splitting up the space doesn't necessarily mean putting up partitioning walls. Use your furniture, island or breakfast bar to divide up the space into smaller pockets of spaces whilst maintaining a visual connection through the open space.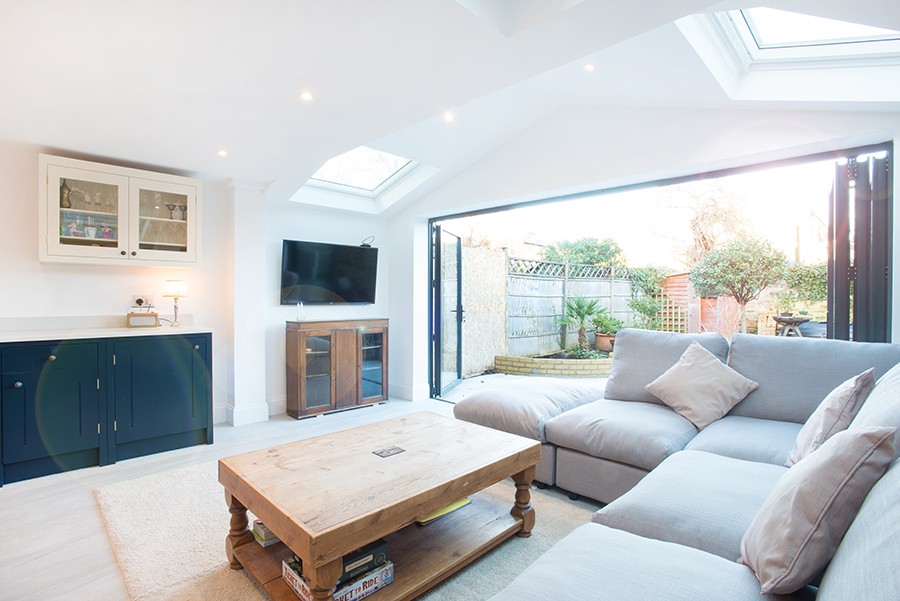 Snug Spaces
Dedicating some space to a small snug with a cosy sofa is a great way of giving your kitchen a homely feel. It is a great place to snuggle up with a good book whilst waiting for your Sunday roast, watching some TV with the family or having a coffee with a friend. A cosy sofa by the view of the garden or under the skylights will be a great addition to your kitchen for day to day activity and for entertaining.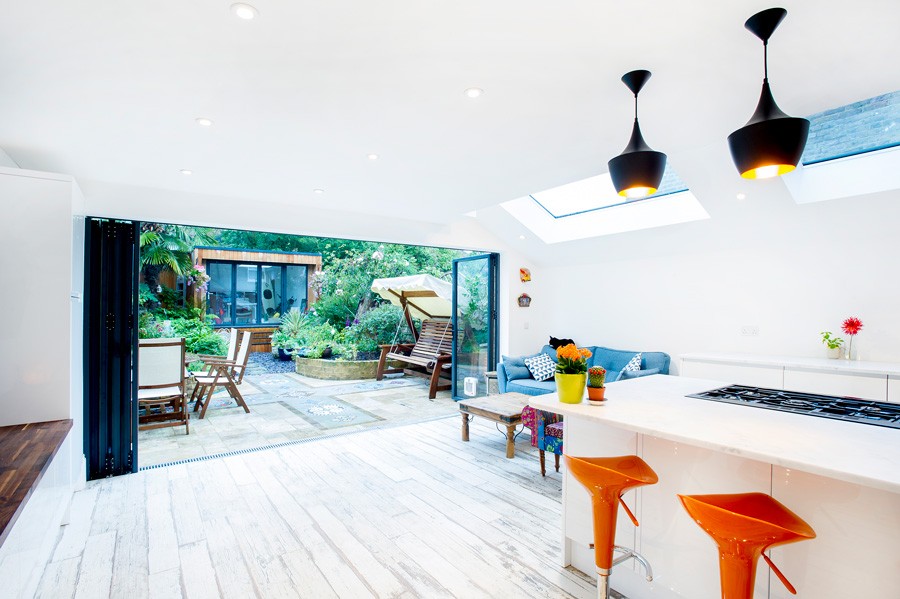 Integration with the Garden
Extending your home gives you the opportunity to rethink your relationship with your garden. The addition of glass doors to the rear will provide great natural lighting and a view of the landscape. There are a number of door styles to choose from including Crittall, French, sliding and bi-fold doors. Create an even greater sense of space as your kitchen doubles in size when you open it up to form one seamless space from the inside to outside.
If you are considering an extension and are interested designing your home around entertaining – give us a call and book in for a site visit. Our Design Team are happy to help and talk through any questions you have. To book your site visit, get in touch with our team today on 0207 495 6561.