Open plan living has become popular in modern day living, particularly in homes where space is valuable. If you're thinking about extending your kitchen, open plan living is an ideal choice because you're likely to be left with a very generous finished room size. This room is too large to house just one function, so we recommend that our clients either combine their kitchen with another function, be this either a living or dining area.
Your choices are endless when it comes to designing your extension, and we're going to talk you through some of our most popular schemes. When thinking about your design, you can either just focus on the extension area and how it will affect that rear room. The alternative option is to look at your entire ground floor area, and think about how you want your extension to interact with the front room, corridor and that middle room.
Our clients in Tooting have chosen an open plan space that is home to both their kitchen, and dining area. They have kept the internal wall which divides there kitchen area and living area, however they have left the doorway open to keep the spaces social.
The total width of their property is over 5m and they were concerned about filling a large space so for this reason, we recommended that they keep the internal wall to stop the space from becoming too large and overwhelming.

One advantage of open plan living is the great visibility you can create throughout the space. Our client in Haringey wanted to flood their ground floor with natural light, and for this reason our Design Team recommended removing almost all of the internal walls throughout the ground floor. We did recommend that we keep the corridor, as this keeps some privacy without disrupting the flow of natural light.
Our client originally planned to have their dining area right at the back of the property, right next to the Bi-Fold Doors, however after living in the space they found they loved this area so much they found it more useful as a living area – as you can see from the pictures the cat loves it too!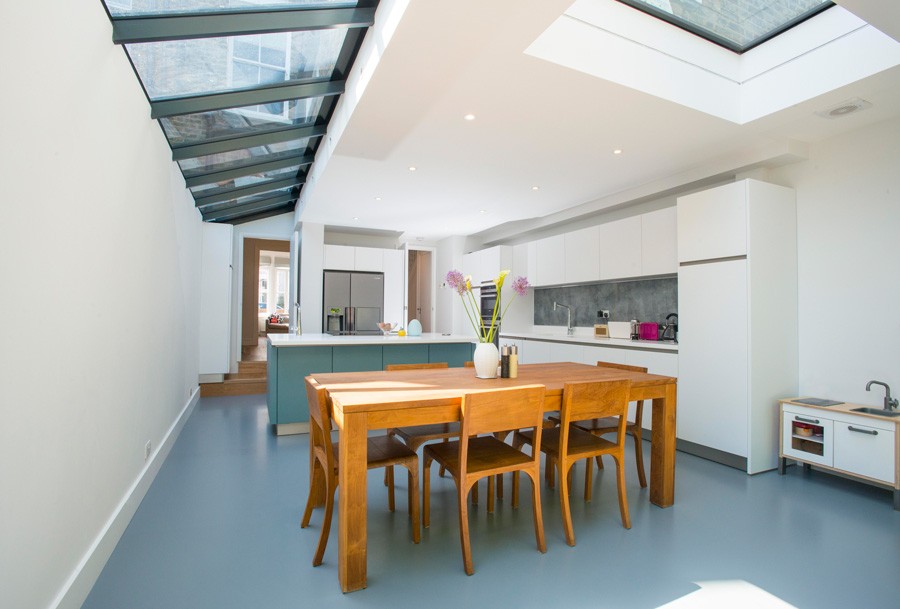 Our clients in Highbury have chosen a design which is almost a compromise between the design in Tooting and Haringey. They have opted for an open plan choice, but they've still retained that internal wall between the rear room and middle room to break up the spaces. They have chosen two doorways to create an even flow between the rooms, which can particularly come in useful if you've got young kids who like to get under your feet.
One disadvantage of keeping this internal wall is you'll have to find a function for the room in the middle. Our client did acknowledge the middle space didn't have a function, as it was segregated from the kitchen but not quite connected to the front living area.
This ground floor flat really benefited from open plan living, as the homeowners were able to shuffle the rooms about and create a generously sized master bedroom (which was their old living area). This choice is similar to Haringey, as it joins all three room functions within the open plan area; Kitchen, Living and Dining. Our Design makes clever use of the space available, and by slotting the kitchen into the thinner corner, it does separate the spaces a little.
This choice also features a Court Yard space, which is fantastic for splitting up a floor plan. This catapults natural light in every direction and is well worth considering as a feature.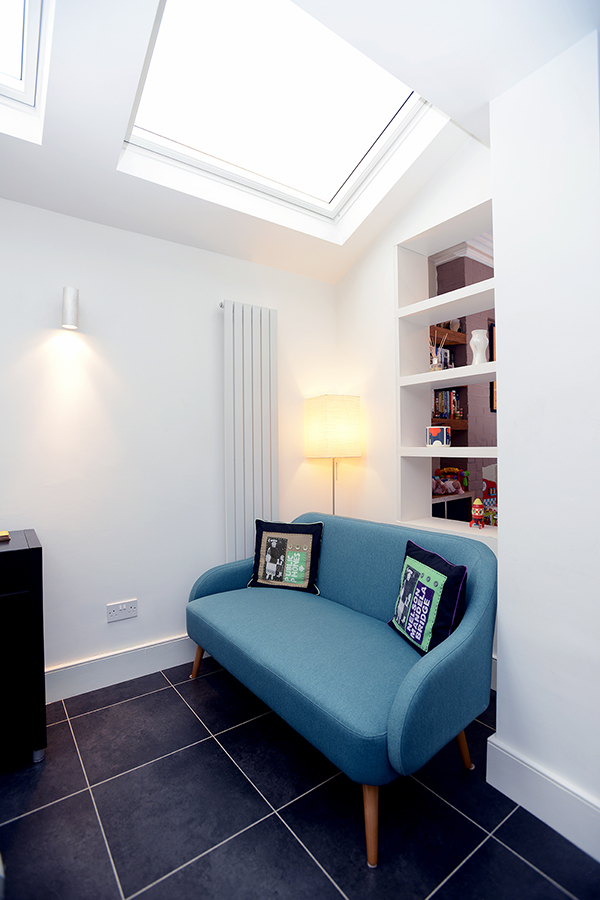 This homeowner was very keen to keep their living and kitchen spaces separate, although they did want to combine their kitchen and dining area. We did recommend that they keep some connection between their kitchen and living space and for this reason we installed these fantastic open shelves between the kitchen and living room. Shelving can be used to partition space without the visual heaviness of a framed wall. This option keeps the room very much separate, but it means that natural light can penetrate throughout the property.
If you want some advice on what design works for you, get in touch with us today and speak to a member of our Design Team.