The summer is finally upon us, but we would all probably admit to having a love-hate relationship with the weather at this time of the year. It's brilliant when the sun is blazing and you can laze in the garden working on your tan, however it also can be rather frustrating when you need a break from the heat.
Your home is your haven and we understand that you need to keep it cool in the summer months; in fact we think this is just as important as keeping it warm in the winter. In recognition of this we have put together a few short term solutions and long term tips to help you keep your side return cool in the summertime.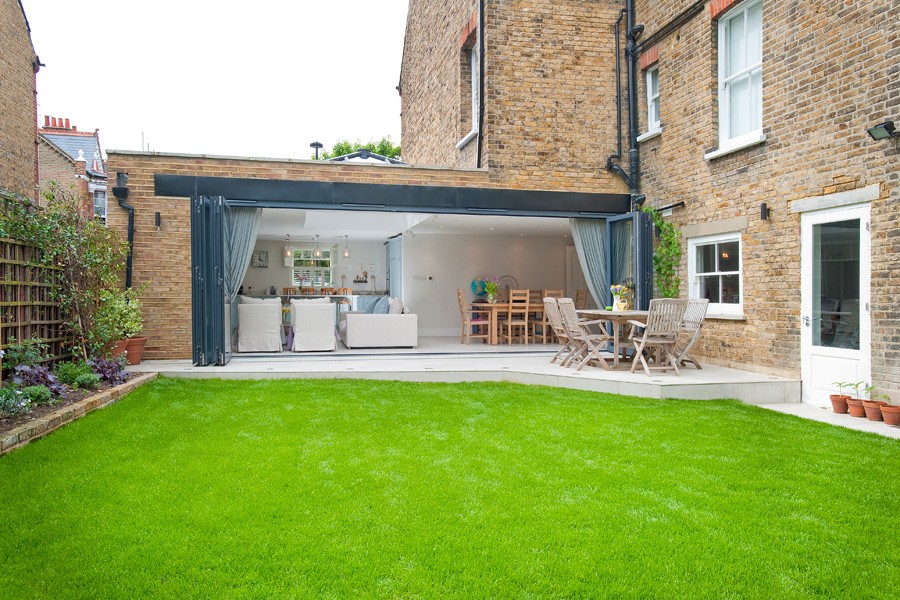 Short term
• Bi-fold doors – if you have opted for bi-fold doors in your side return extension then take advantage of the summer breeze; open the doors all the way to allow the air to circulate and keep the space cool. This not only brings the internal temperature down, but having the doors wide open helps to blur the boundaries between the inside and outside spaces, brightening up your living space and making it more welcoming.
• Blinds – Install blinds to your windows and skylights that are light in colour. If you're able to keep these drawn during the hottest points of the day, this will help to keep the room cooler as it stops direct sunlight entering the space and creating a greenhouse effect.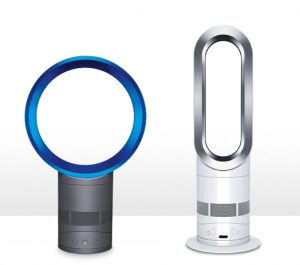 • Replace ordinary light bulbs with LED lights – Ordinary halogen light bulbs emit quite a bit of heat which can contribute to the overall temperature of the room. We would suggest that you opt for LED lights instead. LEDs lights not only emit less heat, but they are also up to fifteen times more energy efficient, so will save you money on your energy bills too!
• Have a BBQ – This may sound obvious, but cooking naturally increases the temperature of your living space; think about all the heat your oven and hob produces. To avoid this and to also make the most of the good weather, consider cooking some of your meals outdoors on the BBQ.
• Air-Conditioning / Fans – it can be a good idea to invest in an air conditioner or cooling fan for those days where the humidity and temperature is so it becomes sticky and uncomfortable. A Dyson Hot + Cool fan is a great option here as it can be used to help cool your living space in the summer months and warm it up in the winter.
Long term
We all know the UK weather can be rather erratic and unpredictable, and although our summer usually only lasts for about 3 months, it can still be a good idea to plan for the warmer weather when designing your side return extension.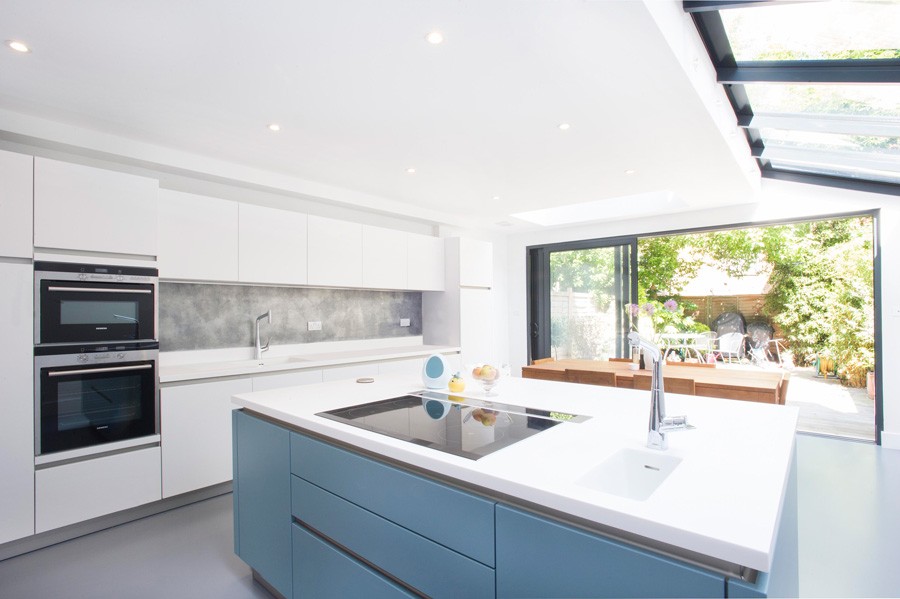 • White walls – white reflects the light, so opting for lighter colour options on the walls can help to keep the space cooler in the summer months. Not only will the walls reflect the sunlight but lighter colours can also help to make the space feel brighter, open and more contemporary.
• Good insulation – most of us are aware that good insulation is key to keeping the home warm in the winter, but good insulation can also help keep your home cool in the summer as it helps to retain the cool air inside the space.
• Plant trees and shrubs – designing your side return extension is a good time to think about your garden space and how it can be best used to complement your home and lifestyle. When designing your garden, think about including a few trees and shrubs to provide shade in certain areas, as well as climbers and vines around windows. These not only look great but they can also help reduce the amount of direct sunlight entering your home.