Bi-fold doors are a very popular option with homeowners when carrying out a kitchen extension or a side return extension. These doors complement the open plan nature of the side return perfectly; they provide a seamless connection between the inside and outside spaces which appear to blend the boundaries between your kitchen and your garden.
Each home has a different look and style. To ensure that the doors fit in with the style of your home, there are several different ways in which you can customise the doors to get the best fit for your home.
We have put together a list which details some of the ways bi-fold doors can be customised. It is important that you know all of options available so you can make the best decision for you and your extension.
What is the Best Material for Bi-Fold Doors?
Aluminium bi-fold doors for a kitchen extension are a popular trend at the moment, with increasing numbers of homeowners choosing this material in the last few years. In fact, according to Insight Data, aluminium bi-fold door installations grew by a whopping 14% between 2012 and 2013. A great advantage of aluminium bi-fold doors for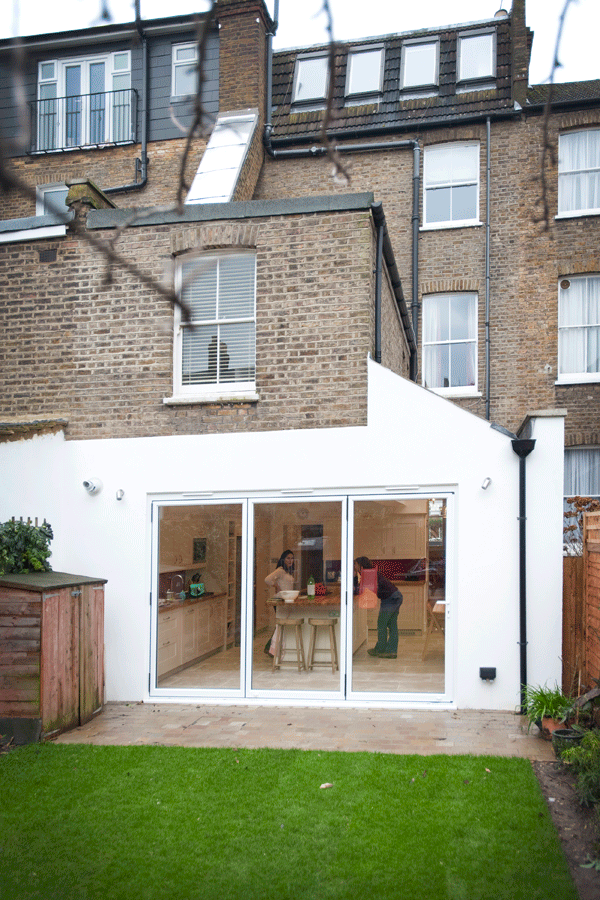 your kitchen is that the frame work is very sleek, smooth, and slim-lined; offering more glass sections to maximise the light entering the finished room.
While uPVC bi-fold doors may not be as popular as aluminium, they are the ideal choice for homeowners who want to renovate while sticking to a strict budget. uPVC isn't as expensive as the alternative options and is low maintenance.
Timber bi-fold doors are a good choice if you would prefer a more traditional, wood effect; the finish stays true to the style and nature of a Victorian home. Timber bi-fold doors allow for flexibility and personalisation as you can choose any colour for the frame. Contrasted bi-fold doors often work well; adding a splash of colour and vibrancy to the extended space.
Bi-Fold Door Styles Explained
Multi-leaf bi-fold door configurations allow you to personalise your doors, down to the very last fold. Leaves between 2 and 8 are the most popular, and there are advantages to both ends of the spectrum.
Having fewer leaves means you can opt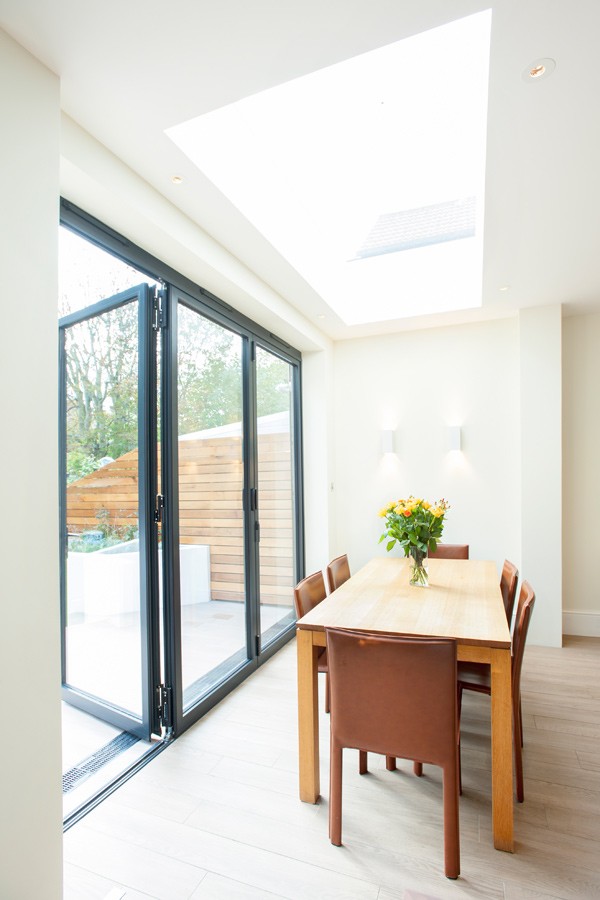 for extended glass panels that maximise light and allow for a quicker, easier opening. The advantage of more leaves is that you can vary the degree of 'openness' on any given day. It's great to have the option to have them fully open during a sunny summer's day; then opting for a partially open option during the cool evenings.
Adaptable bi-fold doors give you the ultimate freedom to use your kitchen doors in whatever way you wish. Whether you want your bi-fold doors to open inwards to provide more space in the garden for the kids to play, or to open outwards to offer more space to entertain in your new kitchen. You could also opt to have doors that open fully from a centre parting; alternatively, you can opt for a single side opening. Both styles can be secured and locked in a partially open position.
High Security Bi-Fold Doors
The advantage of modern bi-fold doors is that they boast impressive security features that make making the doors very difficult, if not impossible, to tamper with. You can opt for doors which have interlocking panels that prevent them from being prised open, as well as doors that can only be opened from the inside. This will give you complete peace of mind.