Exterior doors are an integral part of your extension design; not only do they require smooth functionality but they also drastically affect the way a room looks. There are a variety to choose from, all of which have both pros and cons. The first question to ask yourself is what you want to prioritise – be that maximising light entry, increasing security or keeping to a tighter budget.
Lots of our clients want to create a level threshold between their indoor and outdoor spaces. This is becoming more and more popular as homeowners want to blur the boundaries between the areas to create one multifunctional living area. If you want to go about achieving this, your choice of doors are crucial.
Bi-Fold Doors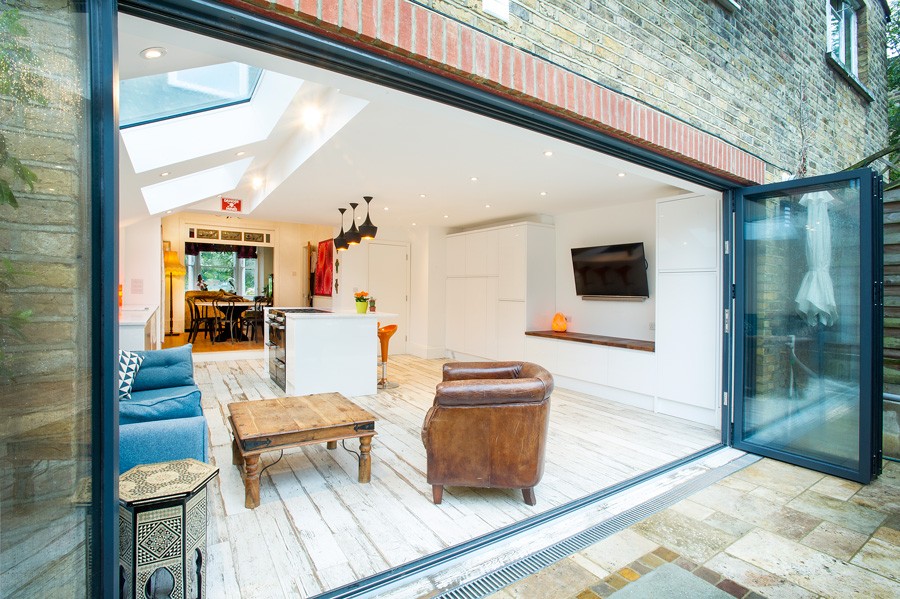 Bi-fold doors are the most effective at merging the boundaries between inside and out. These doors are built to fold all of the way back and they look really impressive when fully retracted. The most common design option is to have a wide opening at the rear of the property which allows the doors to stretch across the width of the entire room – this creates one, uninterrupted view of the garden.
While having a full width opening towards the rear of the property is popular, sometimes local planning policies can restrict this from happening. If that is the case, there are still plenty of design options available to achieve the indoor outdoor look with bi-folds. We designed and built our Battersea project when Lambeth didn't allow wraparound extensions. Our clients wanted to create the indoor outdoor look so we suggested bi-fold doors that connect at a 90 degree angle. When open, these doors are incredibly effective at combining the two spaces.
Another option is to have a slightly stepped back rear wall, to avoid that elevation having one large opening. Our clients in Peckham went for this design and it looks amazing. This is a great option if you want lots of light but don't necessarily like the idea of one huge opening.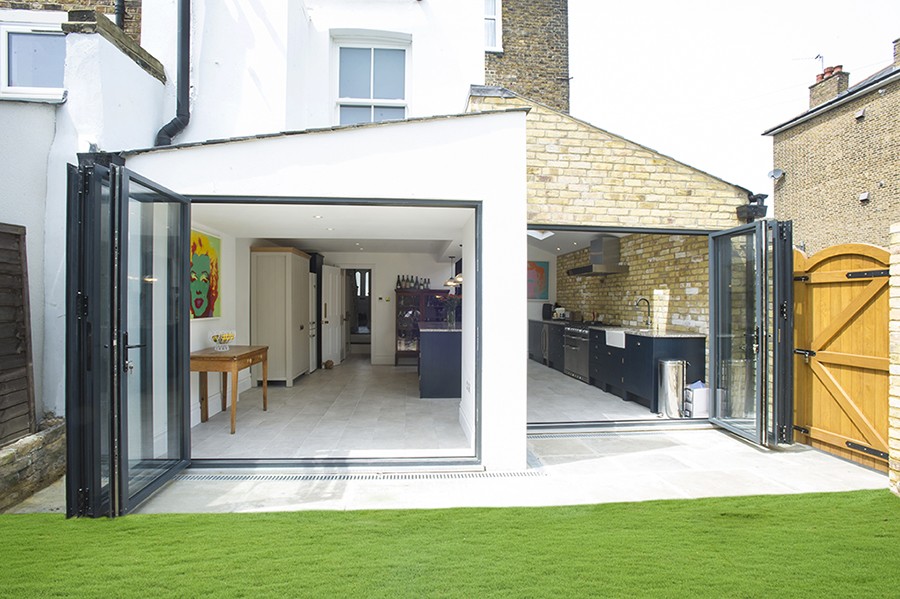 Sliding Doors
Sliding doors are a great alternative to Bi-fold doors, and from first glance they do offer a similar look and feel. Some homeowners don't like the novelty that comes with Bi-fold doors, and don't like the idea one huge opening towards the rear of the property. Sliding doors require one fixed panel of glass, which the other sheets of glass slide behind when open. This option is great for getting natural daylight into your home, but it keeps a clearer barrier between inside and out even when fully open.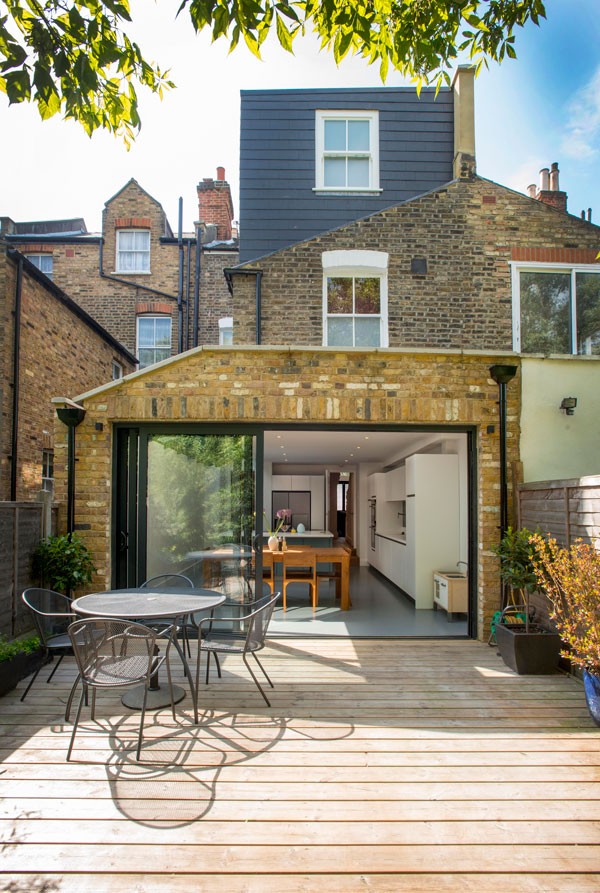 Crittal Doors
If larger panes of glass aren't to your taste, another great option for you to consider is Crittall doors.
Our clients in Fulham chose Crittall doors and windows which add an industrial feel to the space. With thin, graphic frames, these doors impose a strong architectural element that works well with contemporary kitchen design. The fixed windows and central opening do limit the movement in and out, but still bring plenty of natural light inside.