Gardens are quickly becoming a luxury rather than a necessity, particularly in cities like London where space is so valuable. There are endless advantages to having a garden, one of which is a wonderful view that you get from your kitchen. When designing an extension, you are offered with the perfect opportunity to redesign the way your kitchen and garden interact with one another, and it is becoming increasingly popular to create a harmonious flow between the two spaces.
Combining the two spaces will not only offer the illusion of more space, but you'll also find the ambience is much more visually appealing. Natural colours are soothing, and it's important to bring these qualities into the home and everyday life.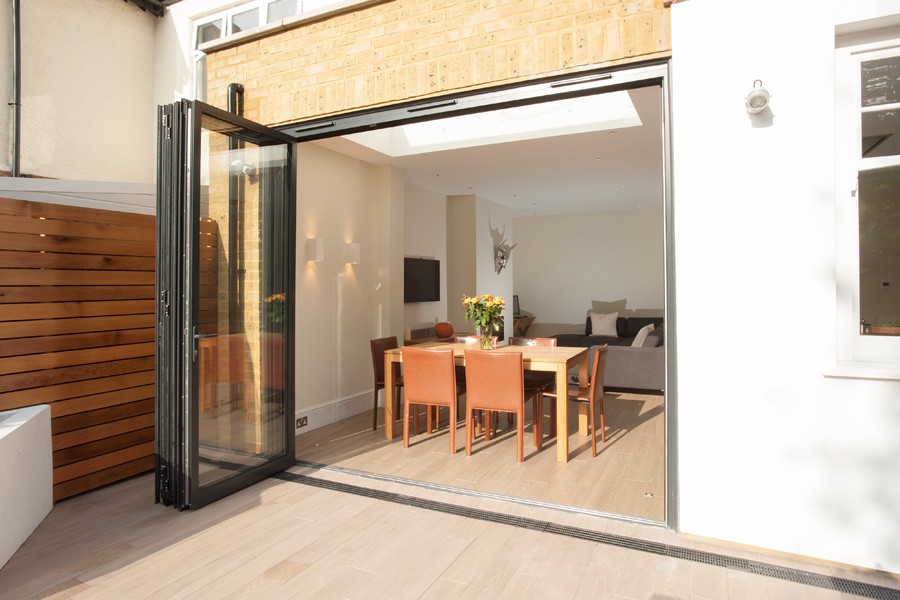 There are plenty of ways to go about doing this – all of which vary in cost and efficiency. We'll run you through some of the options:
Choice of Doors
Your choice of doors will drastically impact the visual connection with your garden. For those of you who want to create a strong visual connection with your garden, we recommend either bi-fold or sliding doors. We can recess the running track of these doors into the ground which creates a seamless join between your kitchen floor and outdoor patio or decking. If you opt for a similar floor material between the two spaces, you can further merge the boundary to offer the impression of one never ending room.
Our clients in Streatham chose similar materials for both their kitchen floor and patio area (pictured above). Our clients in Lewisham Park chose a similar method, and even aligned the wooden decking to run in line with the wooden floor in their kitchen.
Add More Glass
Perhaps this is an obvious one – but yes, adding more glass will increase your visual connection with the outdoors. Opting for an all-glass roof will mean your extension is flooded with natural light. An all-glass roof will also offer a view of the sky that Velux and roof lights just can't offer; a seamless and widescreen view of the world.
Windows are another effective use of glass. Our client in Loughborough Junction (SE24) chose a beautiful design which incorporated a huge piece of glazing into their kitchen; they even added a cat flap!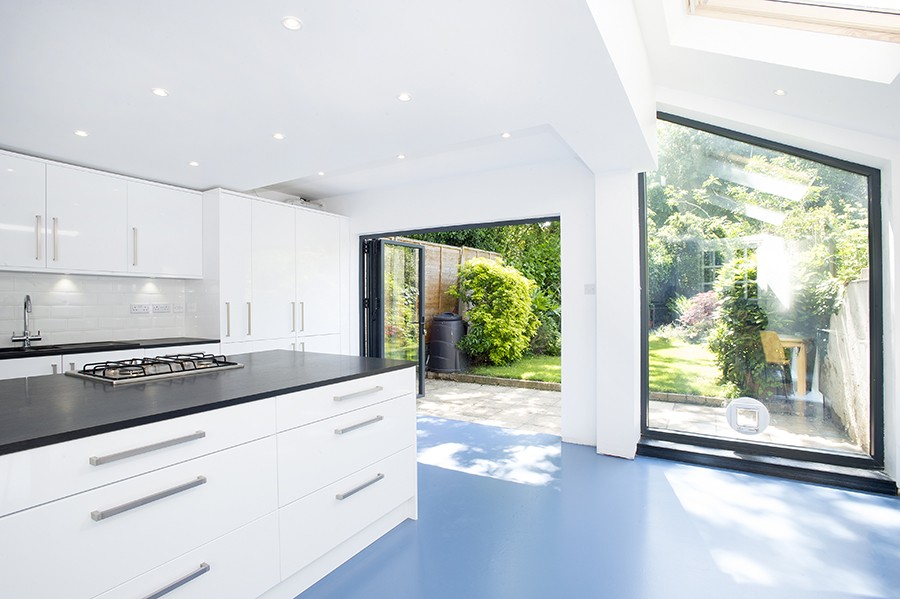 Indoor Plants
After your Build is complete and when you are ready to begin thinking about the finishing touches, consider adding plants and flowers within your home. Our clients in Stroud Green added lots of subtle plant pots within their extension and it made a big difference to the overall ambience. You don't necessarily have to offer up valuable space, but putting ferns or hanging ivy in corners or on high shelves will help to create a visual connection between your garden and kitchen.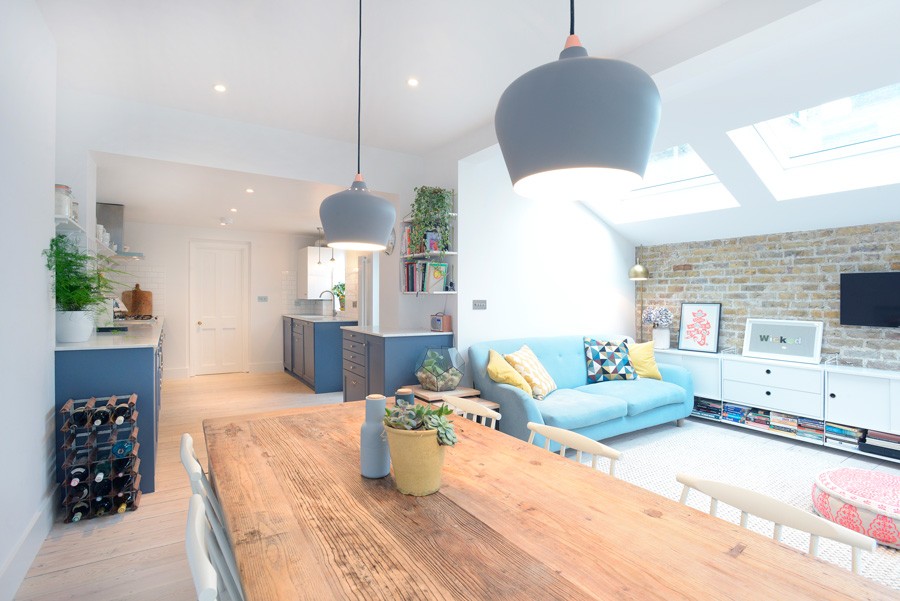 Garden Features
While the obvious method is adding plants to your indoor area, adding features to your outdoor area can be just as effective. Our clients in Stoke Newington (N16) used their kitchen tiles as stepping stones into their garden and leading towards their outhouse. Adding this pop of colour into their garden further strengthens the way to the two spaces interact within one another, by creating common aspects between the two.