For most of us, Design is at the forefront of our minds and we initially think about how something is going to look, and we forget about functionality. Underfloor heating is, in particular, important to think about early on because it effectiveness can vary depending on your floor material.
Underfloor heating is a certainly a newer method of heating, and something you might not know much about. We have put together some information on how underfloor heating works, and how it interacts with different floor materials.
How does underfloor heating work?
There are two main types of underfloor heating; electric and water based. There are pros and cons to each, however we find that water based choice is less costly, and also tends to distribute heat around the area more efficiently.
Water based underfloor heating works by circulating a controlled flow of warm water through the underfloor heating pipes. Unlike radiators, underfloor systems do not need to use water at such a high temperature. The water temperature in an underfloor heating pipe is usually 35-55°C, warming the floor to a 25-29°C depending on the floor type. This is a stark contrast to the water within your radiators which reach temperatures of 80°C.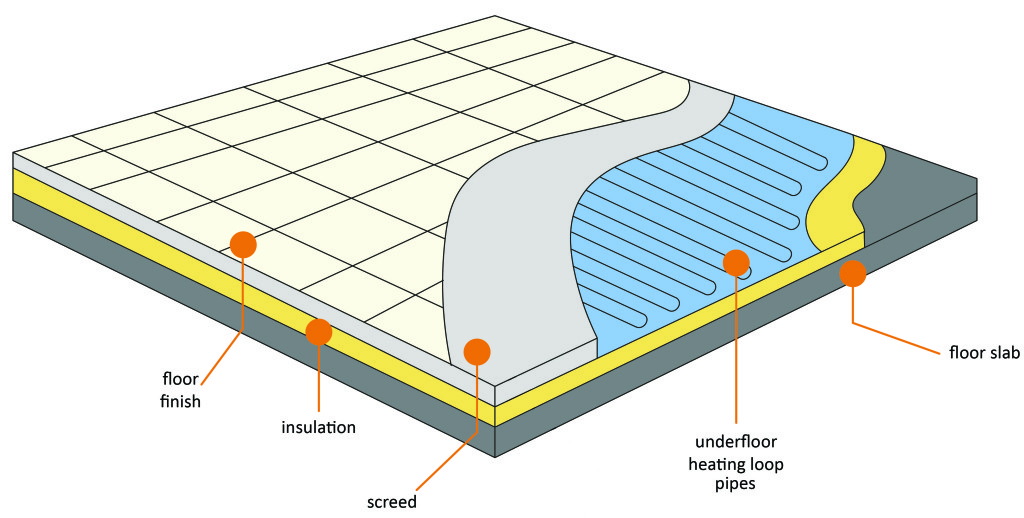 Floor Types       
Choosing your floor finish can be a lengthy process, particularly if you're not sure of what you want. We've seen it all – from porcelain tiles made to look like reclaimed wood, to a soft resin floor – there isn't much we haven't had experience with. We thought we would run through the floor types, and explain how each material interacts with underfloor heating – hopefully this will help you decide whether it's the floor for you!
#1.  Resin floors
Resin floors offer a flawless finish, and make quite an impression. As it's relatively new, not many people have seen this material before and it became the talking point at one of our recent House Tours. This type of flooring is robust, versatile and excellent for underfloor heating. This floor is naturally very soft, and interacts with heat very well. Our client in Highbury, N5, said her two young kids like to lie with their cheeks to the floor in the morning to take full advantage of the soft, warm material. Resin floors also come in pretty much any colour you want, so they are fantastic for fitting into colour schemes.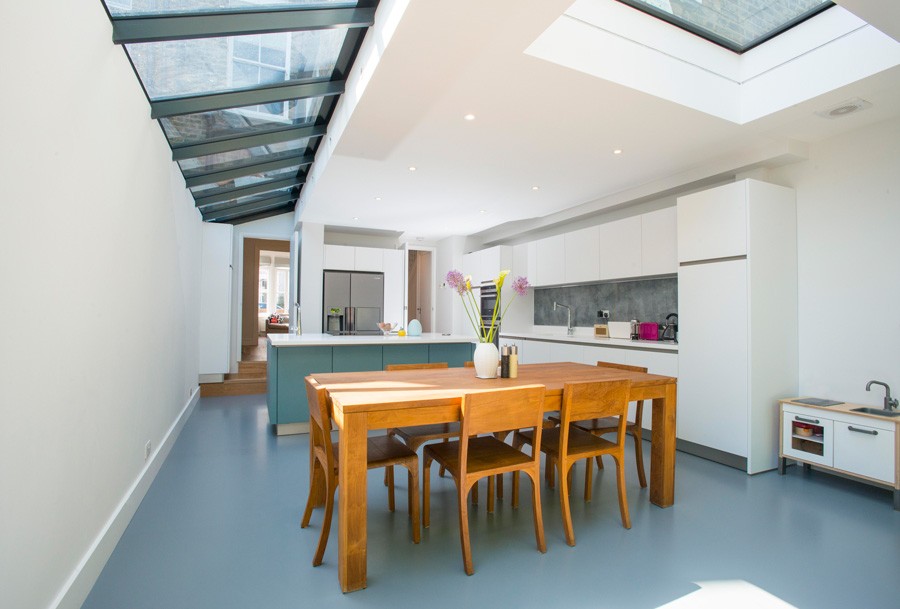 #2. Porcelain and ceramic tiles
Porcelain and ceramic tiles are low-maintenance, practical and versatile. They come in a host of different designs – including tiles that look like wood and other materials. These tiles are perfect if you are looking to create a stunning space with minimum effort. Our client in Harginey chose porcelain tiles which were made to look like reclaimed wood. She had four cats and wanted a material that would disguise paw prints!
Underfloor heating works really well with porcelain tiles and ceramic flooring. The tiles absorb heat very effectively and distribute evenly, which means you can heat rooms up quickly.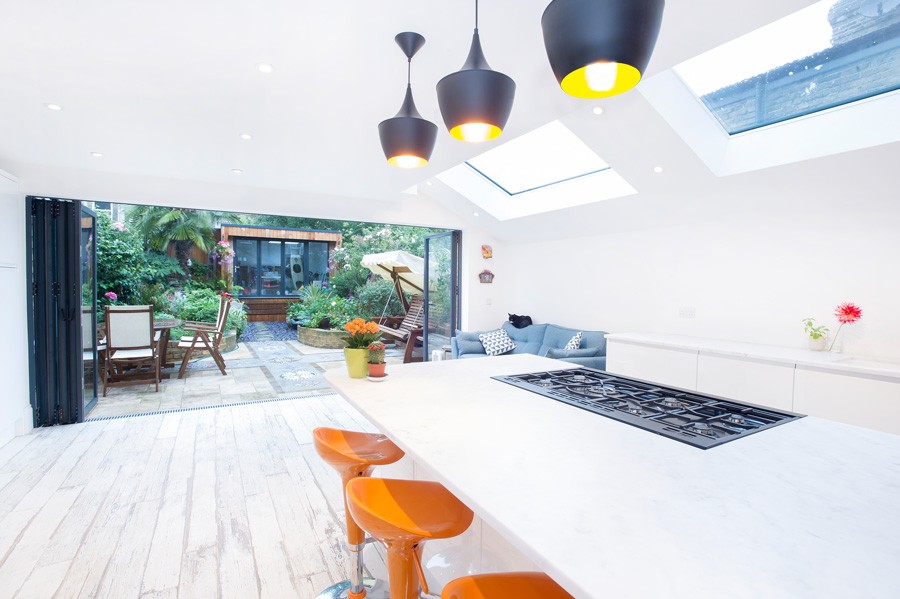 Our project in Haringey, N8, demonstrates how well porcelain tiles can disguise themselves as a different material – wouldn't you think this is a wooden floor from these pictures?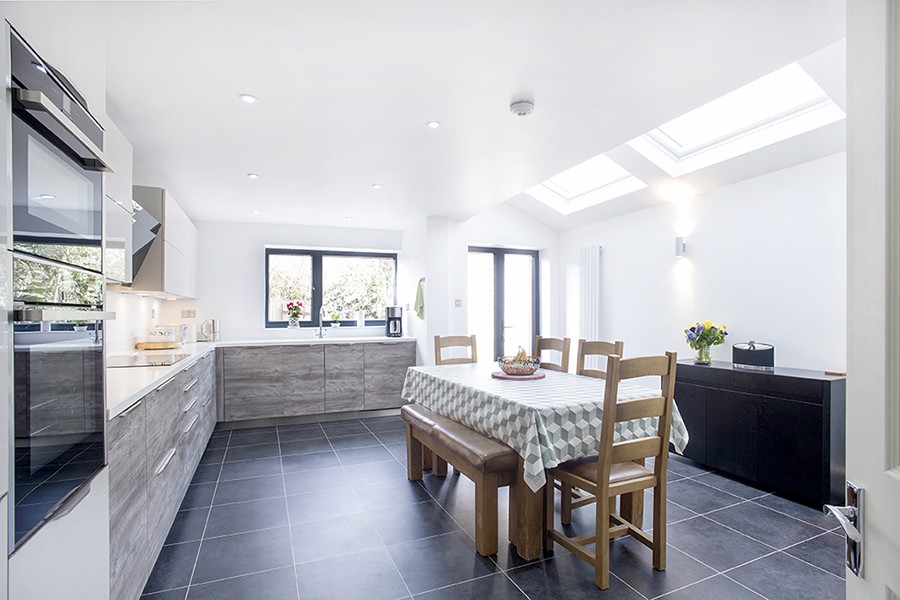 Our project in Palmers Green, N13 chose ceramic tiles. These tiles come in lots of different colours and shapes, and create a clean cut, modern look.
#3. Timber floor and engineered wood
Hardwood flooring oozes warmth and comfort, and definitely helps to keep the traditional look that ties in nicely with Victorian terraces. Wooden floors come in a wide variety of shades, grains and patterns, so you'll be sure to find the perfect flooring to compliment your home and new extension. Unfortunately underfloor heating can be a little tricky to navigate with wooden floors, it's certainly not impossible.
Our client in Stroud Green, N4 chose to go for radiators and they've managed to keep them subtle by hiding them away in the corners of the room.