The reason for extending is usually quite simple; you want more space in your home. While reasons for the additional space vary massively, we do find that lots of our clients want to accommodate their growing families. We thought we would put together some helpful tips about family friendly design options.
We asked lots of parents what their design priorities were and we found the following three things came up repeatedly:
1. Keeping an eye on the kids while effectively functioning in the kitchen
2. More space and room to accommodate all ages
3. How to have a children friendly space but not lose adult taste and decor
Keeping an eye on the kids while cooking:
Open plan living encourages social spaces, which can be divided into 'zones' by creating different areas for different functions. If keeping an eye on your kids is imperative, we would suggest open plan schemes that allow you to see their activity from all areas. The image of our Clapham, SW4 project demonstrates a great scheme where families can conduct several activities simultaneously.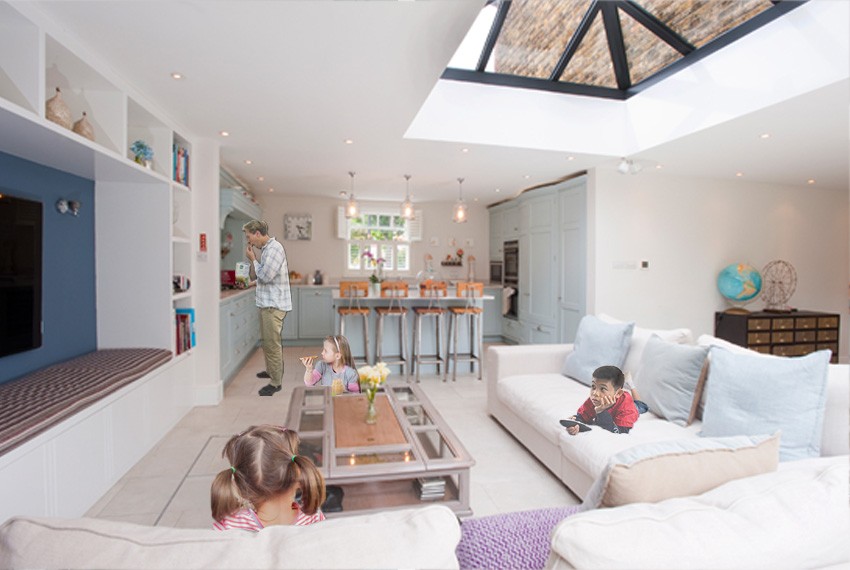 We also found kitchen islands are a great way to not only supervise your children but also to get them involved in your multitasking. It's also important to think about what you want to use your kitchen island for; as this will probably be the only time you're facing the room. Lots of our clients opt to put their cooker and oven on the island, but you can also opt to keep it clutter free and use it for food prep.
Island seating is great for when your kids are a bit older, and want to get involved in cooking. Take a look at our Gallery to check out some innovative island designs.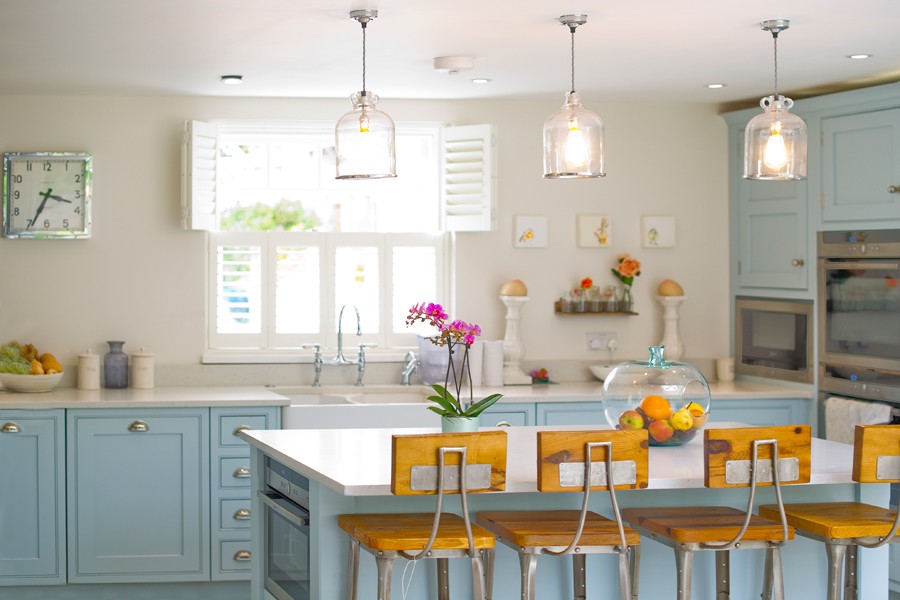 More space and room to accommodate all ages
Kids need space, and it's safe to say they'll only get bigger! Extending out and really taking advantage of your local council guidelines will add square meters onto your property.
You can also add space in other ways, and use the re-design to get creative with storage.  Opt for lower storage for things you'd like to keep in reach of the kids, and higher storage for things you'd like to keep out. Our project in Stroud Green demonstrates low storage options and shows you don't have to sacrifice much space to store away lots of clutter.
Consider higher storage points for the things you'd like to keep out of reach. Vertical storage is great to keep things within easy access for your needs, but impossible for little hands!

How to have a children friendly space but not lose adult taste and décor:
A common concern amongst parents is how to find the balance between making the space colorful and pleasing for the kids, while also keeping it tasteful for the adults. There a couple of options you can explore here, either via colour or materials.
In terms of colour, we suggest you go for fun vibrant colours that reflect your kid's energy but will be timeless. The scheme below worked well as it offers a pop of colour, but keeps the tasteful, minimalistic look.
Material is also an important consideration which was perfectly demonstrated by our clients in Highbury, N4. They decided to opt for a Resin Floor which is soft and calming on the kids. They even admitted their kids love to lie with their cheeks flat to the floor in the morning to take advantage of the warmth from the underfloor heating!
We do offer an Interior Design Service where we have tons of experience in pleasing décor which is both child and adult friendly. Ask about our Interior Design Service for more details.