There are a number of good reasons to collaborate with your neighbour when it comes to the Design and Build of a Side Return Extension and at Build Team we have developed a specialist knowledge base on how best to approach these projects.  We currently have four "doubles" at various stages of the Design / Build process in East Dulwich SE22, Peckham SE15, Brixton SW2 and Hackney E5.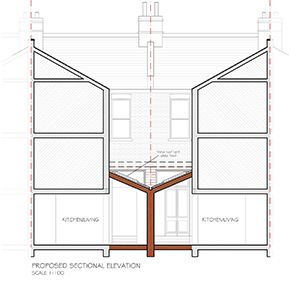 Planning & Party Wall Matters 
With the benefit of joint planning application, most London boroughs are amenable to an increase of the wall height astride the boundary.  This is because standard concerns such as loss of light and sense of enclosure cease to be issues.
Some homeowners encounter problems with their neighbours when proposing a party wall built astride the boundary.  With a dual instruction it is likely you will agree on a shared party wall maximising on space for your side return.
With a single side return, the party wall process can sometimes be a long and arduous process. However with two neighbours having a shared interest in saving time and simplifying the process, party wall matters can be resolved quickly and efficiently.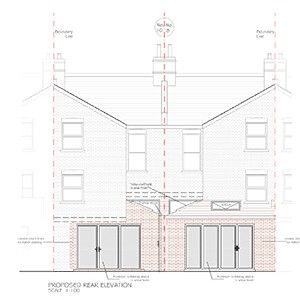 Financial considerations
A shared party wall means the cost is shared between two parties, thus reducing the overall cost for both parties.
On Party Wall matters, we genuinely find that putting in place a formal Notice and undertaking a schedule of condition to both sides is sufficient where two neighbours are collaborating on a Side Return. This represents a cost saving with regards to a standalone Side Return which can sometimes require the putting in place of a full Party Wall Award.
Sometimes there can be cost savings in waste removal, particularly if one of the properties has rear access or off street parking to the front.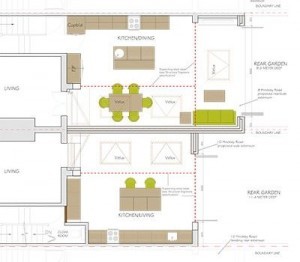 Logistics of the Build
With two neighbours collaborating there is less of a requirement to ensure a temporary hording or indeed other enabling works while the works are carried out.
When collaborating with your neighbour, it is also worth considering sharing the cost of landscaping works and matters such as reinstating the communal garden fence at the end of the build.
When working within the vicinity of a public sewer, drainage works can be streamlined when two side returns are being built simultaneously.