Extractor Fans
We are frequently asked whether extractor fans are a necessity – as they are often large and bulky and don't have an aesthetically pleasing appearance. The answer is yes and your Building Control Officer will be looking out for your extractor fan. It's not all about ticking legal boxes; an extractor fan helps to ensure that your kitchen is a safe and pleasant place to be. There are plenty of alternative designs which look fantastic and very effective.
Your extractor fan will sit above your hob and oven, so it's important to take this into account when thinking about your kitchen design. We thought we would run you through some of the innovative ways of incorporating an extractor fan into your kitchen design.
Hidden in your Island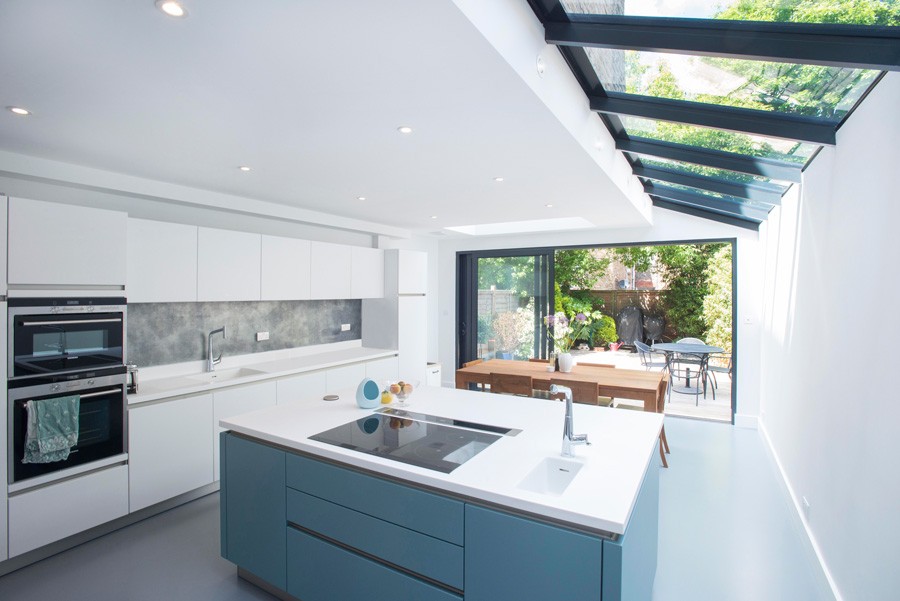 Many of our clients choose to have their hob as part of a kitchen island. You can keep an eye on both the dinner and the kids at the same time or chat to your guests while cooking up a storm. One option is to incorporate your extractor fan into your island – this option is very 007 and created quite a stir at our House Tour earlier this year. You simply press a button and the extractor fan suddenly emerges from the depths of your island!
High in the Sky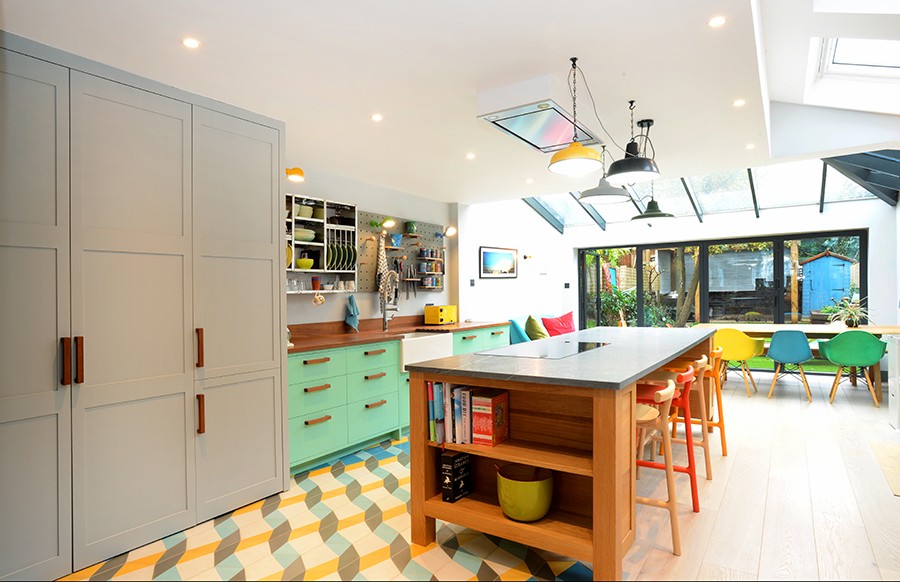 This option involves having the extractor fan recessed into your ceiling which is a subtle option – you'll barely notice it's there! The mirroring effect of the hob and stainless steel extractor make the design look deliberate and interesting.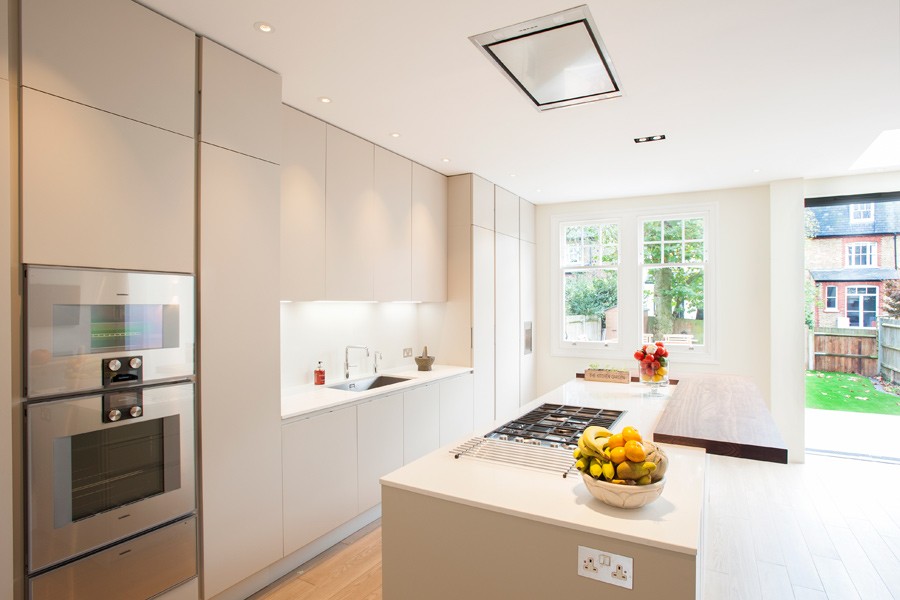 Colour Contrast
If you want your hob against a wall rather than on an island, don't be misled into thinking you have to have a standard extractor fan. There are loads of ways to make this functional requirement a great feature of the room. Our clients in Lambeth chose to colour contrast theirs so that it stood out against the rest of the kitchen. This can work particularly well if you have a more unusual oven such as an Aga. You can make your extractor stand out against the walls or units so that it's eye-catching and even a focal point of the space.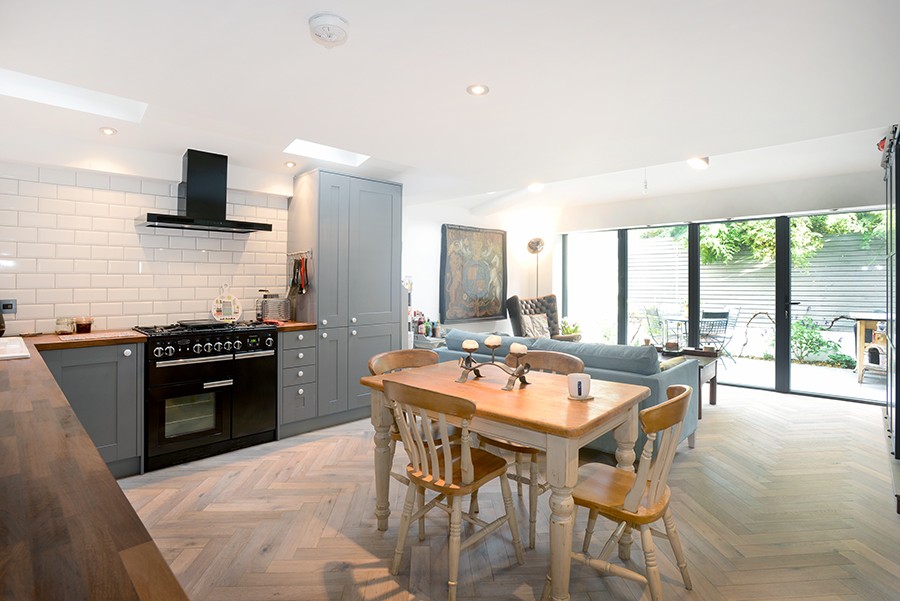 Hide in a Feature
Another popular idea is to hide your extractor fan within an existing feature of your home, such as a chimney or within cabinets. This is what our clients in Camberwell have done and it looks lovely. This solves two problems at once as it prevents needing to remove the chimney breast to gain more space in the kitchen. You save on steel and keep an original feature of your property while maintaining a straight run of kitchen units.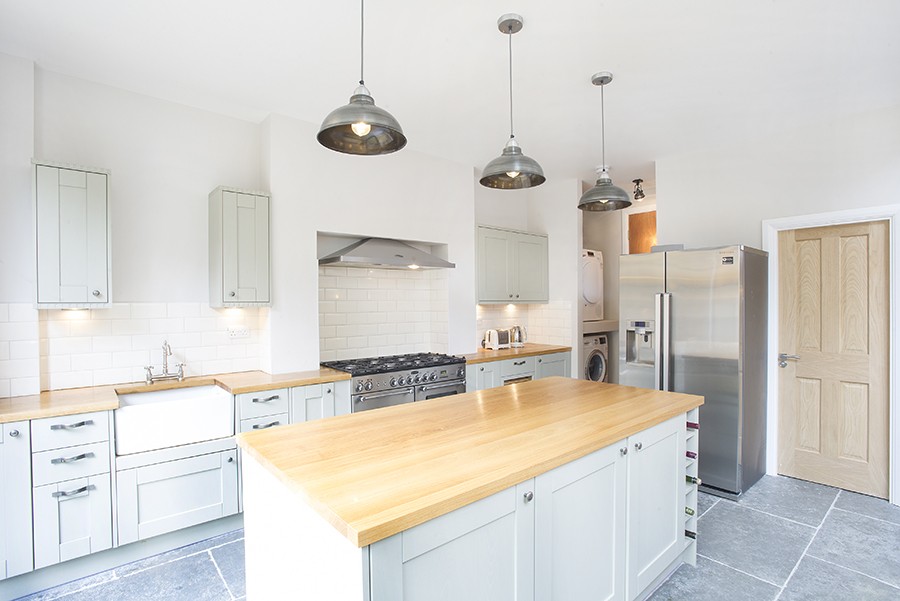 If you want more inspiration or to discuss your kitchen with one of our designers, call us on 0207 495 6561 today and book in your free site visit!