Bathrooms have become more than just a functional space in our homes; they are now a sanctuary for self-care, relaxation, and rejuvenation. With the latest bathroom trends for 2023, you can elevate your space and create a spa-like oasis at home. From pastel colours and natural materials to warm metallics and Japandi design, there are many ways to update your bathroom and make it feel like a luxurious spa-like retreat.
Whether you're looking to make a complete renovation or add some small touches, this year's bathroom trends will inspire you to create a stylish and functional space. This article will explore some of the top bathroom trends for 2023 and help you create the bathroom of your dreams.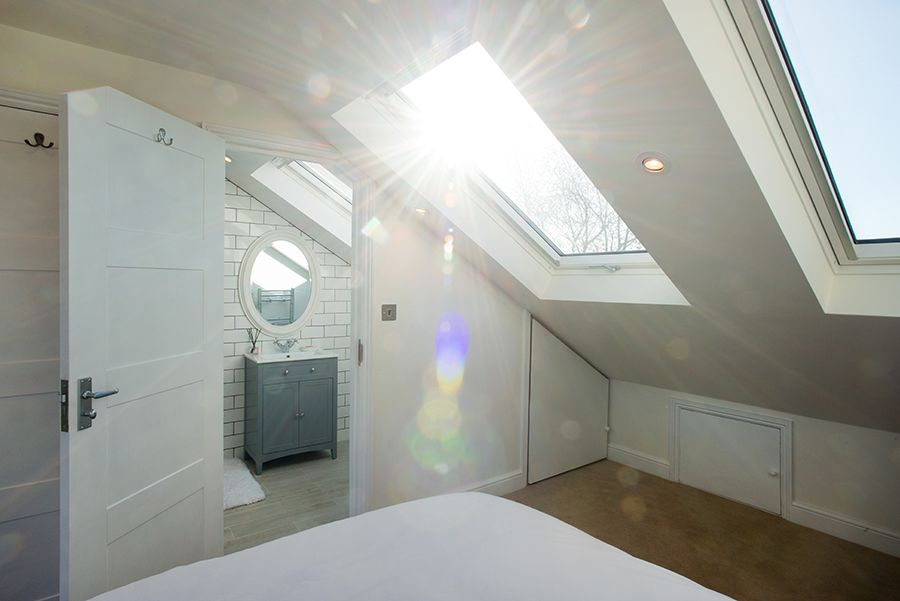 Natural Materials: Embracing the Beauty of Wood and Stone
One of the biggest bathroom design trends for 2023 is using natural materials, such as wood vanity units. The warm and organic feel of wood not only adds a touch of nature to the space but also provides a sturdy and durable surface. Pair a wood vanity unit with a white ceramic sink and you have a classic, timeless look.
Natural stone, such as a stone countertop or a stone-tiled shower, adds texture and depth to your bathroom design. The different patterns and variations of natural stone provide a one-of-a-kind appearance and a touch of elegance. Natural stone tiles can also be utilised on the floor to create a seamless appearance and boost durability.
Use woven baskets, hardwood trays, or rattan items for storage as another option to incorporate natural elements into your bathroom design. These features not only give a helpful solution for organising your space but also add a natural touch and warmth to the bathroom's overall look and feel.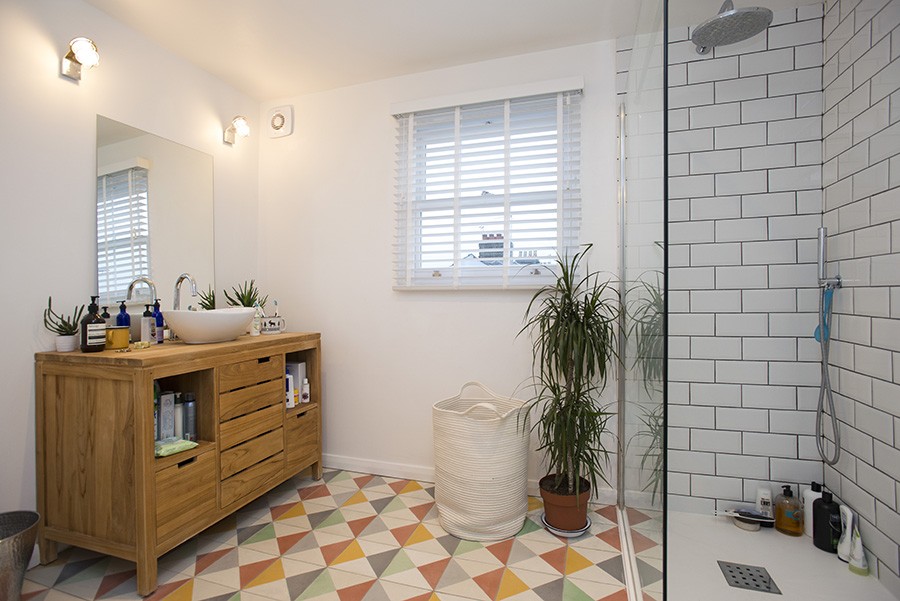 Double Vanity Units: A Match Made in Heaven
Double vanity units are the perfect solution for those seeking ample space and storage in their bathroom. In addition, this 2023 trend allows for personalised touches, for example, adding coloured cabinetry creating a stylish and unique look. Opt for cabinetry in striking hues like emerald green or navy blue to make a bold statement.
Double vanity units provide ample storage for towels, toiletries, and other bathroom essentials and make your morning routine a breeze with built-in drawers and cabinets. This eliminates clutter and provides a clean, organised space to get ready in. In addition, a double vanity unit with dual sinks in a large bathroom can elevate the room to a luxurious spa-like atmosphere and stylish bathroom solution.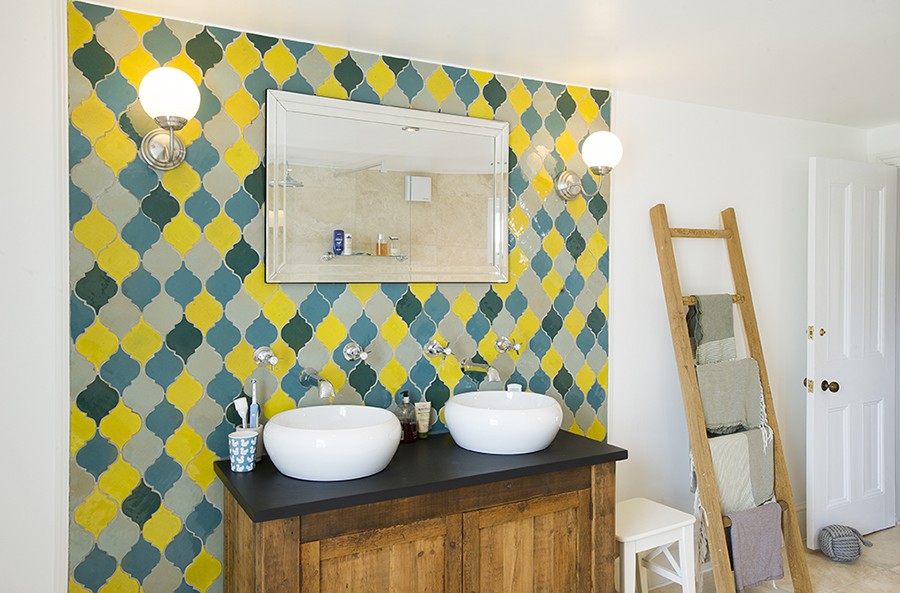 Walk-In Showers: Seamless Style and Functionality
Walk-in showers are a prominent feature of bathroom design in 2023, providing aesthetics and functionality. This seamless design is beautiful and easy to clean, thanks to its sleek, frameless glass screens. Furthermore, the lack of a frame means that the focus is on the tile or stone, which adds a beautiful design element.
A walk-in shower can also be customised with built-in shelves, bench seating and several shower heads for a truly personalised and luxurious experience. These features not only improve shower performance but also lend a sense of style and sophistication to the overall design. A walk-in shower can be the focal point of a bathroom, creating a spa-like environment. Choose neutral and natural tiles, such as marble or stone, and match them with modern fixtures to achieve a holistic and stylish aesthetic.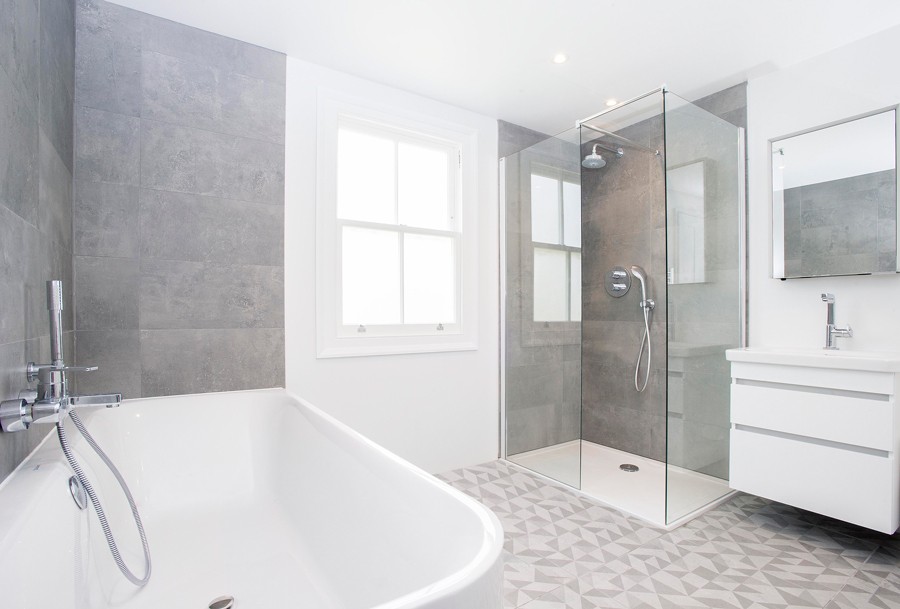 Warm Metallics: A Touch of Glamour with Bronze and Brushed Gold
Warm metallics, such as bronze and brushed gold, are popular for bathroom fixtures, such as tiles and taps. These finishes bring a touch of luxury to the space and are a great alternative to traditional chrome or nickel.
Consider installing bronze light fixtures or brushed gold shower heads and taps. This adds an element of glamour and provides a warm and inviting atmosphere. Additionally, incorporating bronze or brushed gold accents on towel rails, mirrors, and even cabinetry can enhance the bathroom's overall look. To create a cohesive and luxurious bathroom design, these warm metallic tones can also complement other design elements, such as neutral or earthy colour palettes, natural wood finishes, and textured accents.
Textured Tiles: Add Dimension with Unique Surfaces
Another bathroom design trend this year is texture. Unique 3D or patterned surfaces on tiles will give dimension and visual intrigue to your space. Combine different textures to create a truly eye-catching design.
Use textured wall tiles in bold patterns or colours for a statement wall. Alternatively, textured floor tiles, such as pebble or stone tiles, can give the bathroom an organic appearance. Consider blending different textures in a single area to provide even more dimension, such as contrasting smooth stone counters with textured wall tiles. The idea is to select textures that complement one another and add aesthetic interest to the space.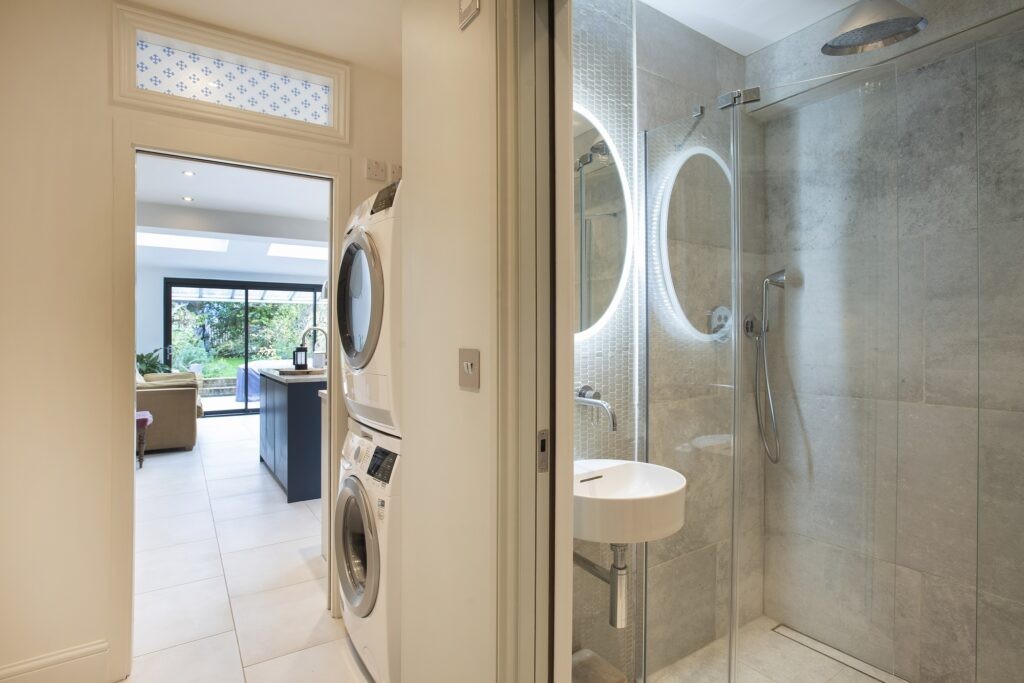 Japandi Design: A Blend of Japanese and Scandinavian Styles
Japandi design is a new trend that combines Scandinavian design's simplicity and minimalism with the elegance and peacefulness of Japanese style. Natural materials, neutral colours, and clean lines are used in this design style to create a serene and calming ambiance in your bathroom. The Japandi design style is about creating a peaceful and harmonious space.
Consider using natural wood pieces like bamboo or maple to provide warmth and texture to the space. Cabinetry or floating shelves can help create this. Another approach to incorporating Japandi design is to use neutral colour palettes, creating a quiet and serene environment. Simple and elegant fixtures, such as wall-mounted taps and minimalistic showerheads, can help produce clean lines.
Pastel Palette: Soft and Serene with Light Colours
Pastel colours are trending this year, providing a soft and serene touch to your bathroom. Choose a light palette such as dusty pink, light blue, or mint green to create a calming atmosphere in your bathroom.
To incorporate the pastel palette, consider adding pastel-coloured towels and accessories. If you're feeling bold, mix and match pastel colours for a unique and playful touch. Adding natural elements such as plants or wooden accents can enhance the serene atmosphere. By incorporating these light and soft colours, your bathroom will become a peaceful and calming space, perfect for unwinding after a long day.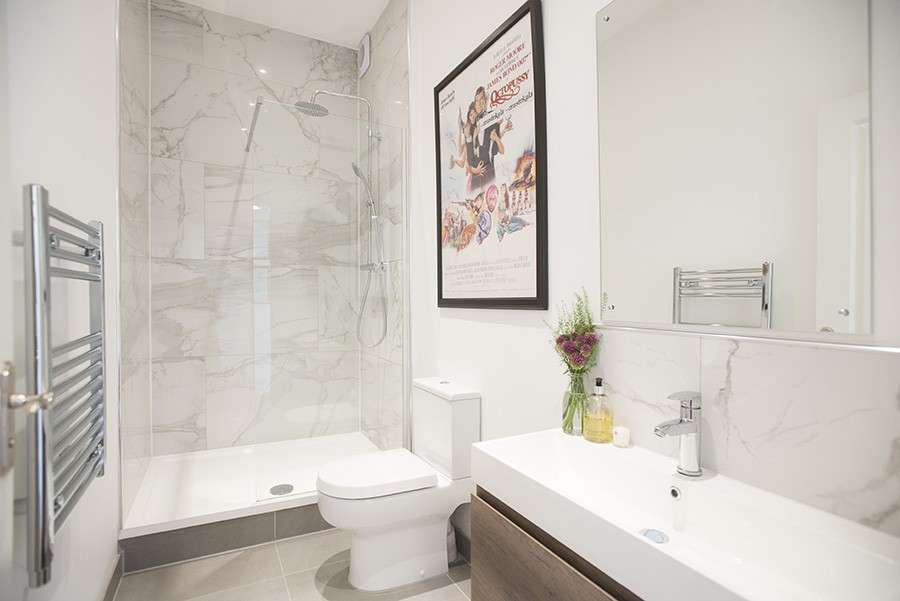 Spa-Like Bathrooms: A Focus on Wellness
Wellness is a key trend in bathroom design this year, with many homeowners incorporating spa-like features into their bathrooms. From heated floors to dimmable lighting, these spa-like elements will create a relaxing and rejuvenating atmosphere in your home.
One way to achieve a spa-like feel is by adding a rainfall showerhead, providing a luxurious and indulgent experience. Soft, plush towels and robes can also add to the spa atmosphere, as can dimmable lighting and scented candles. For added relaxation, consider incorporating an aromatherapy diffuser or installing a sound system to play soothing music.
By incorporating these elements into your bathroom, you can create a spa-like atmosphere in your own home, perfect for winding down.
Watery Blues and Greens: A Relaxing Retreat
Watery blues and greens are ideal for creating a soothing hideaway in your bathroom. These soft colours create a tranquil and pleasant mood in your space.
Begin by painting the walls a soft blue-green colour. Natural features such as plants or wooden accents might enhance the peaceful atmosphere further. For example, adding a fern in a blue-green pot on the windowsill or building a floating wooden shelf with a blue-green backsplash can achieve the desired aesthetic. This can provide texture and depth to the design, resulting in a relaxing and pleasant environment.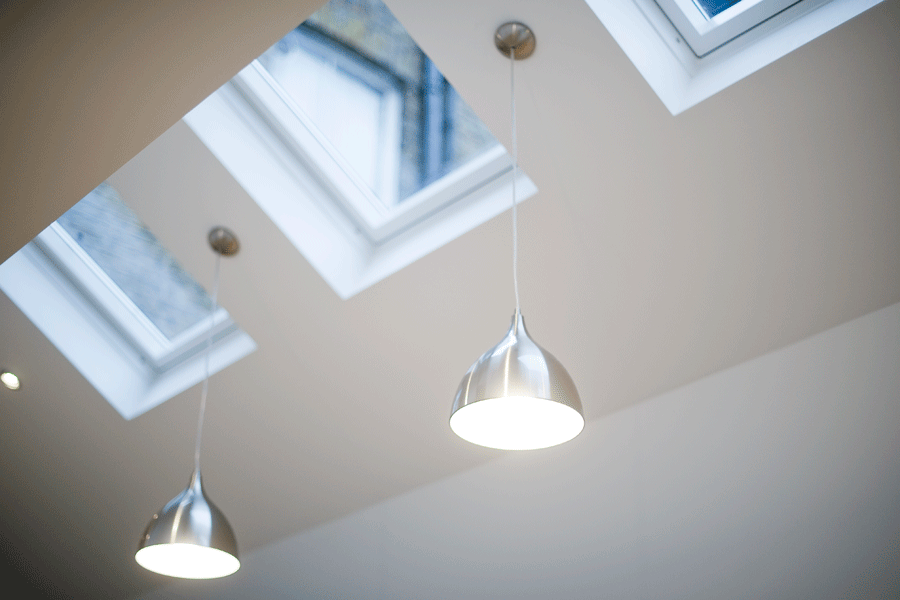 Decorative Lighting: Setting the Mood with Style
Lighting is an essential aspect of bathroom design, and decorative lighting is a trend to watch this year. Choose unique fixtures and dimming options to set the mood and create a stylish and functional space.
To achieve a decorative lighting effect in your bathroom, you can start by choosing unique light fixtures. These provide ambient light and act as statement pieces that add character to the space. You can also opt for wall sconces or spotlights for task lighting, which can be adjusted to suit your needs.
Additionally, dimmer switches allow you to adjust the brightness of your lighting, making it easy to set the right mood for your bathroom. For example, choose task lighting for grooming and a dimmer setting for a relaxing bath. Another option is to incorporate coloured lighting, such as warm yellow lights, to create a cosy and inviting atmosphere.
To further elevate your bathroom design, adding heated flooring can make the space more comfortable and relaxing. With these bathroom trends, you can create a space that looks beautiful, functions well and promotes self-care and relaxation. Whether you want to create a minimalist, contemporary, or traditional design, these 2023 trends will provide you with plenty of inspiration to bring your vision to life.