There are lots of components to any build, whether it's large or small. We understand that starting on site can be overwhelming, and we are here every step of the way to assist you in any way we can. One common question we get is about Thames Water and Build Over Agreements. If you are building within three meters of a public sewer, then you will need to let Thames Water know and seek their approval for the proposed works. This is something we can absolutely help with, and we can ensure all of the correct information and documentation gets to Thames Water.
To help you understand what a Build Over Agreement is, and why Thames Water might want to be notified about your building work, we thought we break everything down for you and explain what it is, why you need it, and what you need to do.

Why does Thames Water have an interest in my extension?
Thames Water own over 100,000 kilometres of public sewer and it is their responsibility to ensure that all sewers are maintained, including those that are located on private property. A 'Build Over Agreement' is Thames Water's approval that the works you have proposed are not going to have any negative effect on the existing sewers.
If your proposed works are due to take place on or within 3 metres of a public sewer, it is likely that you will need to get Thames Water's clearance before commencing. This is to ensure that your proposed extension does not cause any damage to the sewer nor does it prevent Thames Water access for maintenance in the future. If you fail to inform Thames Water of the works, it could result in your extension being put on hold or even worse, ordered to be taken down. You may also find that your Building Control Officer may refuse to sign off on your work until they have seen your Build Over Agreement.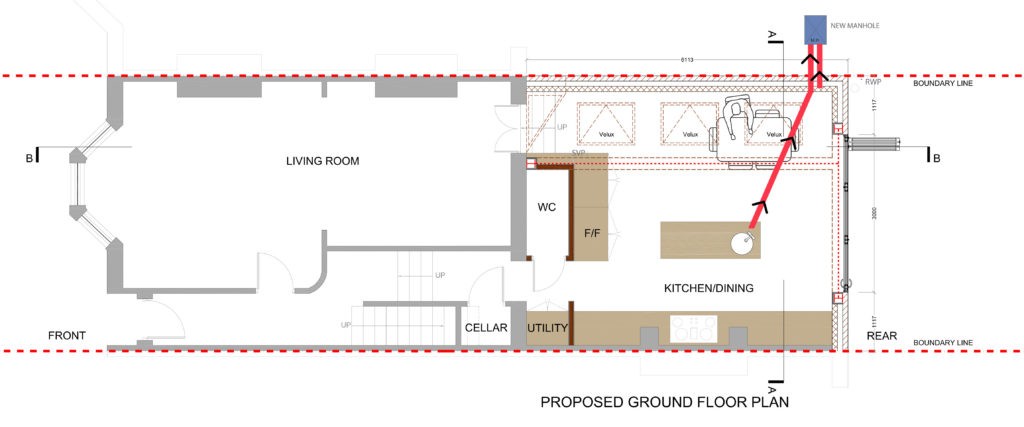 What kind of information do I need to put in the application?
If the proposed works involve building over a manhole, this will need to be disclosed in your Build Over Application. Thames Water want to know whether any pipes or manholes are going to be moved. If you do need to move pipes or manholes, they will need to be completely removed and reconstructed outside of the extension area.
For the Application, you will need drawings of your proposed extension and the locations of the sewers and manholes; you will also need to include the flow direction of the sewer.  A site location plan is also required, and if you are proposing to move a manhole, your drawings will need to show the new location of the manhole. If the proposed manhole location is within 1.5 metres of your property, you will need to show a cross section of the foundations and their relationship to the pipes.
As you can from the detail above, you do needs lots of complex information, most of which cannot be gathered until we are on-site and we have exposed the drainage. For this reason, we tackle all of these applications onsite and not to worry, they don't hold up the build process whatsoever. Thames Water are reliable at getting a response over to us, and in the meantime, we can just focus on another part of the extension.
Thames Water does require a fee to be paid with the application, and this is dependent on the size of the sewer. Class 1 (up to 160mm diameter) is the most common and the fee for this is £343.
At Build Team, we can absolutely help you sort out your Build Over Agreement.  Our builders and project managers can prepare the drawings and submit the application on your behalf, which gives you one less thing to worry about!