2023 is bringing exciting new trends to the world of interior design. From natural, earthy tones, textured fabrics, and curved shapes to vintage and moody rooms, there's something for everyone. So, whether you're looking for ways to create a cosy and inviting space or want to make a statement with bold and sculptural lighting fixtures, these trends will have you covered. In this blog post, we'll take a closer look at the top interior design trends for 2023 and show you how to incorporate them into your home.
Vintage And Antique
The use of vintage and antique pieces in the home to add character and personality is a trend in interior design for 2023. Vintage and antique furniture, lighting fixtures, decor, and accessories can add a sense of history and storytelling to a space. Additionally, it is an eco-friendly choice as it promotes reusing and re-purposing items instead of buying new ones. We are also seeing Newstalgia, which blends vintage and contemporary styles to create a unique and personalised look that reflects a blend of past and present. Expect to see vintage and antique elements, vintage-inspired patterns and colours, and the mixing of old and new styles throughout the home.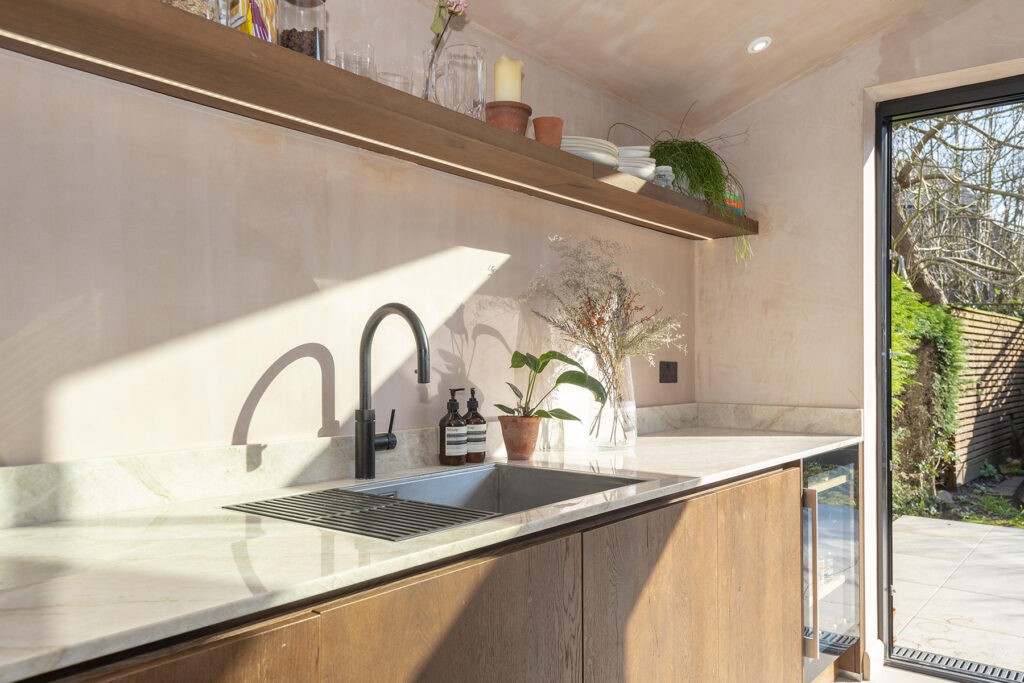 Warm Colours
Warm colours will be more prominent in interior design this year as we move away from cooler tones towards a warmer palette. Warm browns, red tones, and paprika and clay tones can inspire sensations of warmth, cosiness, and comfort. These colours can make a home feel more inviting while creating a sense of calm and serenity. Furthermore, natural materials such as warm woods, wool, and terracotta can complement the warm colour trend, adding warmth and texture to a space.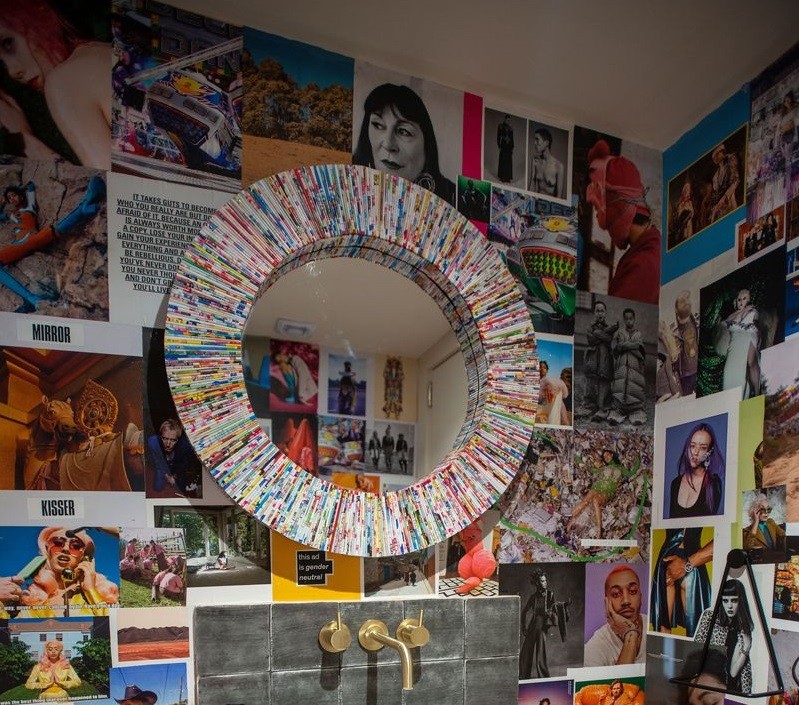 Maximalism
Homeowners are shying away from minimalism and leaning more toward maximalism and more colour. As a result, we will see a return of moody room colours in the home with a luxurious palette of rich, dark, bold tones, contrasting with an element of colour that makes it pop. When it comes to which colours, the darker and moodier, the better.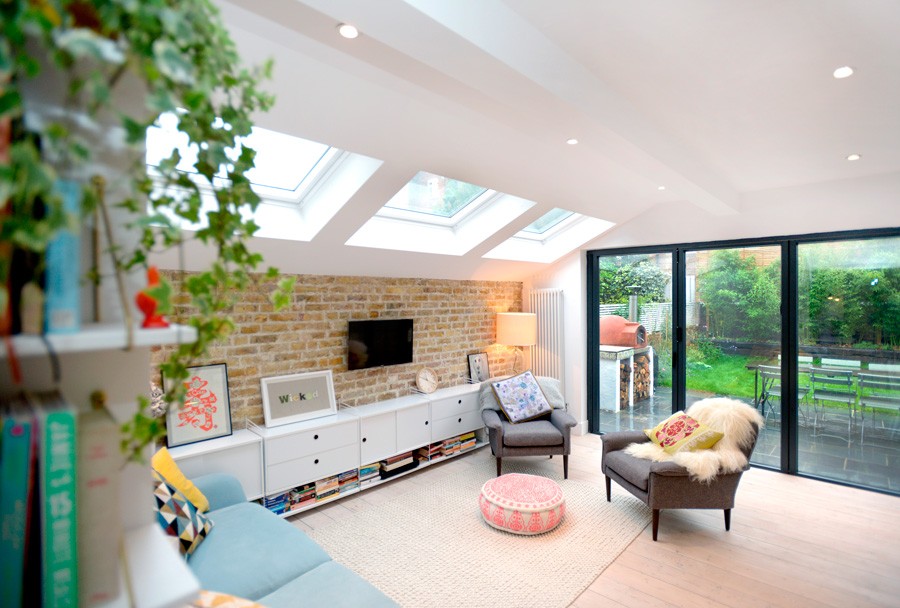 Textured Fabrics
Textured fabrics, such as boucle, wools, and heavy weaves, are becoming increasingly popular in interior design. Boucle fabrics have a looping texture that adds depth and interest to a space while also giving a feeling of sophistication. Heavy weave fabrics give a weighty feel, making them ideal for upholstery and drapery, where durability and strength are essential. Textured materials on furniture, such as sofas, armchairs, and accent pillows, will add richness and reflect this trend.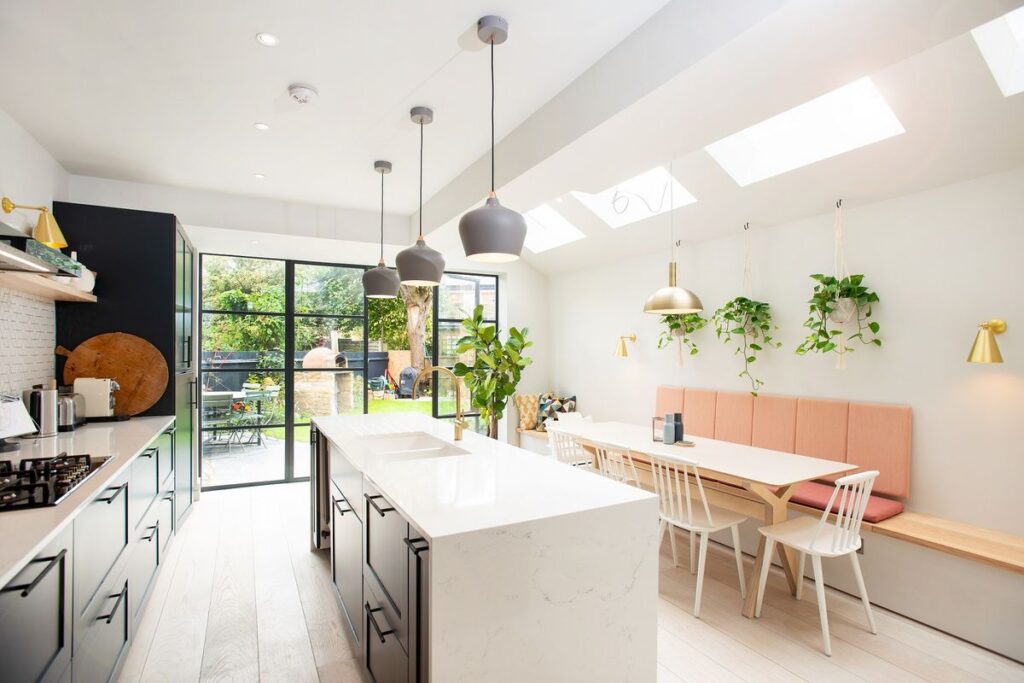 Dopamine Décor
We're noticing an increasing trend in "dopamine décor" in 2023. The use of specific colours, patterns, textures, and lighting to produce a sense of positivity, motivation, and well-being is part of this trend. The purpose of dopamine décor is to create an atmosphere that boosts our dopamine levels, making us happier and more content. This can be accomplished by using natural light, warm colours, textured materials, and other natural features to create a more welcoming and pleasant setting.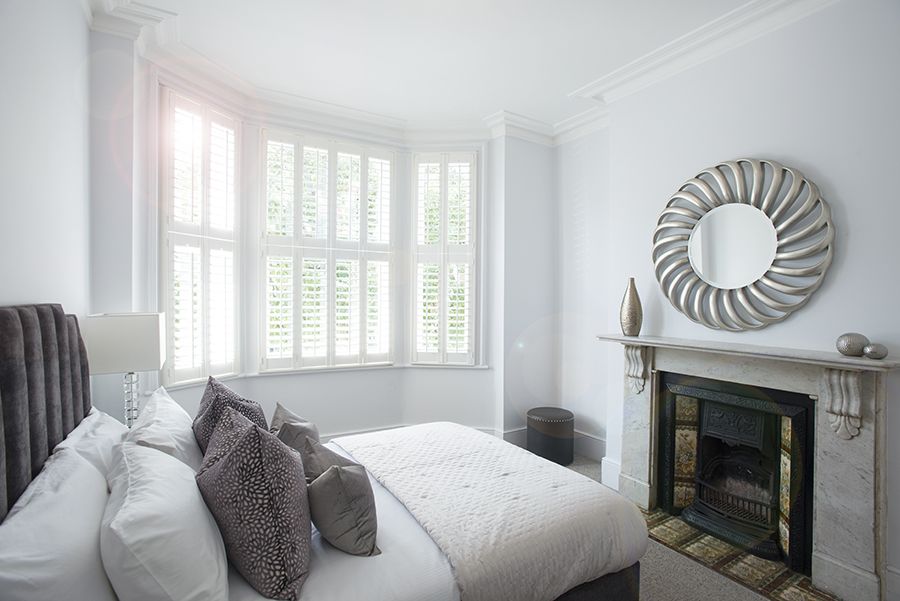 Incorporating Curves
In 2023, the emerging trend of incorporating curves, arches, and rounded edges in interior design will become even more popular. Curved furniture, such as sofas, armchairs, and tables, creates a sense of movement and fluidity in a room. Curves can also be used in architectural elements like entrances and arched windows. This popular style gives a room a softer, more organic feel while adding a modest yet unique visual aspect. This style can be found primarily in furniture and architectural features, but it can also be found in smaller design pieces such as mirrors and lighting fixtures.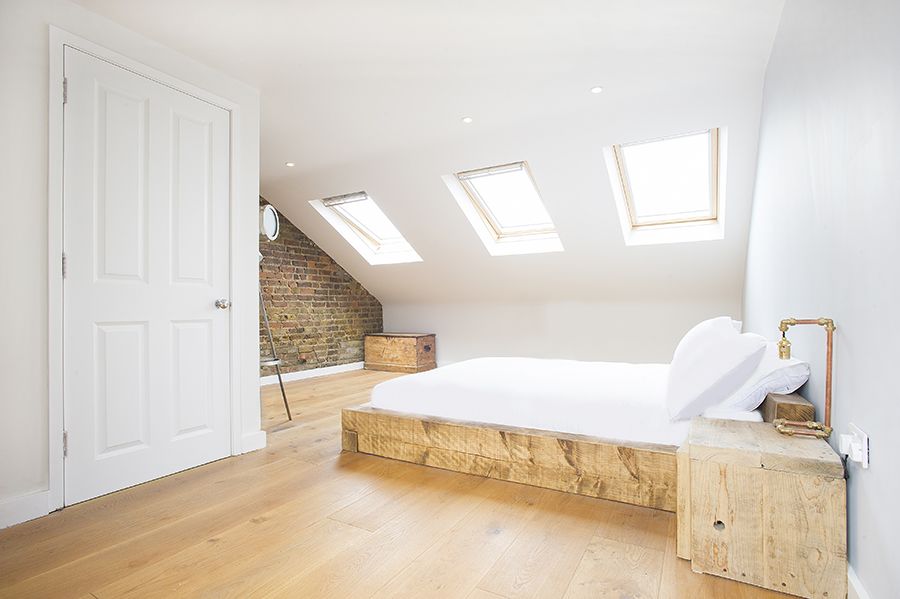 Sustainable Living
We will also see a purposeful shift toward sustainable living in 2023. Employing ecologically friendly materials, adding natural components, and enhancing energy efficiency are all examples of this. People's concerns about the environmental impact of their actions are mirrored in their interior design choices. Incorporating elements like indoor plants and natural light, as well as using sustainable materials like bamboo, cork, and repurposed wood, are all methods to create a space that is not only aesthetically pleasing but also has a lower environmental impact. In addition, increasing energy efficiency by using energy-efficient lights and appliances and implementing smart home technologies will also be part of the sustainable living trend.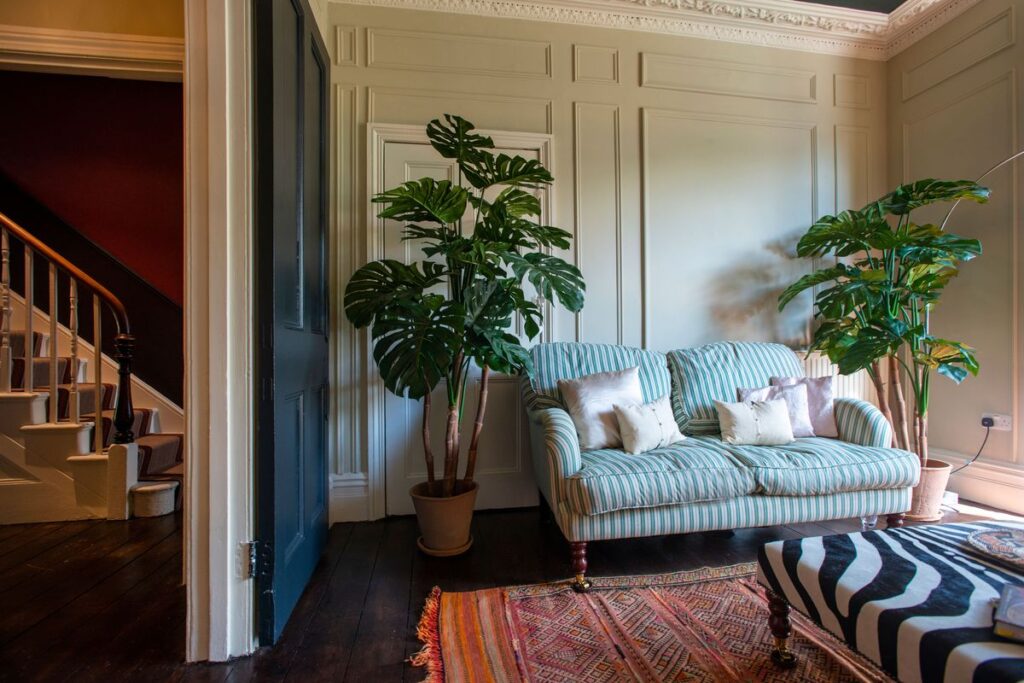 Biophilic Design
Biophilic design is expected to be a major interior design trend in 2023. This trend focuses on incorporating natural elements such as plants, wood, and stone into the home to connect with nature and promote well-being. This trend is growing in popularity because it can positively impact mental and physical well-being by reducing stress and improving air quality. Biophilic design can be incorporated into a space using natural materials, indoor plants, and natural light. Expect to see this trend throughout the home, in living rooms, bedrooms, and bathrooms.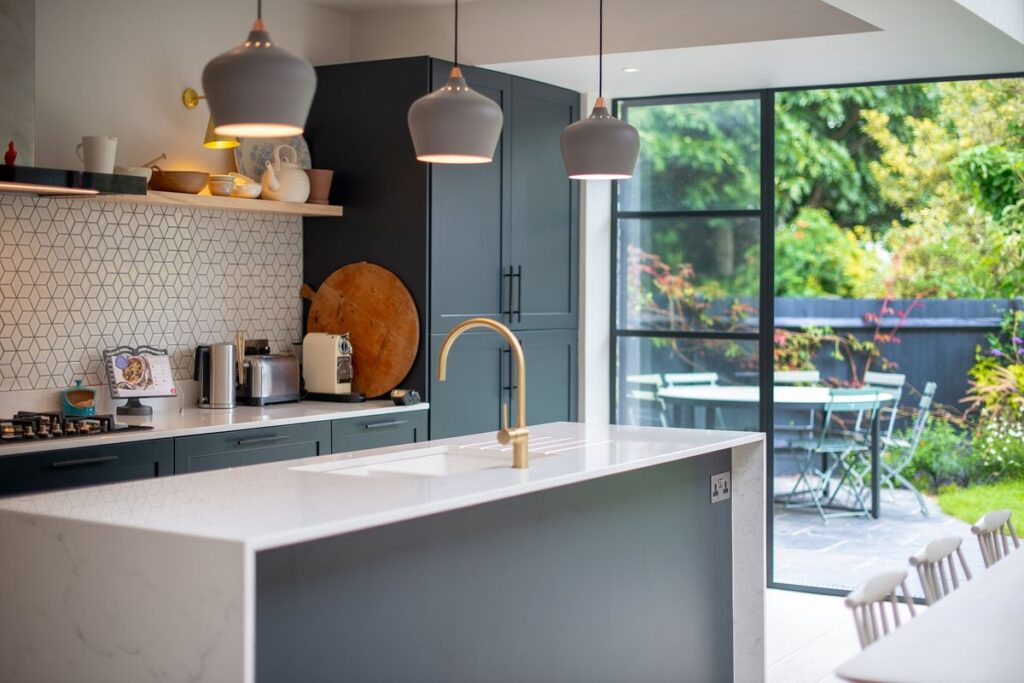 Statement Stone
Warm-coloured, heavily veined, statement stone pieces are anticipated to be popular in 2023. They feature natural stone, such as marble and granite, with a warm colour palette, bold and striking veins, and a larger size that makes a dramatic statement. This style can create a focal point in a room, such as a fireplace, kitchen island, or statement wall. The warm tones and strong veins of natural stone provide a sense of grandeur and timeless elegance; all you need is one vital element to make a statement.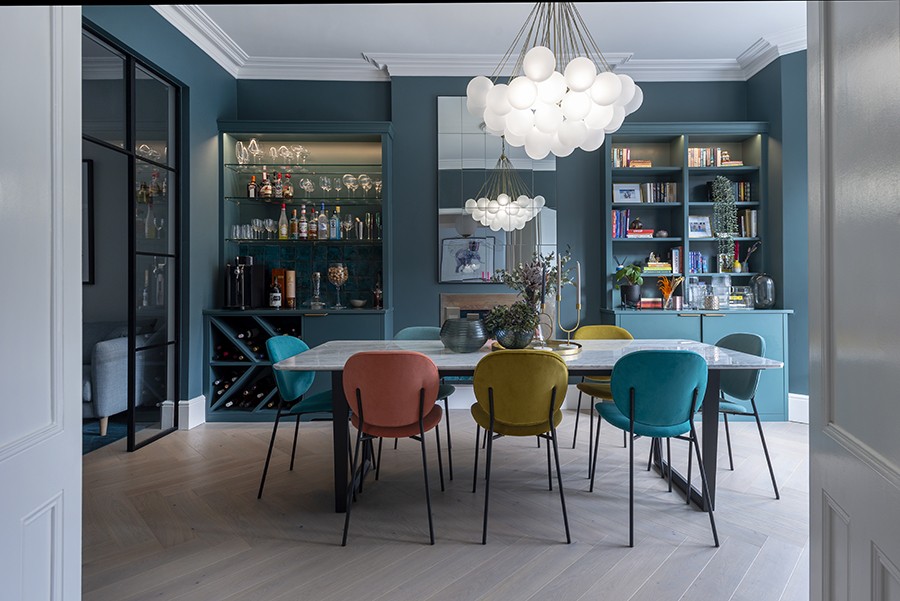 Sculptural Lighting
Large and sculptural lighting is here to stay in 2023. Homeowners seek unique pieces for their homes that create maximum impact, and lighting will be the focal point of any room design. Beautifully crafted, statement light fittings will take centre stage. Try thinking of your lighting fixtures as art in your home. This look is easily integrated, no matter what your style is.
The diverse range of interior design trends for 2023 offers a range of options to personalise your home. The focus on creating warm, inviting, and functional spaces using natural, earthy tones, textured fabrics, and biophilic design highlight the importance of well-being and the connection with nature in the design. In addition, incorporating sustainable living and vintage or antique pieces adds character and personality to a home and mixes old and new design elements. Trends are constantly changing and evolving; what's important is to understand your style and choose pieces that resonate with you to make your space beautiful and unique.