Home extensions can be a great way to add value and more space to your home but knowing where to begin can be challenging. The process of planning and building a home extension can feel overwhelming, but it can also be an exciting and enjoyable experience with the right inspiration.
To help inspire your home extension project, we've compiled a list of 10 popular ideas to enhance your home and create the ideal environment for you and your family. There's something on this list for everyone, whether you'd like to add more natural light or make your home feel more open and connected.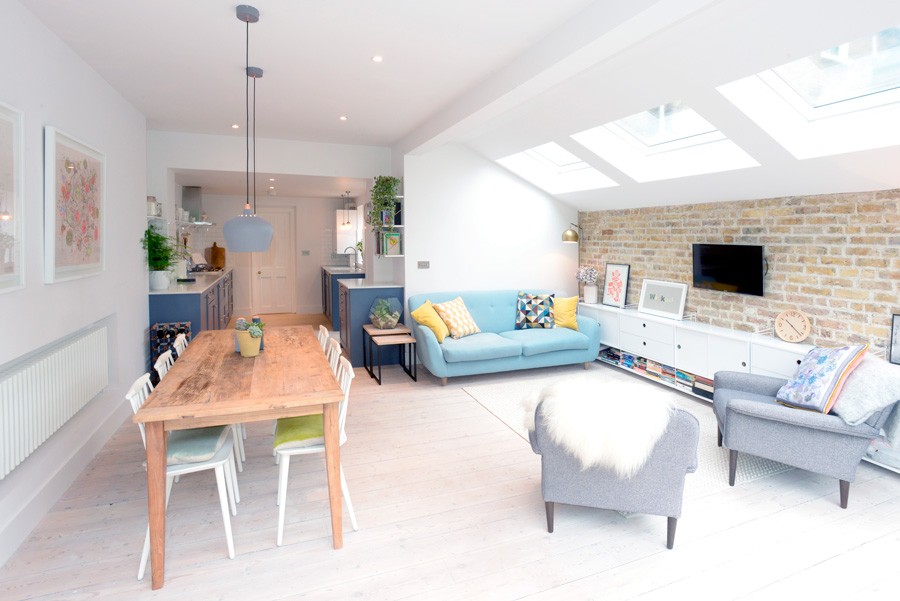 Open Plan Living Space
Open-plan living is extremely popular since it can make your home more spacious and modern. An open-plan living space may comprise a living room, kitchen, and dining area that all flow together. This type of extension can be accomplished by removing walls between rooms to create a more open and connected space or by adding more rooms. For example, if you're expanding your kitchen, consider opening it up to your living room to create an open-plan living environment or adding rooms to create an open-plan living space incorporating the family and entertaining rooms.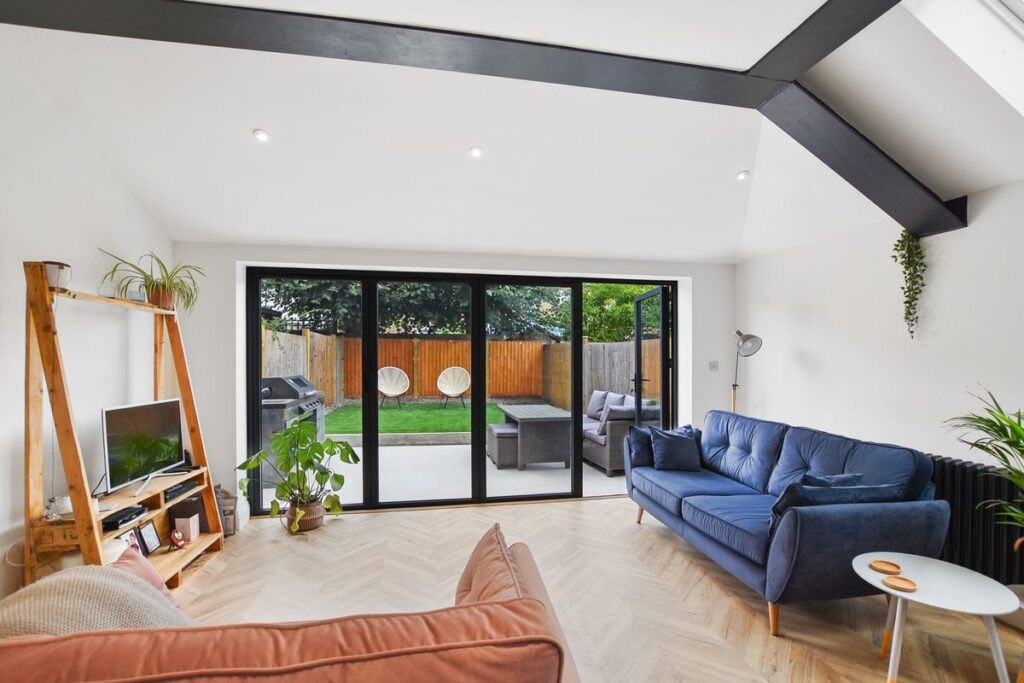 Panoramic and Bi-Fold Doors
Panoramic and bi-fold doors that open to your garden can make you feel more connected to the outdoors. They can be an excellent way to create an indoor-outdoor connection between your home and garden. This style of door includes large glass panes that can be moved to one side, providing easy access to your outdoor space, and making it ideal for entertaining or simply enjoying the outdoors.
One of the main benefits of panoramic and bi-fold doors is the natural light they allow into your home. In addition, the large glass panes provide an unobstructed view of the outdoors, making your space feel more open. When it comes to usability, these doors offer smooth and easy operation along with locking systems for added security. They are also energy-efficient, as they help to keep your home warm during the winter and cool in the summer.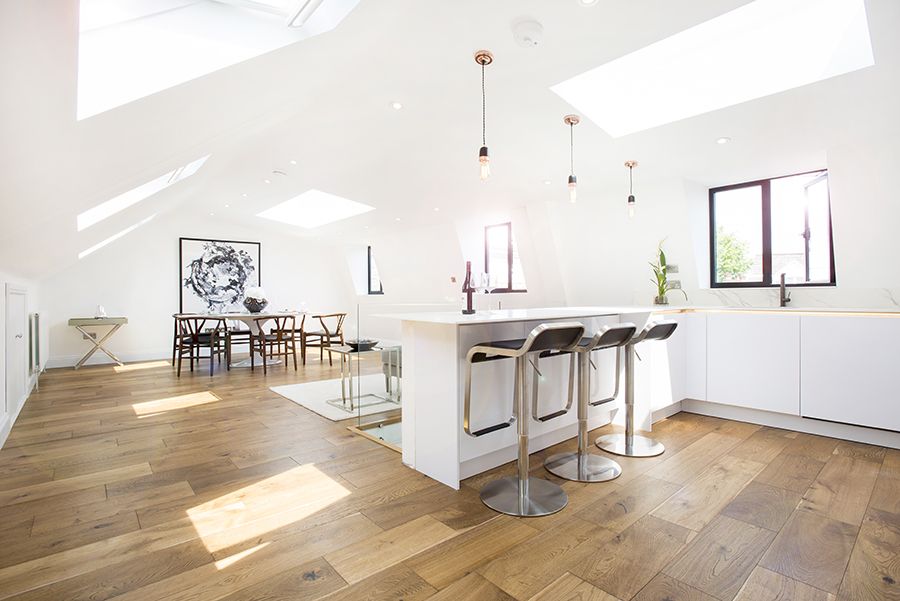 Wood Flooring
Engineered, laminate, and solid hardwood flooring are all popular options for flooring. Choosing the best option for your home will depend on your personal preferences, budget, and the specific needs of your space.
Engineered wood flooring is constructed by layering a thin layer of actual hardwood on top of a plywood core. It is more stable than solid hardwood; therefore, it will warp and expand less in high moisture situations. Engineered wood flooring is less expensive than solid hardwood flooring and can be placed over concrete or heating systems.
Solid hardwood flooring is made up of a single piece of solid hardwood, and it is the most durable and long-lasting option. It has a natural look and feel. It can also be sanded and refinished multiple times.
Laminate wood flooring comprises a high-resolution photograph of wood grain printed on a fibreboard core. Laminate flooring is much more durable and affordable than solid hardwood or engineered wood flooring, and it is easy to clean and maintain.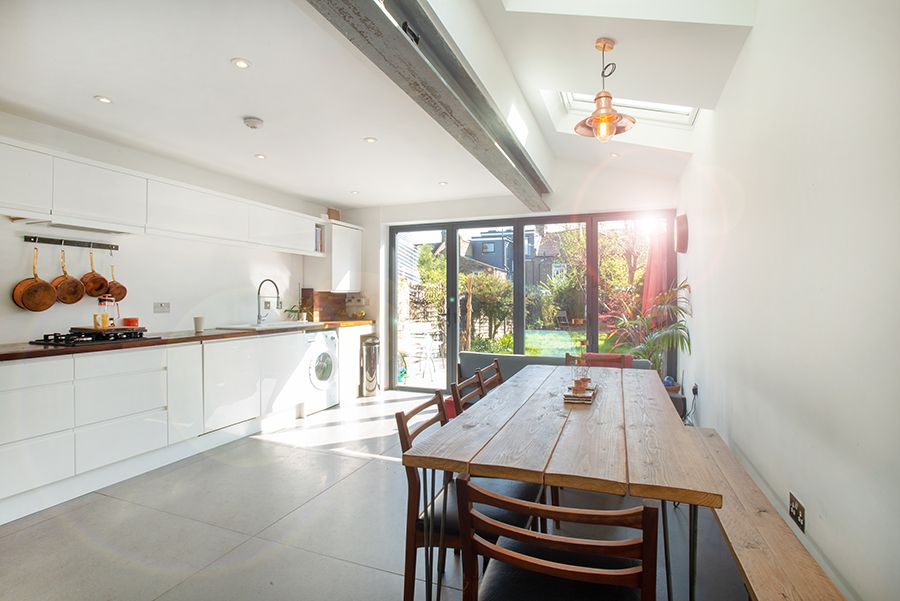 Large Format Tiles
Large-format floor tiles can make any room feel more elegant and luxurious. It can be used in various rooms, from bathrooms and kitchens to large open-plan living spaces. One of the advantages of large-format floor and wall tiles is that there is less grout which makes the whole effect a lot smoother and sleeker. The other bonus to having fewer grouting lines is less maintenance, which will keep your room looking fresher. In addition, larger tiles can cost less to install than smaller tiles since there is less labour involved.
Velux Windows & Sky Lights
Velux windows and skylights are both fabricated to achieve the same goal; to fill a space with more natural light and are typically installed either on flat or pitched roofs. In addition, they are a great way to bring natural light into a room with few windows, such as a basement, attic, or in the middle of a building.
Small room spaces can appear bigger with skylights and the natural light they offer. In addition, the appearance of a naturally lit room and the atmosphere it creates with an unobstructed view outside may increase the property's value.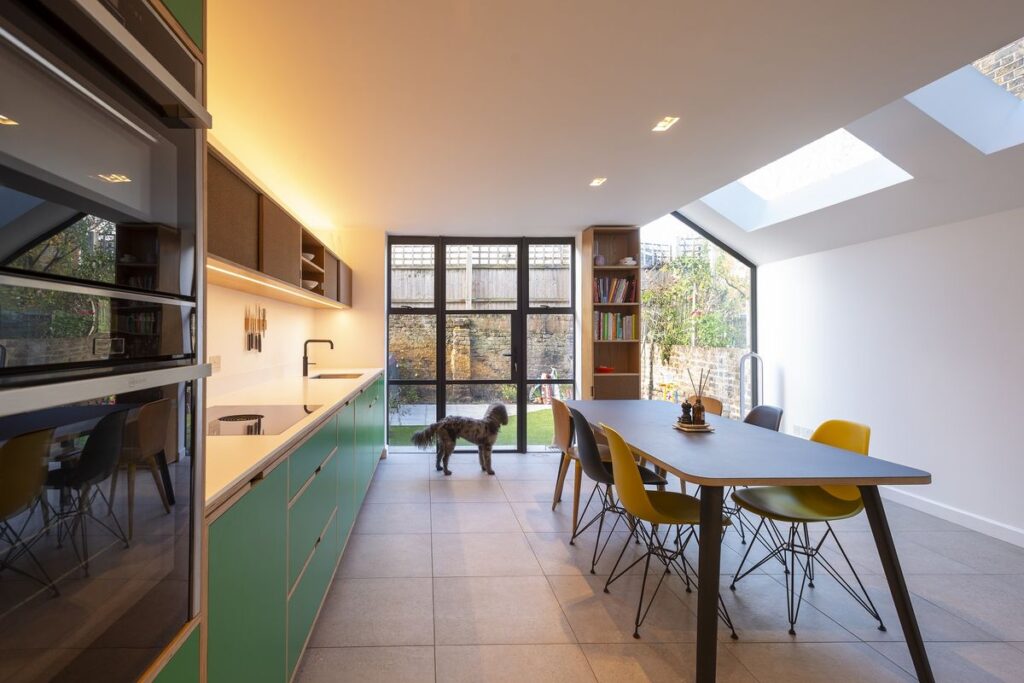 Crittall Style Doors
Crittall-style doors are a modern take on a classic design. They are usually black steel or aluminium, have slim frames, and feature large panes of glass that can create a modern aesthetic with a light and airy feel in a room. In addition, steel is three times stronger than aluminium and more robust than wood. This adds vital security, particularly where large panels of glazing are used.
Crittall-style glass doors and windows are used in many spaces because they use acoustic glass or double glazing to optimise soundproofing. This helps to create comfortable, soundproof living spaces.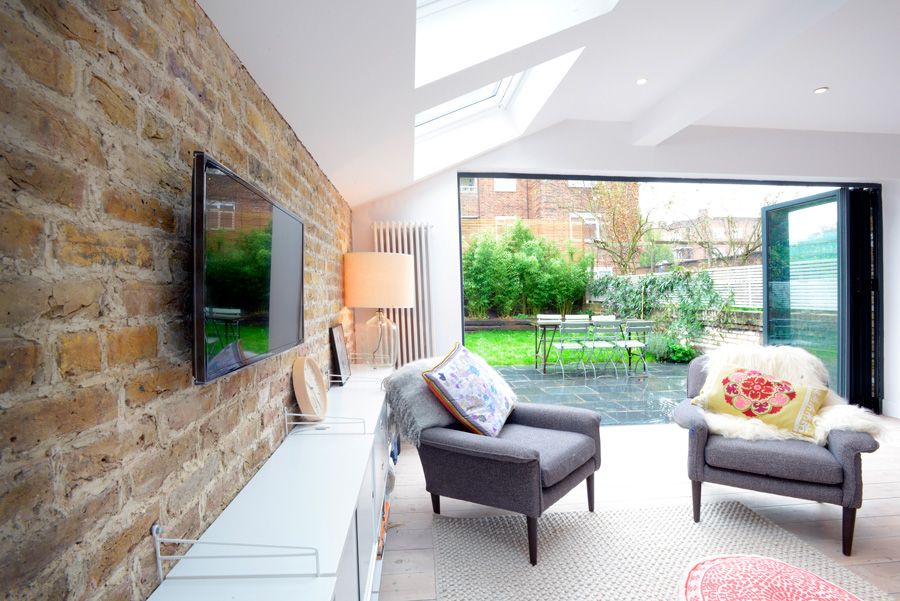 Exposed Brick Feature Wall
Exposed brickwork is a popular design feature that adds character and charm to any room. It can create a rustic, industrial, or vintage feel and can be paired with any decor style. Exposed brick walls can be used in various spaces, including living rooms, kitchens, and bedrooms.
One of the main benefits of exposed brickwork is that it adds a unique sense of history to a room. Exposed brick walls can make a room design stand out more than traditional and modern designs. It can also be a great way to add texture to a room, making it more interesting and dynamic.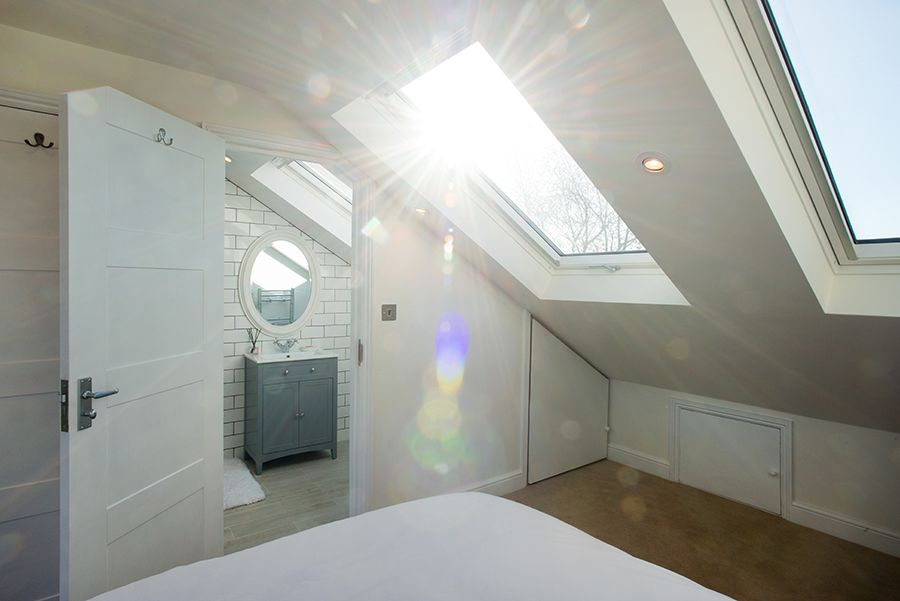 En-suite Bathroom
Undoubtedly, adding an en-suite bathroom into your extension has its benefits, particularly if you add additional bedrooms. It can be a great way to add value to your property and give you a more private and comfortable space for you and your family.
An en-suite bathroom is ideally best in a home that has at least three bedrooms and one other bathroom that is not en-suite. Therefore, carefully consider the location, size, and cost, as you will need to ensure enough floor space for a shower, basin, and toilet.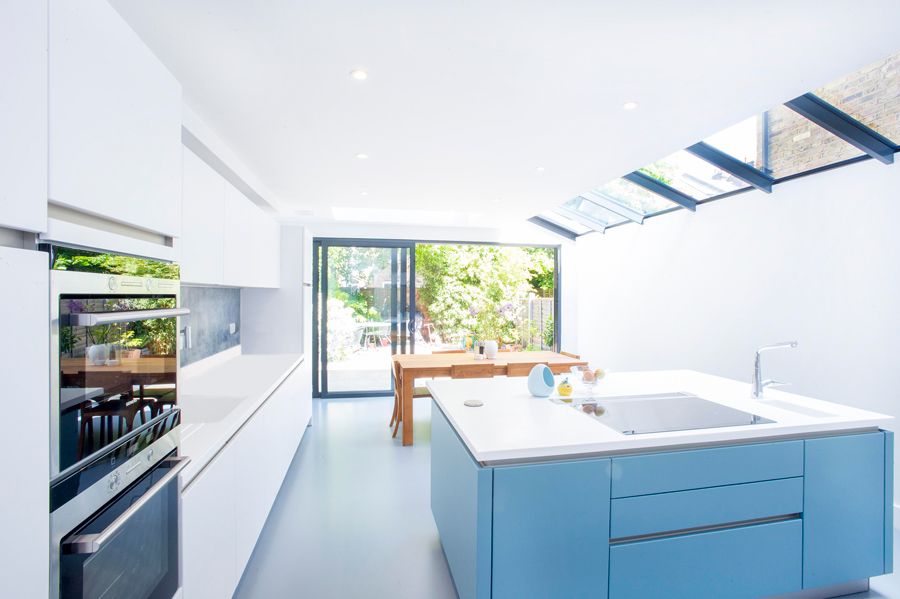 Kitchen Islands
Kitchen islands are one of the most sought-after upgrades for any kitchen. They can add counter space, storage, and functionality to your kitchen while also serving as a focal point. They can be handy for entertaining guests, making them a great place to gather and socialise, or for families who enjoy cooking and spending time in the kitchen together.
Kitchen islands often have a unique design or feature, such as a built-in sink or hob, and come in various styles to suit your interior. In addition, many kitchen islands include built-in appliances, such as a wine cooler, and even a charging station for your devices, making them even more convenient and functional. Kitchen islands can also add additional storage space, such as cabinets or drawers, which can help keep your kitchen organised and clutter-free.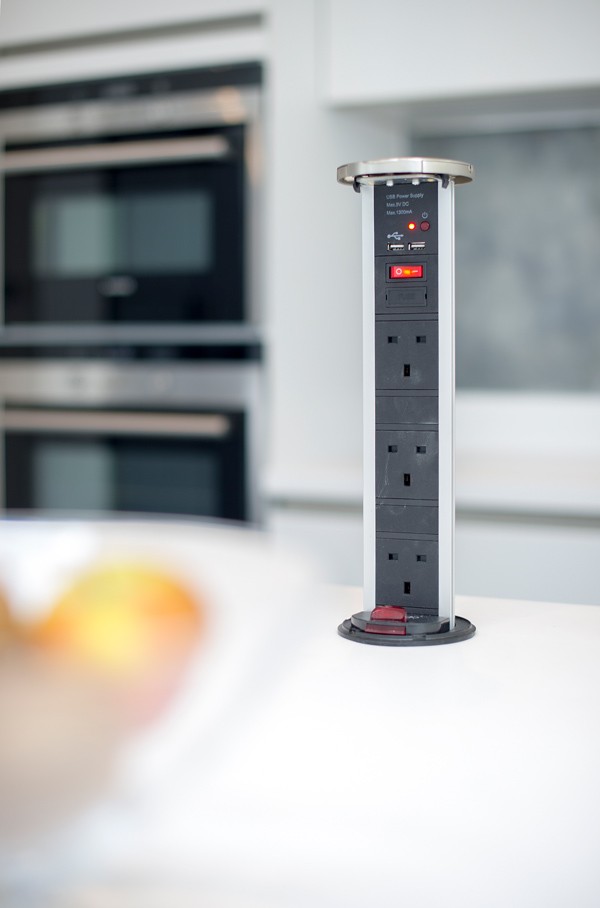 Home Technology
One of the main benefits of new home technologies is that they can help make your home more energy efficient. Smart thermostats, for example, can be programmed to adjust the temperature in your home based on your schedule, so you're not wasting energy when you're not home. Smart lighting systems can also be controlled through your smartphone or voice commands, which can help you save energy by turning off lights when they're not needed.
Another benefit of new home technologies is that they make your home more secure. For example, smart security systems can be controlled through your smartphone so that you can monitor your home from anywhere. They can also include features such as motion sensors and cameras, which can help to deter burglars and keep your home safe.
Home extensions can be a great way to add value and functionality to your home, and with the right inspiration, you can create a space perfect for you and your family. The 10 ideas outlined in this article are just some of the many options available to you, and they can provide a starting point for your home extension ideas. When planning and designing your home extension project, think about how you want to use the space, what aesthetic you want to achieve, and what type of functionality you need. You can then create a home tailored to your unique needs and preferences.